September 8, 2013 at 9:30 am
#9319
Results now are in
On using the :
Custom Honda CR125 intake manifold and the Mikuni carb setup
Hi back shifter guys.
It's been about six weeks now that we have been using the new setup
I didn't want to say anything before until the unit was thoroughly Race track tested.
The answer is easy ..JUST ONE WORD > Awesome Performance!
We have taken a full second off our own personal best time at our local track ( Badger Raceway Dousman wi.) and after hundreds & hundreds of laps with absolutely no Carb trouble at all.
A good lap time at Badger is anything under 38 seconds….We are consistently in the 37.20s with the Honda CR125/Mikuni now,
I'm not setup to "Retail a kit " to the general public.
But I'm making arraignments now to sell it through a few of the better shifter kart shops and on line from them also.
It will be priced about on par with the Swedetech Honda intakes.
The complete intake kit would consist of the intake, all gaskets all, hardware,throttle cable, bar type throttle cable bracket, 38mm air filter/box adapter and to inc.this disclaimer below :
"As when installing any performance product, a degree of mechanical ability is required. If after reviewing the parts you don't feel that you can properly complete this installation, take your kart to a competent professional. Proper installation and adjustment will save time, money and aggravation."
Because of all the tight quarters I recommend installing the carb & and intake as one piece with a very long ball type allen wrench.
Then it's easy to do.
I got so tired of always having to take the stupid Honda CR125 Keihin carburetor
off to change jets I'm taking a lot of them off the shifter Karts in our little classic shifter club and tossing them out or selling them….I think they are all JUNK.. pump arounds too….But maybe that's just me ?
Here below is a long story of what I'm doing for carbs instead …AND I'LL TELL YOU THIS SETUP REALLY WORKS WELL ON THE CR125s.
This below looks very clean and it solves all the fuel system issues.
Robert Horvath
Participant
UPDATE :
FYI Shifter Go Kart Guys,
For the open/modified
class of Honda CR125 Shifters.
The very short fuel path direct fit Honda CR125 Shifter intake manifold for 38mm 2 flange bolt types of carburetors is all done .
It has a 11 degree right rotation angle
to clear the kick start bump ( Carbs like the externally adjustable Mikuni 38mm Carbs work really well )
No more rubber boots with right angle turns to disturb the fuel flow !
And even a more perfect fit when used in conjunction with the V-Force 3 Reed Cage box .
I'm getting this experimental test carb fitted up to the CR125 Honda.
Mikuni Super Butterfly Type SBN38mm Diaphragm Pump Carburetor
No jets to change ever (well almost never) as it has easy to get to externally adjustable low & high speed mixture screws just like the Vortex RoK-tt carb only a much bigger bore (38mm) to fit the CR125 Honda engine and the fuel pump is built right in too.
I'm getting tired of always taking off the carb to change the high & low speed pilot jets and I don't care for float types of carbs either.
These are one of the best performing and easy tuning carburators that money can buy.
see all photos below: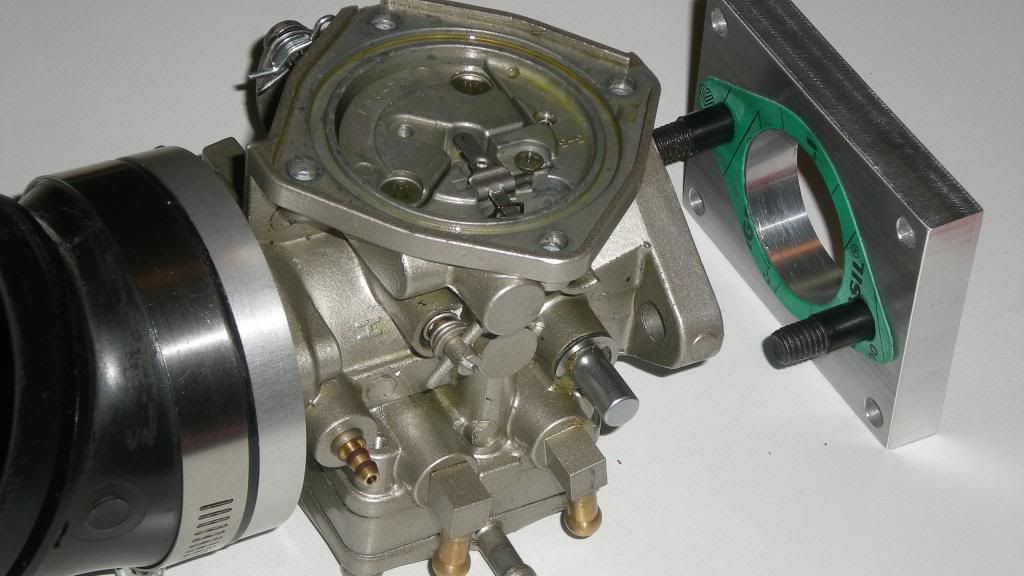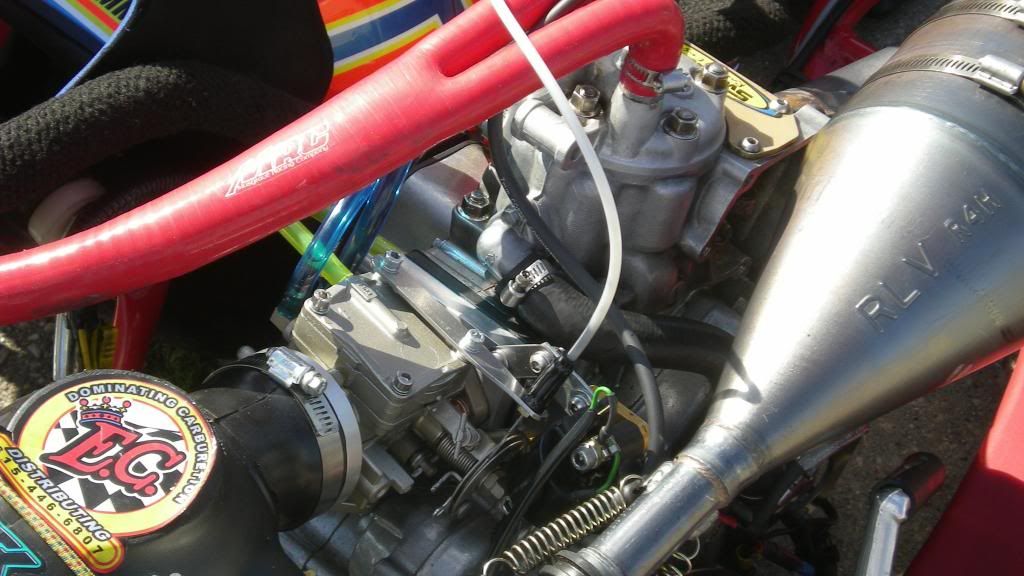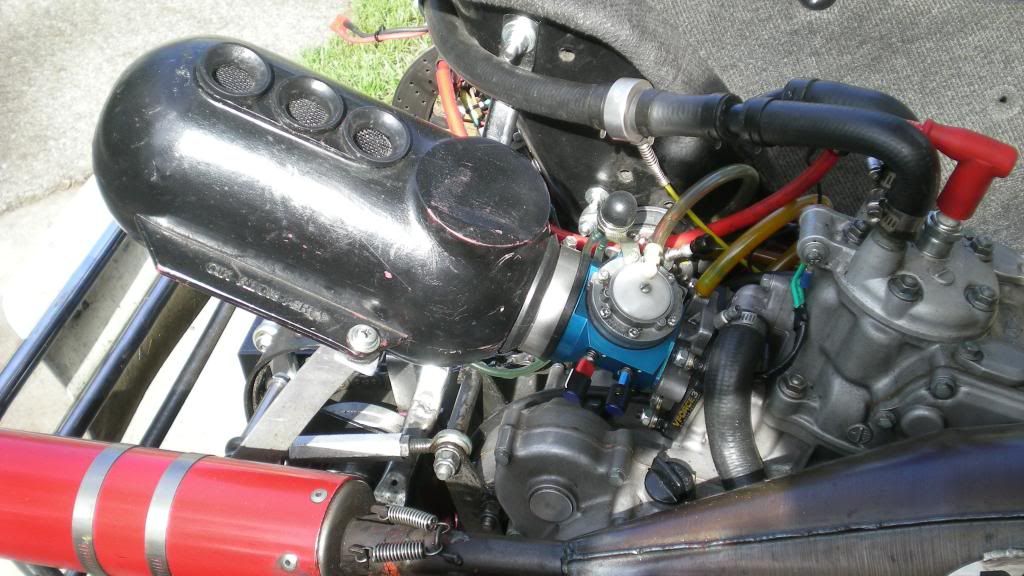 Or a big bore Tilly is a good fit on the Honda too for short tracks!
Note > a primer bulb also for easy starts :
Important note below :
Road America is a famous road course located near Elkhart Lake, Wisconsin
Here are the results of the first time out at Road America with the new intake set up.
I installed the kit on team Craig Hemmen / Bob Horvath (That's me)
We ( Craig Hemmen age 61 the driver of Kart # 92 & me Bob Horvath the mechanic age 68) were competing all day at Road America) and of all the Pro shifter Karts (about 22) there today…We got fast time of the day and that gave us the Pole Position for the feature race and a First place Win in for our Honda class too.
The ICC shifters and the Honda's all run together in one class due to the small number of each
Date 24-08-2013 13:36
Length 0.8000 Miles
Best lap time 44.463 In lap 4
Best speed 64.773 By competitor Craig
Hemmen/Bob Horvath
pos start no. competitor laps total time diff best time best lap best speed
1 Honda engine 92 Craig Hemmen 6 04:36.982 44.463 4 64.773
2 ICC type engine 65 Darrick Lang 6 04:54.457 17.475 44.690 5 64.444
3 ICC type engine 17 Dayton Bender 6 04:56.302 19.320 44.829 2 64.244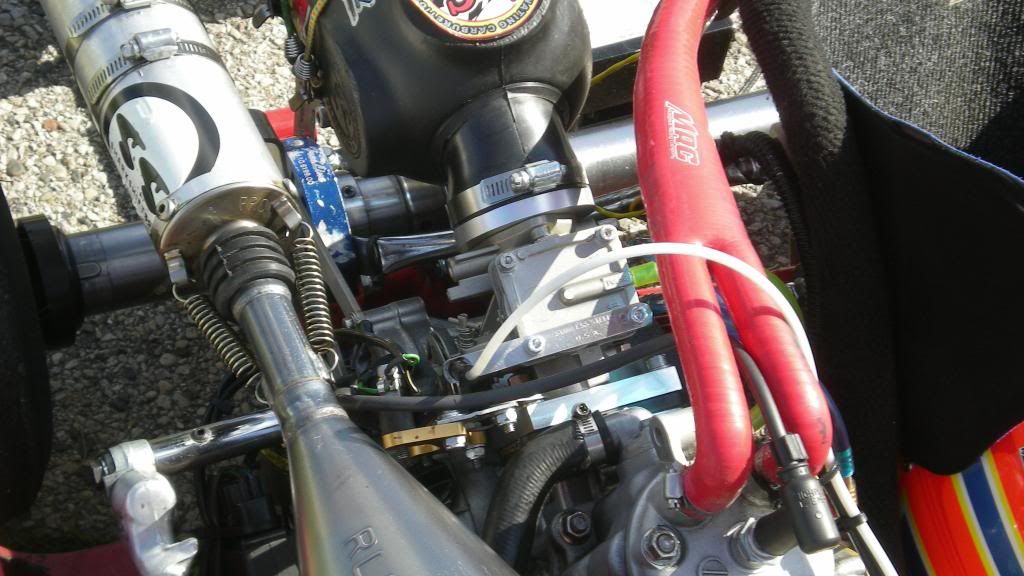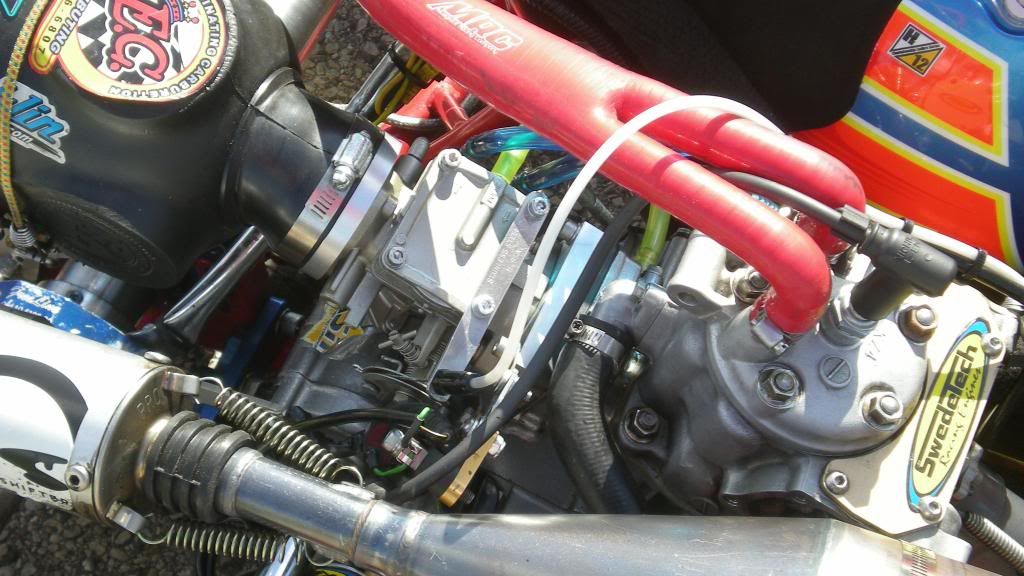 Thank You
Bob
Robert Horvath
W352N6446 Road J
Oconomowoc Wi 53066 U.S.A.
Honda;Mikuni;Intake;Manifold;Shifter;Carb