February 24, 2014 at 10:38 pm
#22669
OK Steve,
 
1) > I'll put this Karting thing as a spectator sport to bed as I see your point.
 
I live here in the good old USA and Karting here will never be the same as European Karting where it is respected professional sport of racing.
 
2) > I should have been clearer on what I'm doing with this telemetry device.
 
Tillotson Carb LTD has a lot of this available already > The Tillotson Racing — SA-501 Precision Jet – Remote Jet Controller
Tillotson Link:  http://www.tillotson-racing.com/products/precision-jet-remote-jet-controller
 
Also derived from an earlier design of mine. > see you tube link :
 
http://www.youtube.com/watch?v=v4V9q3QlAXA
 
When I was at the Super Nats in Vegas last year the Tillotson carb people ask me if I could further develop the system to be more sophisticated with remote carb adjustments and real time feed back to the pits.  To make it a little easier to dial in the engine from the pits because the driver has enough to do just driving the kart and tuning the carb is my job not his.
 
I'm not trying to tell anybody that they should do this to there karts.  I'm just saying what I'm doing with Tillotson for here in the USA  but mostly for the  European Karting market and overseas where karting is taken more seriously then here.
(and they have been around longer then any of us with there carbs  on awful lot of engines…. I also think they know what there doing by now)
 
My friends and myself all gave up on Tag. racing….Way,way too expensive to race a TaG. machine…More on that latter.
 
I told Tillotson that they would have to make me a couple of large bore direct fit pumper type carbs which they did do for me very nicely.
 
For me to test out on our almost stock Honda CR125 motos  that my friends and I all drive nowadays because of there very cheap cost to operate See this photo below(sorry>it's in the wrong format) below of the  Tillotson # HW-12 / at 34mm  and the # HW-26 at 36mm.
 
A very nice carb for the Honda CR125 shifter for the open / expert class of kart racing and way better then keihin float type carb and easy to remove and to return to  fully stock moto racing.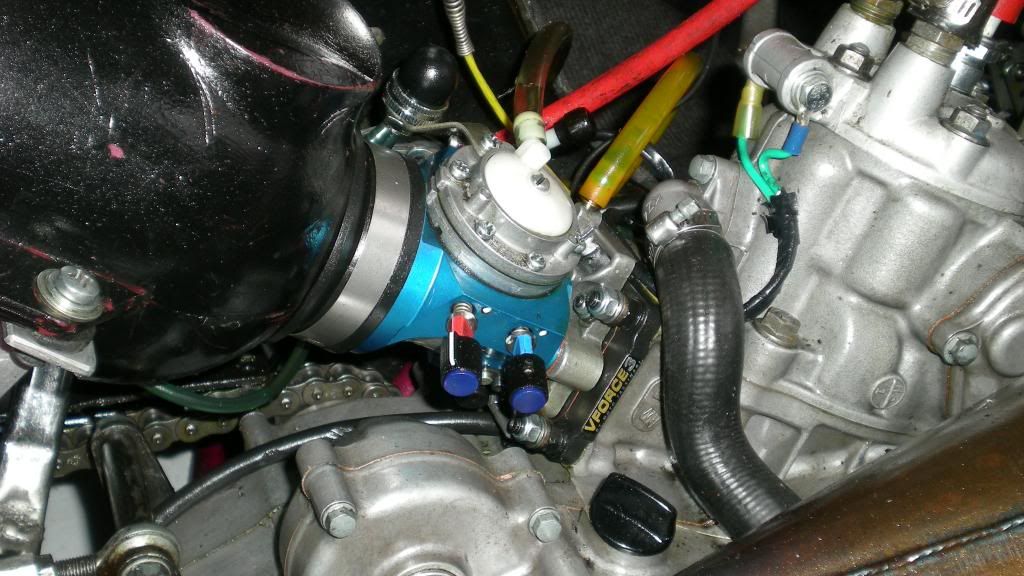 Now back to the
expense thing.
I see karting on par with most other adult toys:
A new fast Jet ski > $11,000.00 to $15,000.00
A new very fast Snowmobile > $12,000.00 to $16,000.00
A new small  boat > $15,000.00 to $ 20,000.00  or more.
A new fast and very exciting Shifter Kart > $10,000.00 to $15,000.00
So I don't think a $1,000.00 accessory for a kart is to much to spend if you even want one…No it's not needed I agree > It's just fun to have in your tool box !
And after 54 years in karting I have finally come to realize that the stock  Honda CR80  or CR125 moto Shifter Karts are by far the cheapest  fastest kind of Kart Racing  and fun you can have on four wheels
Here are a few points on why it is so cheap to do this Shifter Thing after the initial expense
 
1) Safety > With brakes on all four corners they stop fast and square every time.
 
2) Almost never have to worry or change the inexpensive HD #428 chain or sprockets.
 
3) It has a clutch ..but you never ever have to touch it or play with it like on a Tag kart (A Tag clutch is $$$ to replace also).
 
4) The Honda dirt  bike engine can go a long,long time before a rebuild is needed.. one, two or three seasons if you want.
 
5) No super high RPMs to wear things out yet still very fast and thrilling > only 4 to 5 oz. of any kind of oil is needed for the regular pump gas it uses.
 
6) You never ever have go home sad and broken.
 
7) When the Shifters are on the track almost everyone stops to have a "Look See"
 
8) Your personal weight does not mater…Heavy or light we all go fast.
 
9) If you make a bad mistake on a turn you can quickly get yourself back on track with a "Gear Box".
 
10) And on and on.
 
Here below is a little info on our group of guys and my past invention/ innovations to make these things more civilized to drive and work with:
 
 We are just a small sub chapter club of Badger Kart club consisting of 12 older (18 to 72 yrs. old) guys. Most all of us on Honda CR125 shifters.
We can't believe how much more reliable the Honda's are then the TaG karts we use to drive. A lot Less maintenance too!
We all just race between each other every Thursday for the fun of it > No waiting for your class to come up > And we get many, many laps in a day > Just Run what you brung.    >  An update  since  I last wrote this  >  Our club now recently said to bring our stuff out on a Sunday and they would make up a class  just for us guys as we are getting spectators to watch.
No stupid rule book with too many rules either.
Last year two us tried the ME-Shifter F1 – Electronic Paddle Shifting System, by Mechatron.
This year two more fellows have fitted there shifters with the paddle system also.
It changes everything for the better > No driver fatigue > No lifting of the throttle as it has a spark interrupter > Shifts in just 50 milliseconds.
Very reliable . The only improvement we had to make with the system was to install a much better battery by installing a BALLISTIC PERFORMANCE LITHIUM EVO2 12V 12 CELL MOTORCYCLE BATTERY, 410 AMPS at about 1lb weight to actuate the 60 amp shift servo.
Some of the guys have switched over to 6 inch rims on Hoosier Super Kart Tires and that's quite an improvement too.
We are pretty much too old to "Push Start" these things.
So we re-installed the OEM kick starter system with extension
to clear the pipe and that works well too.
You can see it in the photo below:
See how nicely it tucks in there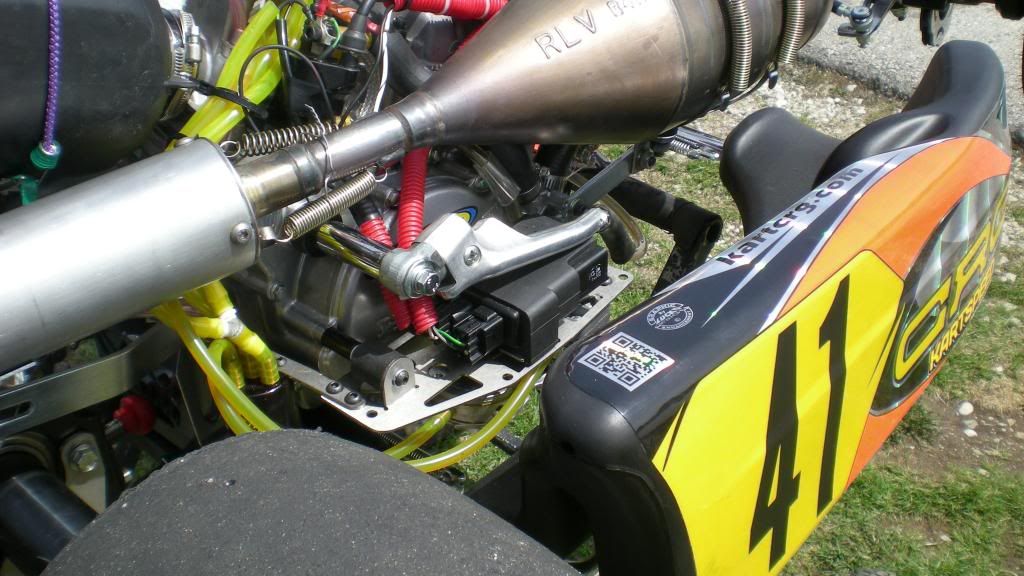 I can't wait for our season to start here in Wi. For Fun,Fun,Fun.
 
More recently I got the hard to tune  keihin float type carb off the Shifters and replaced with a pumper type carb.
 
Here below is photo of a Honda Shifter with a stock Mikuni carb off my old Polaris Jet Ski…She really flys with that carb and no long curved rubber boot to slow down the fuel flow…just put the carb up close and right tight to the engine!   All this stuff I talk about is very easy to do yourself.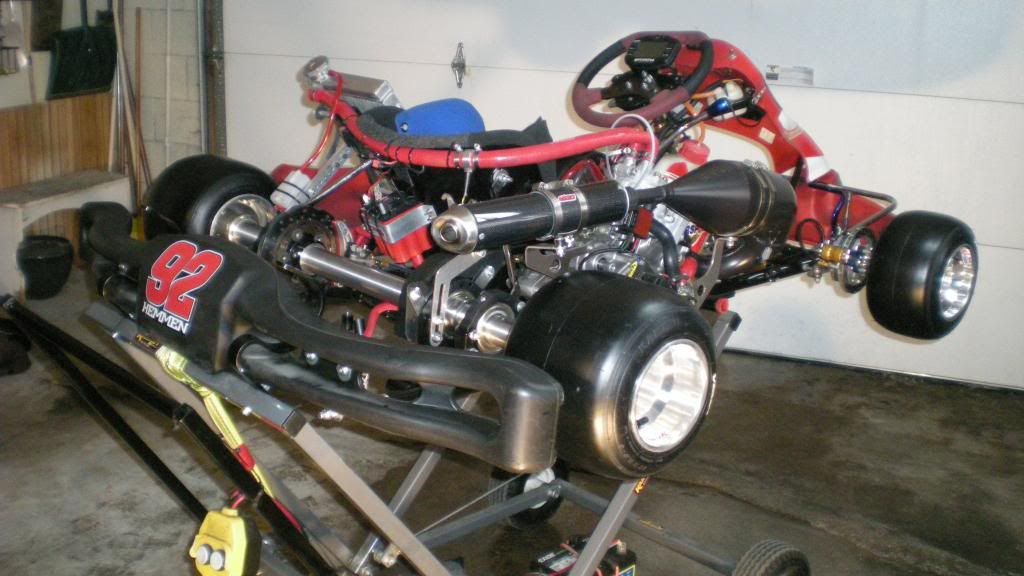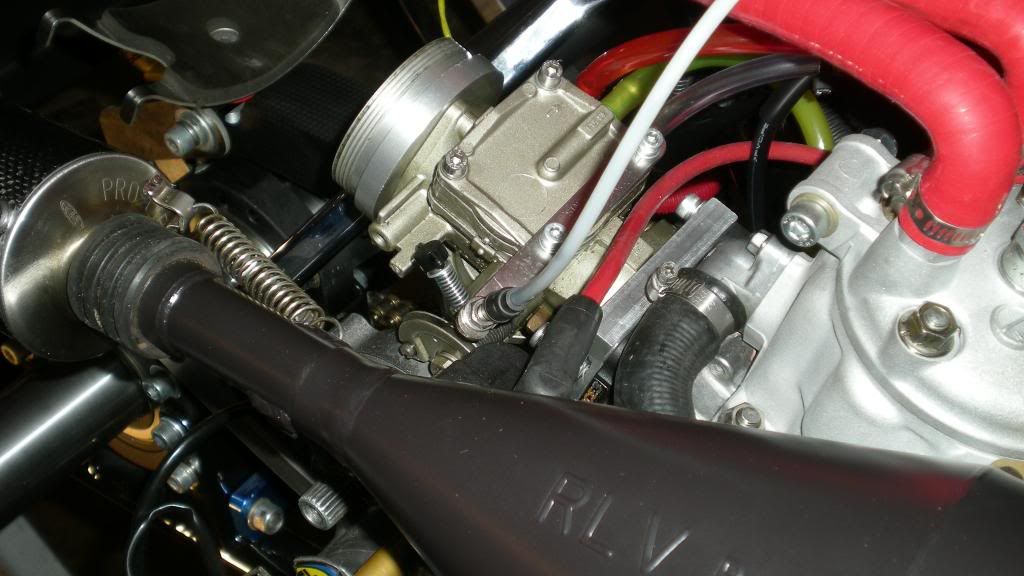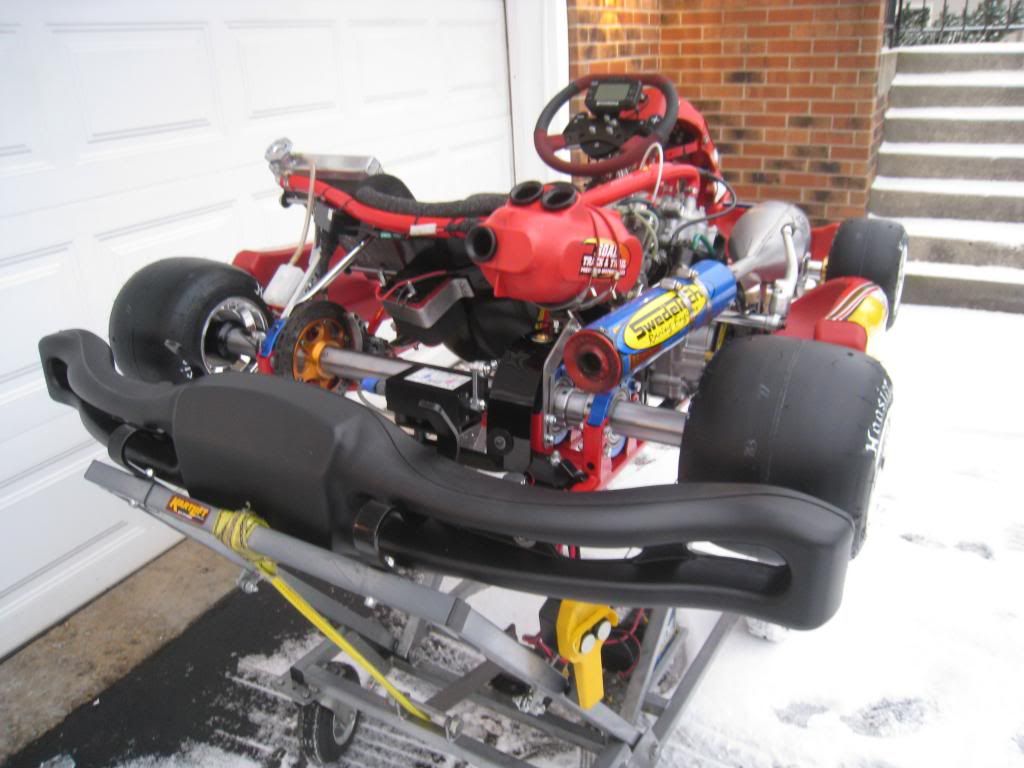 <
 
Below is a 24 volt external starter I made utilizing a worm drive wheel chair motor to make it easy to start these shifters while on the stand at the axle itself: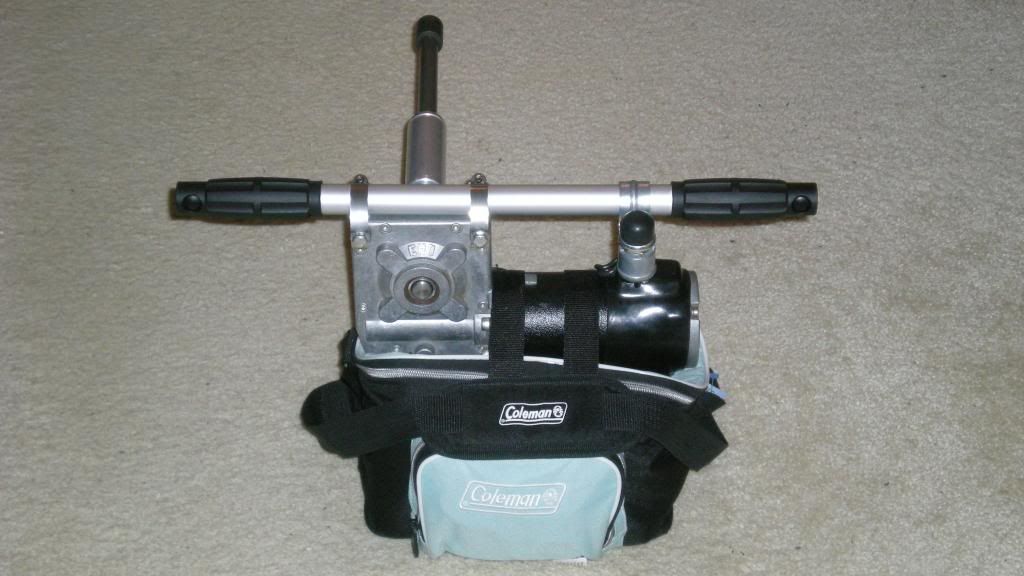 Oconomowoc Bob