EKN Exclusive: Superkarts! USA SuperNationals 26 – Preview Series – Predictions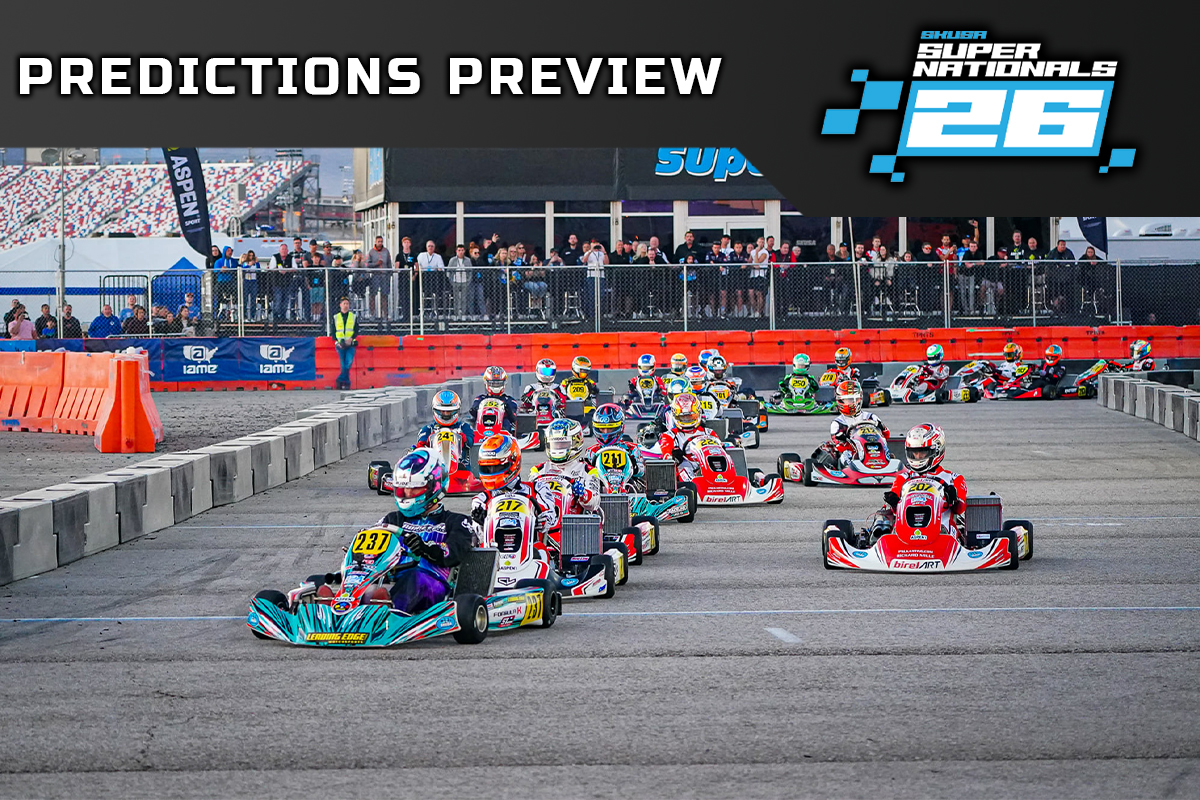 eKartingNews.com is proud to present our Preview Series for the SKUSA SuperNationals 26. Leading up to the on-track action of the 2023 edition of the marquee SKUSA event, EKN will preview each of the nine categories that will compete on the temporary circuit located outside the Las Vegas Motor Speedway in Las Vegas from November 8-12.
Trackside coverage is set to begin on Tuesday, November 7 as the EKN crew sets up our SuperNationals 26 home, roaming the LVMS grounds with Paddock Insider and social media content. Coverage continues into Wednesday as karts hit the track for the first time. EKN Live begins on Thursday, November 9 as qualifying is conducted for both the morning classes and the afternoon divisions. Listen LIVE to the heat races throughout Friday, November 10 and into Situation Saturday, November 11, including the five Last Chance Qualifiers held on the day. That sets everything up for SuperSunday, with the main events for SuperNationals 26 audio streamed live on eKartingNews.com/live and eKartingNews.com/radio.
Complete coverage of the Superkarts! USA SuperNationals 26 can be found at the EKN EVENT PAGE.
---
Predictions
Las Vegas is home to many of the world's top sportsbooks, setting the lines in sporting events all over the globe. For karting, the odds for the top-five finishers have been set by the eKartingNews.com crew of Rob Howden, David Cole and Nate Dean. During the OutLap preview podcast broadcasts, they each shared their top-five predictions for the upcoming Superkarts! USA SuperNationals 26. Nine different divisions are set to battle over five days of competition, all gearing up to the SuperSunday main events to crown this year's winners. Below is a link to the two OutLap broadcasts along with the selections in stone for the 2023 edition of the SuperNationals.
---
Micro Swift
Nate Dean
1. Maxwell Macha
2. Josh Bergman
3. Parker Ives
4. Zayne Burgess
5. Juan Diego Garciarce
Rob Howden
1. Parker Ives
2. Maxwell Macha
3. Juan Diego Garciarce
4. Josh Bergman
5. Liam Nachiwati
David Cole
1. Parker Ives
2. Maxwell Macha
3. Juan Diego Garciarce
4. Liam Nachawati
5. Conner Lypka
Mini Swift
Nate Dean
1. Cameron Marsha
2. Max Cristea
3. Troy Ferguson
4. Lucas Palacio
5. Royce Vega
Rob Howden
1. Lucas Palacio
2. Travis Pettit
3. Michael McGaughy
4. Max Cristea
5. Ashton Woon
David Cole
1. Lucas Palacio
2. Marco Romero
3. Michael McGaughy
4. Royce Vega
5. Alessandro Truchot
Master Shifter
Nate Dean
1. Antonio Pizzonia Jr.
2. Davide Fore
3. Jordon Musser
4. Scott Presit
5. Derek Wang
Rob Howden
1. Davide Fore
2. Antonio Pizzonia Jr.
3. Jordon Musser
4. Jonathan Vitolo
5. Scott Barnes
David Cole
1. Davide Fore
2. Jordon Musser
3. Brian Keck
4. Robert Bujdoso
5. Jonathan Vitolo
KA100 Master
Nate Dean
1. Ben Cooper
2. Renato Jader David
3. Miguel Mier
4. Martin Stone
5. Kip Foster
Rob Howden
1. Ben Cooper
2. Kip Foster
3. Martin Stone
4. Laurentiu Mardan
5. Renato Jader David
David Cole
1. Ben Cooper
2. Kip Foster
3. Renato Jader David
4. Martin Stone
5. Matthew Waters
---
---
KA100 Junior
Nate Dean
1. Steven Miller
2. Isaac Malcuit
3. Diego Ardiles
4. Austin Olds
5. Alex Mercado
Rob Howden
1. Steven Miller
2. Augustus Toniolo
3. Turner Brown
4. Oliver Wheldon
5. Keagan Kaminski
David Cole
1. Augustus Toniolo
2. Enzo Vidmontiene
3. Steven Miller
4. Oliver Wheldon
5. Christian Cameron
X30 Junior
Nate Dean
1. Turner Brown
2. Augustus Toniolo
3. Diego Ardiles
4. Oliver Wheldon
5. Enzo Vidmontiene
Rob Howden
1. Augustus Toniolo
2. Enzo Vidmontiene
3. Diego Ardiles
4. Jackson Wolny
5. Steven Miller
David Cole
1. Turner Brown
2. Augustus Toniolo
3. Jackson Wolny
4. Diego Ardiles
5. Gianmatteo Rousseau
KA100 Senior
Nate Dean
1. Alex Stanfield
2. Harley Keeble
3. Oliver Hodgson
4. Brandon Lemke
5. Christian Miles
Rob Howden
1. Oliver Hodgson
2. Harley Keeble
3. Ernesto Rivera
4. Frankie Mossman
5. Alex Stanfield
David Cole
1. Oliver Hodgson
2. Brandon Lemke
3. Pauly Massimino
4. Ernesto Rivera
5. Alex Stanfield
X30 Senior
Nate Dean
1. Khali Atkins
2. Oliver Hodgson
3. Ryan Norberg
4. Ariel Elkin
5. Ernesto Rivera
Rob Howden
1. Harley Keeble
2. Ryan Norberg
3. Matheus Morgatto
4. Ariel Elkin
5. Austin Garrison
David Cole
1. Dmitry Matveev
2. Ryan Norberg
3. Austin Garrison
4. Elie Goldstein
5. Harley Keeble
Pro Shifter
Nate Dean
1. Paolo Ippolito
2. Danilo Albanese
3. Niels Troger
4. Daniel Vasile
5. David Trefilov
Rob Howden
1. Matteo Vigano
2. Paolo Ippolito
3. Pedro Hiltbrand
4. Markus Kajak
5. Riccardo Longhi
David Cole
1. Paolo Ippolito
2. Danilo Albanese
3. Emilien Denner
4. AJ Myers
5. Niels Troger