EKN Exclusive: Superkarts! USA SuperNationals 26 – Preview Series – KA100 Master
Second year for category in Las Vegas sees defending winner Stone return for possible repeat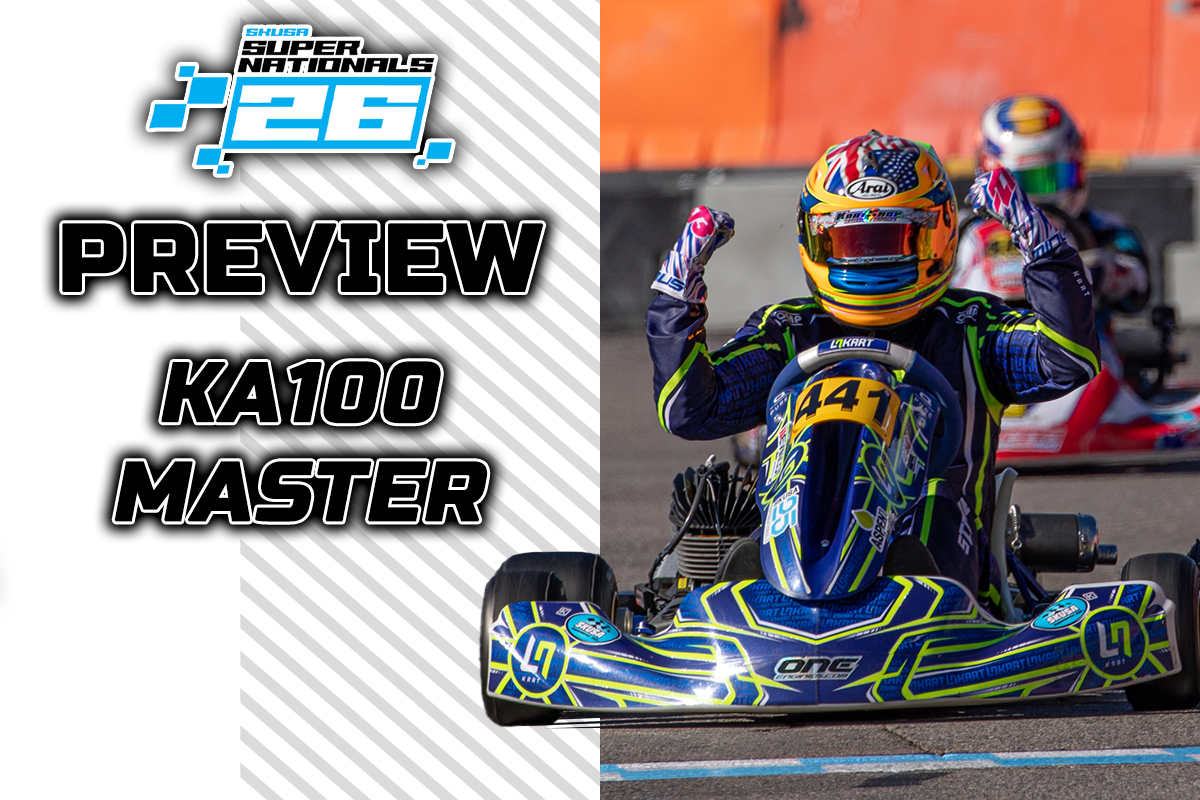 eKartingNews.com is proud to present our Preview Series for the SKUSA SuperNationals 26. Leading up to the on-track action of the 2023 edition of the marquee SKUSA event, EKN will preview each of the nine categories that will compete on the temporary circuit located outside the Las Vegas Motor Speedway in Las Vegas from November 8-12.
Trackside coverage is set to begin on Tuesday, November 7 as the EKN crew sets up our SuperNationals 26 home, roaming the LVMS grounds with Paddock Insider and social media content. Coverage continues into Wednesday as karts hit the track for the first time. EKN Live begins on Thursday, November 9 as qualifying is conducted for both the morning classes and the afternoon divisions. Listen LIVE to the heat races throughout Friday, November 10 and into Situation Saturday, November 11, including the five Last Chance Qualifiers held on the day. That sets everything up for SuperSunday, with the main events for SuperNationals 26 audio streamed live on eKartingNews.com/live and eKartingNews.com/radio.
Complete coverage of the Superkarts! USA SuperNationals 26 can be found at the EKN EVENT PAGE.
---
KA100 Master
The KA100 Master class was introduced at the SuperNationals last year, reaching a sellout field following a strong push by EKN's own Rob Howden. Now, the category is the only single-speed class for the elder drivers in the paddock after SKUSA dropped the longtime popular X30 Master division that lacked numbers during the registration process. That has brought together 45 drivers – some moving over from X30, some returning from last year's class debut, and new names entering to become the second winner at the SuperNationals.
Martin Stone (Racing Edge Motorsports / Kosmic) wants to keep it one name in the history books under KA100 Master after SuperSunday. The defending inaugural race winner returns for a chance at a second SuperNationals victory, coming off a win at the ROK Vegas event in ROK Masters and runner-up result in VLR Masters. The top-three from last year's podium returns with runner-up Renato Jader David (Orsolon Racing / Tony Kart) and Laurentiu Mardan (Tecno Kart USA) seeking a win. RJD is a former winner in the X30 Master class back in 2016, placing runner-up in that class last year to cap off a four-podium streak. Mardan was third a year ago, giving him a second SuperNationals podium result in his last four starts.
Among those moving over from X30 Master to KA100 Master includes two-time former SuperNationals winner Ben Cooper (Rolison Performance Group / Kosmic). The British native who calls Canada home was a third-place finisher in his X30 Master debut last year in only his fourth SuperNationals start. His first two were wins in DD2 (2013) and X30 Senior (2018). Cooper won the ROK Vegas race in VLR Master and won earlier at the US Trophy Final.
Another transfer and former SuperNationals winner is Kip Foster (PSL Karting / KF Kart). The popular driver from Australia finished fourth last year in X30 Master, where he has won a record four-times (2014, 2015, 2018, 2019). He is seeking that elusive fifth SuperNationals victory that will put him ahead of Billy Musgrave and Connor De Phillippi. Other international drivers to watch include fellow Aussie Matthew Waters (Rolison Performance Group / Kosmic) making his SuperNats debut, along with Dutch native Nick de Graaf (MMK / Tony Kart) returning to the SuperNationals after missing last year.
Many of the top drivers from the 2023 season at USPKS will be in the field, including Niki Coello, Scott Kopp and TJ Nevels under the Franklin Motorsports tent. Texas Sprint Racing Series multi-time champion Miguel Mier (Orsolon Racing / Tony Kart) finished seventh a year ago, his best result at the SuperNationals in six starts. TSRS race winner Morgan LeBaron (Hi5 Performance / Kosmic) is making his first SuperNationals start.
Other notables to watch include veteran Carlos Calderon (Aluminos), Bobby Kelley (MMK / Redspeed), Tim Meyer (Ryan Perry Motorsport / Tony Kart), KC Cook (Tony Kart), and Stars Championship Series contender Jakab Nyiri (AEM Karting / Kosmic).
---
SuperNats Stats
1 – KA100 Master SuperNationals winner in the field
4 – Former SuperNationals winners in the field
11 – Drivers from outside of the USA
12 – Different countries represented in the field
67 – Age of eldest driver in the field
---
Provisional Entry List – KA100 Master
| No. | Driver | Team | Chassis | Hometown | Nation |
| --- | --- | --- | --- | --- | --- |
| 456 | Francisco Barba | SLA Racing | | | CL |
| 426 | Diego Alonso Bustinza Martinez | Factory Fury Motorsport | GP Kart | | PE |
| 495 | Carlos Calderon | Aluminos | | San Jose CA | US |
| 406 | Scot Carapellatti | Carapellatti Racing | Formula K | Olean NY | US |
| 416 | Kim Carapellatti | Checkered Motorsports | CompKart | Olean NY | US |
| 404 | Hugo Cence | Circuit de Bresse | Praga | | FR |
| 428 | Scott Cherry | Hi5 Performance | Kosmic | Midland TX | US |
| 481 | Niki Coello | Franklin Motorsports | Merlin | Dousman WI | US |
| 498 | KC Cook | | Tony Kart | Long Beach CA | US |
| 429 | Ben Cooper | Rolison Performance Group | Kosmic | | GB |
| 488 | Luiz Cordeiro | Sodi Kart USA | Sodi Kart | Coral Springs FL | BR |
| 431 | Franco Crivelli | International Motorsport | Kart Republic | | AR |
| 425 | Renato Jader David | Orsolon Racing | Tony Kart | North Miami FL | BR |
| 407 | Nick de Graaf | Mike Manning Karting | Tony Kart | Lancaster CA | NL |
| 420 | Kip Foster | PSL Karting | KF Kart | | AU |
| 401 | Tom Gerstner | Checkered Motorsports | Magik Kart | Rochester NY | US |
| 418 | Gary Glanger | | Redspeed | Dallas TX | US |
| 423 | Jesse Gwin | GFC Karting | Emmick | Antelope CA | US |
| 476 | Gary Hall | HRT Driver Development | Kosmic | Fullerton CA | US |
| 446 | Dennis Holler | Racelab | TB Kart | | DE |
| 458 | Keithan Hutchins | Section 8 Racing | Magik Kart | Keller TX | US |
| 424 | Bobby Kelley | Mike Manning Karting | Redspeed | Nuevo CA | US |
| 409 | Randy Klimek | AMK Race Products | Tony Kart | St. Augusta MN | US |
| 438 | Scott Kopp | Franklin Motorsports | Gillard | Mukwonago WI | US |
| 432 | Jaime Labastida | | Kart Republic | | MX |
| 415 | Morgan Lebaron | Hi5 Performance | Kosmic | Bastrop TX | US |
| 482 | Laurentiu Mardan | Tecno Kart USA | Tecno Kart | Arlington Heights IL | RO |
| 442 | Abel Martinez Trigueros | AKT Racing Team | Energy | | DO |
| 433 | Tim Meyer | Ryan Perry Motorsport | Tony Kart | Trabuco Canyon CA | US |
| 477 | Miguel Mier | Orsolon Racing | Tony Kart | Celina TX | MX |
| 414 | TJ Nevels | Franklin Motorsports | Merlin | Mukwonago WI | US |
| 445 | Jakab Nyiri | AEM Karting | Kosmic | Hickory Hills IL | US |
| 405 | Randy Russell | Section 8 Racing | Kosmic | Odessa TX | US |
| 451 | Josh Sarchet | Ryan Perry Motorsport | Tony Kart | Scottsdale AZ | US |
| 448 | Ron Schoonover | JH Motorsports | Tony Kart | Alpine CA | US |
| 469 | John Stanescu | Checkered Motorsports | | Merrick NY | US |
| 496 | Wes Steege | Franklin Motorsports | Merlin | Oconomowoc WI | US |
| 441 | Martin Stone | Racing Edge Motorsports | Kosmic | Dallas TX | US |
| 449 | Craig Vasquez | Mike Manning Karting | OTK | San Clemente CA | US |
| 410 | Kyle Walther | Hi5 Performance | Redspeed | Oklahoma City OK | US |
| 435 | Brandon Ward | Leading Edge Motorsports | Tony Kart | Newport Beach CA | US |
| 413 | Matthew Waters | Rolison Performance Group | Kosmic | | AU |
| 487 | Kogan Wright | Section 8 Racing | Redspeed | Odessa TX | US |
| 467 | Mingnan Xu | AEM Karting | Tony Kart | Chicago IL | US |
| 408 | Kyle Yuchinski | Hi5 Performance | Redspeed | Spring Branch TX | US |