Rotax Max Challenge Euro Trophy 2024 Season Calendar Confirmed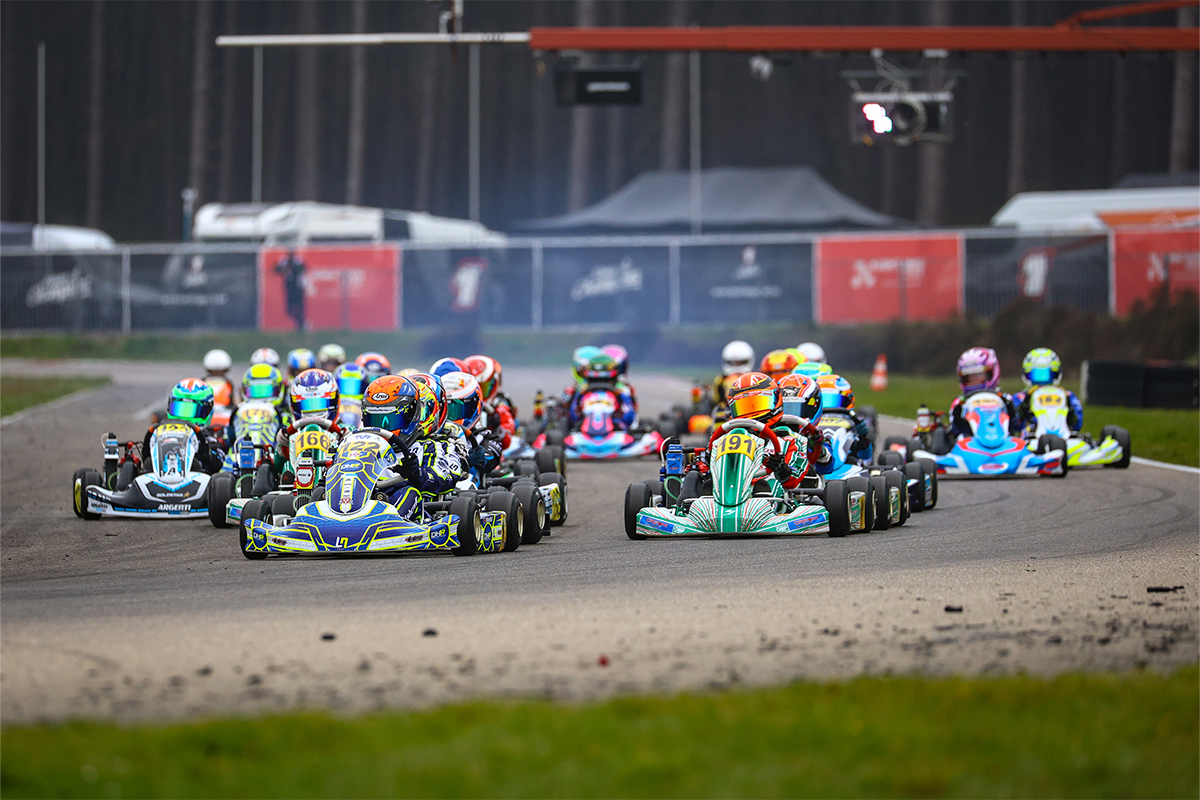 BRP-Rotax is pleased to announce the 2024 season program for the Rotax MAX Challenge Euro Trophy (RMCET) together with the Rotax MAX Challenge Winter Cup in collaboration with WSK Promotion, as the new event organiser.
The highly-competitive RMCET is renowned for being the leading Rotax Racing series on the inter-
national karting calendar today. The championship has continuously grown over recent years, providing the global Rotax network with a strong level of competition, closely-contested racing and the expected professional organisation. In addition, a number of Rotax racing categories, both combustion and electric, have been introduced. The prizes also extend beyond the European titles on the line in each of the classes, notably with RMC Grand Finals tickets and extra incentives, including
international event entries, trophies and Rotax products.
2024 will be even more attractive, when it comes to the RMCET series, offering more racing opportunities, new venues and more chances to win the coveted RMCGF invitation to the amazing end of season Rotax highlight event. In total, seven categories will feature on the RMCET program – Mini MAX, Junior MAX, Senior MAX, DD2 and DD2 Masters. The E20 Senior and E20 Masters join the schedule for the complete four rounds of the RMCET.
The initial event on the calendar will be the RMCET Winter Cup which returns to the popular Spanish location of Circuito Karting Campillos near Malaga on the weekend of March 8-10. Once again, the RMCET will be scheduled over four weekends this year, starting with the series opener at one of Europe's best circuits, Karting Genk 'Home of Champions' in Genk, Belgium, on April 12-14. The second edition of the RMCET brings another of the impressive international tracks into the program with Prokart Raceland at Wackersdorf in Germany. The second half of the season heads south in the summer to introduce the newest venue on the world stage that has everyone talking, Franciacorta Karting Track in Italy. Round 3 takes place on July 5-7. Finally, the infamous South Garda Karting a short distance away at Lonato ends the championship with something special. The deciding event, on the last weekend in August, will run the finals under lights Saturday night to close the RMCET season and follow with the prize-giving ceremony to celebrate the champions on Sunday morning.
There is exciting news for the youngest competitors in the Mini MAX class! They will begin the season off with the RMCET Winter Cup in Spain as well. The first two rounds of the RMCET series at Genk and Wackersdorf will host one-off trophy events: The Belgian Euro Cup by Mini MAX and the German Euro Cup by Mini MAX. Each of the winners of the Cup events will be awarded RMCGF tickets. The remaining two rounds in Italy, Franciacorta and Lonato, will combine as double-round series to crown the RMC Euro Trophy 2024 Mini MAX champion.
Rotax is proud to reveal an important step in the further development of their electric racing categories with confirmation that the Rotax E20 classes have been officially approved by the CIK-FIA. Both the Rotax E20 Senior and E20 Masters will be back on the grid at the RMCET in 2024 with more racing and tickets to compete for over the entire four rounds of the series. The new season is shaping up to be an absolute thriller for the competitors and race fans, in this, the beginning of a new partnership with WSK Promotion as the organiser and promoter. "As President of WSK Promotion, I thank BRP-Rotax for the opportunity to work on promoting the Rotax MAX Challenge Euro Trophy and the Rotax MAX Challenge Winter Cup," says Luca De Donno, approaching this new collaboration with BRP-Rotax in 2024 as 'an exciting challenge'. "The history of BRP-Rotax in the world of karting is rich, and joining forces with such a prestigious brand is a source of great pride for WSK Promotion. The synergy between WSK Promotion and BRP Rotax promises an exciting future for drivers and professionals. Thank you for your continuous support and for being part of this extraordinary adventure. We will work tirelessly to create a stimulating competitive environment
and to encourage the development of emerging talents. To all fans and participants, I wish you an
exciting season filled with success."
RMCET 2024 Calendar:
*RMCET WINTER CUP
March 8-10 Campillos, SPAIN
*RMCET EURO TROPHY
1 – April 12-14 Genk, BELGIUM
2 – June 7-9 Wackersdorf, GERMANY
3 – July 5-7 Franciacorta, ITALY
4 – Aug 30-Sep 1 Lonato, ITALY (Saturday night finals & prize-giving Sunday)
RMCET 2024 prizes:
RMCET Winter Cup (Mini MAX, Junior MAX, Senior MAX, DD2 & DD2 Masters)
1st place – Free entry to all 4 RMCET events
2nd place – Free entry to 2 RMCET events
3rd place – RMC International Trophy free entry ticket (including race tyres)
RMC Euro Trophy (Junior MAX, Senior MAX, DD2 & DD2 Masters)
Junior MAX – 3 x RMCGF tickets
Senior MAX – 3 x RMCGF tickets
DD2 – 2 x RMCGF tickets
DD2 Masters – 1 x RMCGF ticket
RMCET Mini MAX Championship (Franciacorta & Lonato)
1st place – 1 x RMCGF ticket
Belgian Euro Cup by Mini MAX (Genk)
1st place – 1 x RMCGF ticket
German Euro Cup by Mini MAX (Wackersdorf)
1st place – 1 x RMCGF ticket
RMC Euro Trophy E20 Senior
1st place – 1 x RMCGF Senior MAX ticket (combustion)
2nd place – 1 x RMCGF E20 ticket
3rd place – 1 x RMCGF E20 ticket
RMC Euro Trophy E20 Senior
1st place – 1 x RMCGF E20 ticket
BRP-Rotax will be offering two additional prizes, a Rotax MAX engine and a free entry for the RMC
Euro Trophy 2025 which will be raffled at the podium at the final round in Lonato, Italy.
Stay updated with the latest Rotax news about the RMCET 2024 season on our website at:
https://www.rotax-racing.com/