Registration Now Open for 2024 Rotax Winter Trophy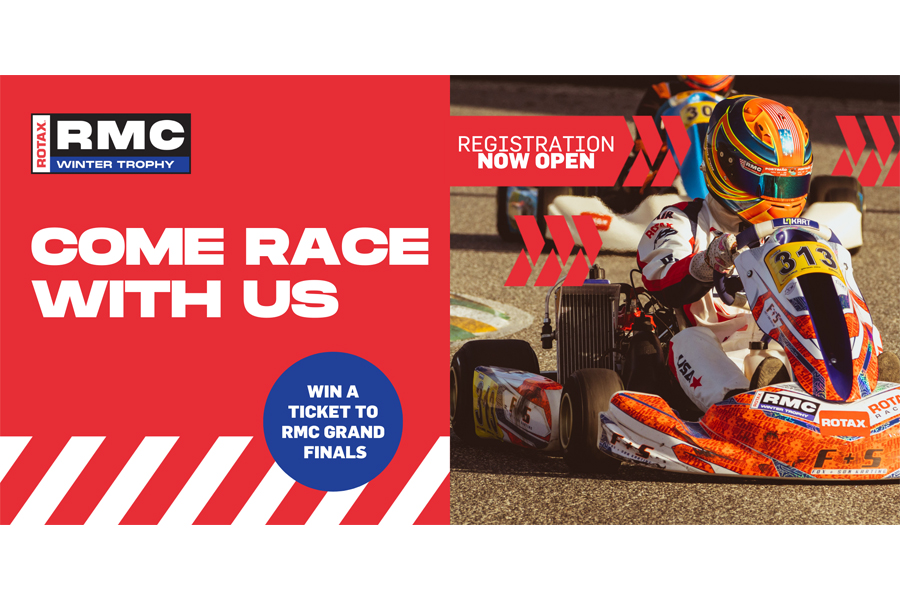 Confirming the Orlando Kart Center (OKC) as the home for the 2024 Rotax MAX Challenge (RMC) Winter Trophy last week, RTX Karting is pleased to announce that registration for the 2024 edition of the championship is now open. With Rotax Grand Finals tickets available for all class champions, a host of additional prizes are being confirmed and will be communicated in the coming weeks.
"We are pleased to open registration three months before our first event," explained RTX Karting's Julieta Fernandez. "We are giving teams and competitors ample time to prepare. Whether you are a driver from the United States, Canada, or anywhere else in the world, we can't wait to welcome you to sunny Florida."
Register Now at www.Rotax-EMS.com/USA/
Confirmed for January 26-28 and again February 2-4, January's event will take place on the standard Orlando Kart Center layout in the clockwise direction, while February's event will see a change in direction as competitors will compete in a counterclockwise direction as champions will be crowned and Grand Finals tickets will be awarded.
"Julieta and her team at RTX Karting have been working hard to make the 2024 edition of the Winter Trophy bigger and better than in 2023," expressed Alex Wandl, Sales representative BRP-Rotax Kart Business. "With the addition of experienced officials both in the Race Director and Technical Director positions, RTX Karting has also gone above and beyond in additional offerings to benefit both the teams and the competitors."
Fernandez continued, "We will go into additional detail in a future announcement, but all teams and competitors will receive free pit spots for both events, free digital photo packages for everyone, and other benefits not only to give back to the racer but also promote the Rotax brand. We have a huge prize fund that we are working hard to put the finishing touches on and will communicate all the details shortly."
Stay tuned for more news from RTX Karting and the RMC Winter Trophy.
For more information on the RMC Winter Trophy, please contact Julieta Fernandez via email to Info@RTXKarting.com and follow them on social media by searching RTX Karting. All Rotax news for the RMC Winter Trophy can be found at www.RTXKarting.com and www.Rotax-USA.com.