A Huge Worldwide Success for Bogdan Cosma Cristofor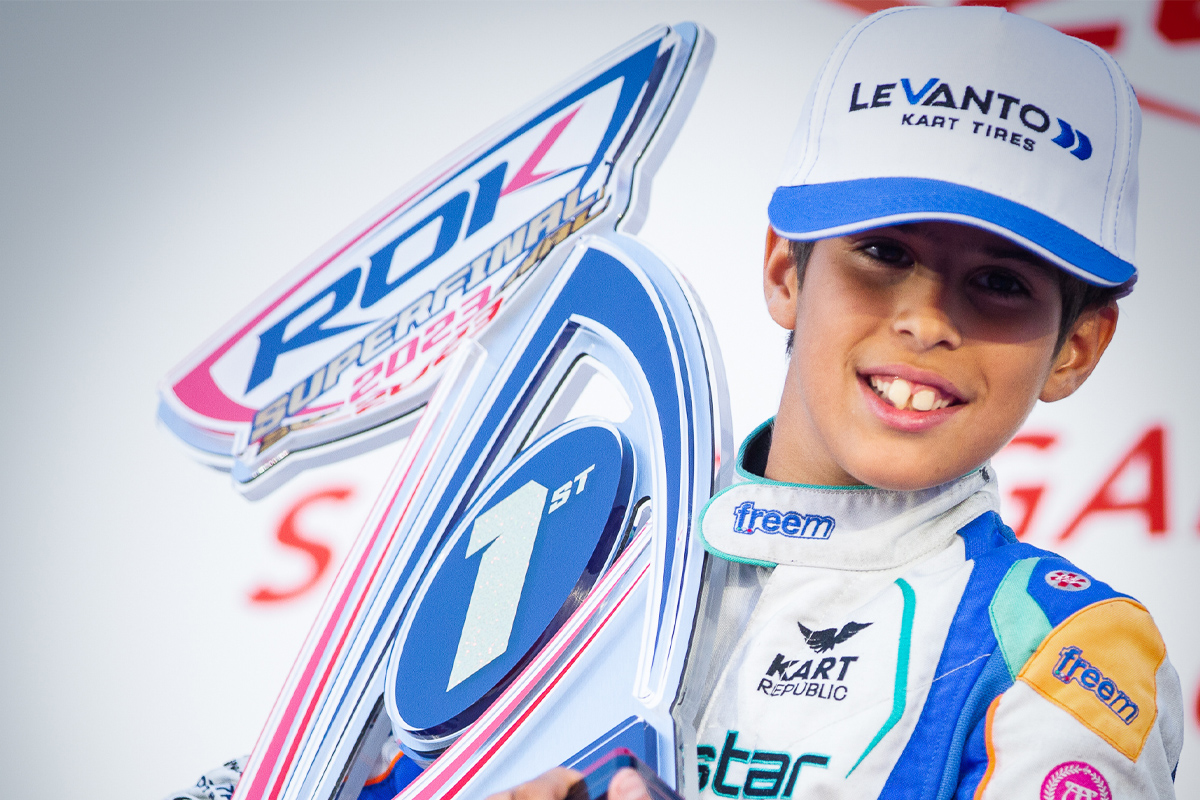 Bogdan Cosma Cristofor's incredible season continues. The young Romanian driver won one of the most important events of the season in the Mini category: the Rok Superfinal. With over 70 drivers entered, representing 26 countries from five continents, this is a competition worthy of a World Championship for drivers aged 9 to 13. Bogdan was fast and consistent in the Qualifying Heats, and put in a perfect Final to become the new Mini champion.
From 12th to 14th October 2023, Bogdan Cosma Cristofor was back at the South Garda Karting circuit in Lonato, Italy, where he is used to top-level performances. Finishing 3rd in the Rok Superfinal a year earlier, Bogdan had only one desire: to win! His determination, as strong as ever, worked wonders once again. From the very first official day, Bogdan confirmed that he was a contender for victory. He finished first twice in the two Free Practice sessions in the morning, and set the perfect lap to finish first in his group in Timed Practice. In the Qualifying Heats, he remained at the front of the field, finishing P3, P2 and P2, while taking care to avoid incidents and penalties.
In the footsteps of the greats
Starting P3 in the Final, at the wheel of his Gulstar Racing KR-Vortex, the 12-year-old Romanian champion showed his fighting spirit by regaining the lead of the race from the very first lap. He then put in a series of extremely fast laps to open up a gap on the chasing pack. Mentally sound, he didn't make the slightest mistake and maintained a sufficient lead at the finish line to triumph with incredible brilliance.
His commitment to his team, and more generally to the demanding competitive sport of karting, have taken Bogdan to the top of the world. Like Logan Sargeant in 2011, 12 years before he entered F1, or Andrea Kimi Antonelli, FRECA 2023 Champion, Bogdan Cosma Cristofor has written his name in gold letters on the list of winners of this world event in the Mini category.
Bogdan was impressive in the way he led his race, but he was able to rely on his partners to help him achieve his goals, particularly his technical team. These included his coach Dragos Gulie and his mechanic Catalin Caloianu. Bogdan Cosma Cristofor owes this title first and foremost to his talent, as the engines were distributed by lottery, sometimes causing operating difficulties and forcing Bogdan to work even harder to achieve his goal. The Romanian driver would also like to thank the Bucharest International School for enabling him to combine his sporting career with his education in the best possible conditions.