Podium for Nathan Dupuis in USPKS Finale
Dupuis is coming into his own in the Speed Concepts Racing program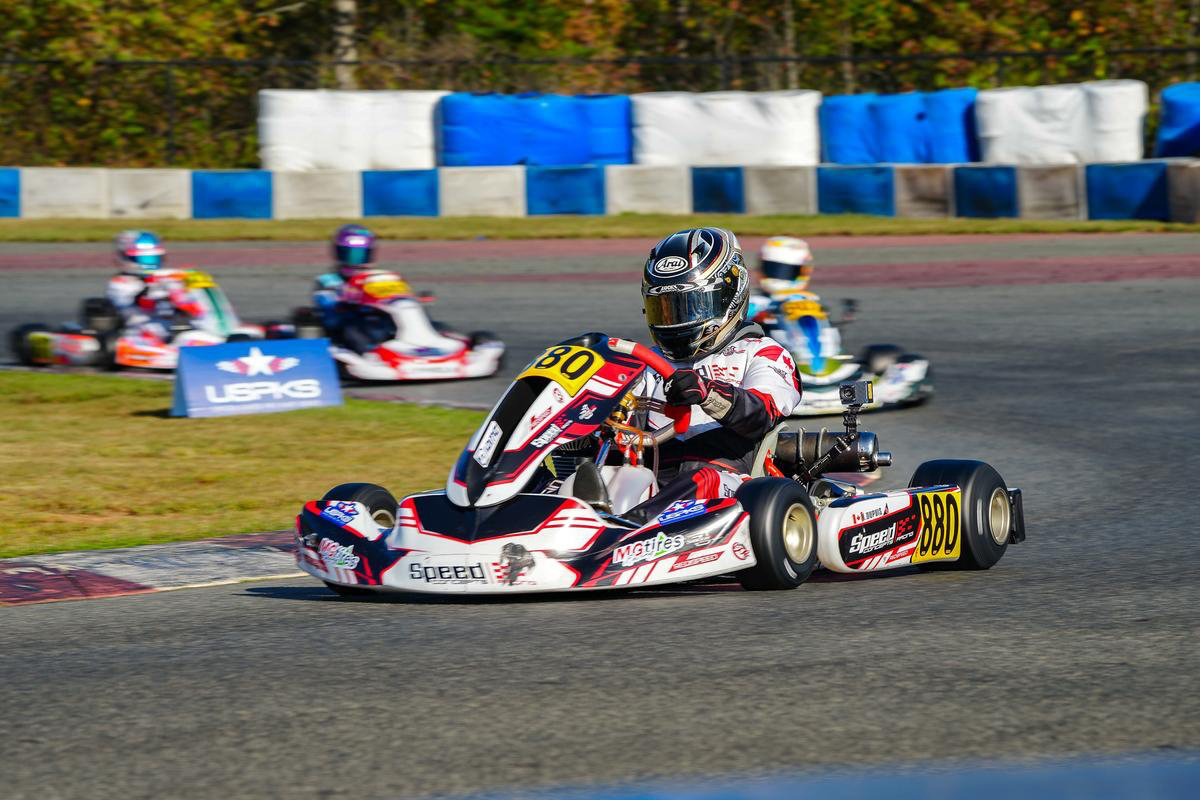 Nathan Dupuis will now focus on two big races in Las Vegas to finish his season
(Photo Credit: Studio 52)
Traveling to the newly named Trackhouse Motorplex in Mooresville, North Carolina for the final round of the 2023 United States Pro Kart Series (USPKS), Nathan Dupuis closed the weekend with a podium result and a pair of top-ten finishes. Earning a sixth-place finish in KA100 Junior, the young Canadian and Speed Concepts Racing driver climbed through the field in X30 Pro Junior to stand on the second step of the podium.
"It was a great weekend at Trackhouse," explained Dupuis. "We did a lot of things right, and I think I drove quite well. Taking advantage of situations and staying out of trouble, I was able to earn a USPKS podium result. A perfect result for the Canadian Thanksgiving weekend!"
Progressing through qualifying and the three-heat race format that the USPKS has to offer, the Trackhouse Motorplex provided the perfect backdrop for the final main events of the 2023 season. Starting the KA100 Junior final P13 on the grid, it was a seven-position gain for the Canadian as he drove forward to finish sixth. After post-race penalties, Dupuis was elevated to fourth, only to be pushed back to sixth after protests were reviewed and overturned.
After a difficult set of heat races in the X30 Pro Junior class, Dupuis lined up on the outside of row five for the main event with the hopes of driving forward. Looking for a top-five finish, the Speed Concepts Racing and Speed Lab Racing Engines driver drove to the second position and celebrated on the second step of the podium. 
Dupuis added, "The goal for the main events was to stay out of trouble, move forward, and just take what we can get. Finishing less than two seconds behind the winner in KA100 and only a tenth behind the winner in X30 proves how far I have come this season. A huge thank you to the SCR crew for all of the help, support, and coaching throughout the weekend and the entire season."
With a podium result to his credit, Dupuis climbed to fifth in the X30 Pro Junior championship at the conclusion of the United States Pro Kart Series. Nathan Dupuis will now shift his focus to the biggest events of his karting career, ROK Cup USA's ROK Vegas, and the Superkarts! USA SuperNationals in Las Vegas.
For more information on Nathan Dupuis Motorsports, please contact Melissa Dupuis via email at Melissa@WorkSmartSafety.com or by phone at 519.819.9887. To learn more about Nathan Dupuis Motorsports, please visit him online via his new social media pages on Facebook, Twitter, and Instagram by searching "Nathan Dupuis Motorsports".