FIA Karting 2023: World Championship Qualifying in Franciacorta Gets Off to a Flying Start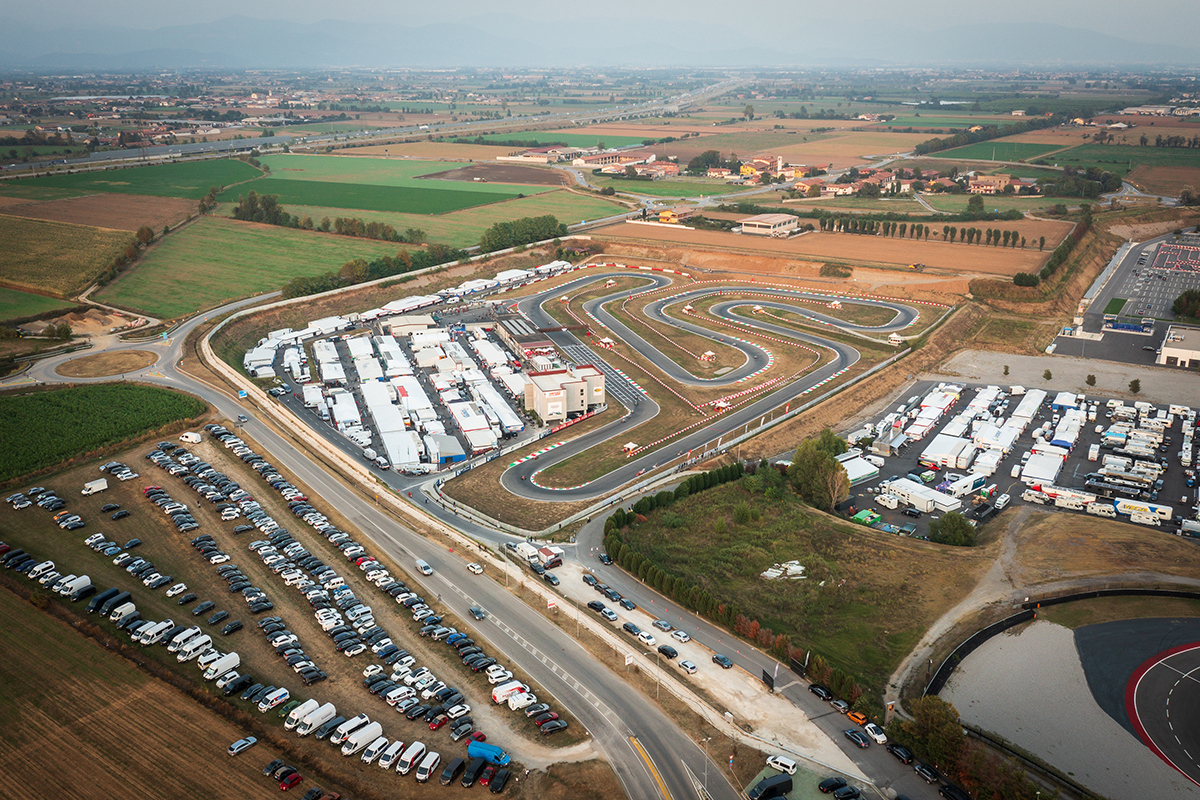 The tension was already high at Franciacorta on Friday morning during Qualifying Practice for the Mondokart.com FIA Karting World Championship – OK & Junior. There had already been a number of surprises, with new names coming to the fore and some top drivers performing relatively poorly. Apparently, it wasn't easy to get the right setup during Qualifying. While the pole position for Spaniard Christian Costoya (ESP) in OK-Junior was in line with expectations, that of Estonian Mark Dubnitski in OK was more surprising.
On Friday morning, the Franciacorta track was completely dry,while a few clouds occupied part of the sky with temperatures between 20 and 22°C during Qualifying Practice.
111 drivers took part in the OK class and 123 in the OK-Junior class, making a total of 234 participants in the Mondokart.com FIA Karting World Championship – OK & Junior. The large field meant that the two categories had to be split into five different sessions, alternating their time on the track. Tyres were supplied by MG Tyres for OK and Vega for OK-Junior.
Starting on Friday afternoon, the 42 Qualifying Heats on the programme, seven per driver, which will finish on Saturday evening, are likely to be extremely hotly contested, and also accompanied by numerous twists and turns.
Costoya takes the lead in OK-Junior Qualifying
Without any significant change in track conditions, the five Qualifying sessions of the Mondokart.com FIA World Karting Championship – Junior recorded relatively large gaps of around 5 tenths of a second. Leader of the fifth and final session, Christian Costoya (ESP) took pole position in 48"616, followed 68 thousandths behind by Lewis Francis (AUS). Joel Pohjola topped Session 2, 42 thousandths off pole position. 2nd in this session was Thibaut Ramaekers (BEL), just 27 thousandths off the pace. Taym Saleh (DEU) was fastest in Session 3, 1.6 tenths off Costoya's pole position with Stepan Antonov close behind (15 thousandths). Noah Monteiro (PRT) dominated Session 4 against Henry Domain (GBR), while Jacob Micallef (MLT) was 6 hundredths faster than Dries van Langendonck (NLD) in Session 1. Lewis Wherrell (GBR) had no doubt hoped for better than 21st place overall ahead of Iacopo Martinese (ITA) to start the competition. Similarly, Jindrich Pesl (CZE) was 48th, Zac Drummond (GBR) 50th, Salim Hanna (COL) 55th and 2023 European Champion Oleksandr Bondarev (UKR) 67th.
Dubnitski makes his mark with pole position in OK
At Franciacorta, Qualifying Practice for the Mondokart.com FIA Karting World Championship – OK Junior was also accompanied by some surprising performances. The pole position achieved by Mark Dubnitski (EST) was unexpected. He set a time of 47"294 at the very end of the session in the fifth and final session, 16 thousandths of a second ahead of Olin Galli (BRA). The leader of the second session, Rene' Lammers (NLD), one of the favourites, was just 6 thousandths off pole position, with Niccolò Cuman (ITA) 2 hundredths behind him. Gabriel Gomez (BRA) was in good rhythm at the front of the fourth session, 3 hundredths from pole position, followed very closely by Kean-Nakamura-Berta (JPN). In the third heat, Fionn Mac Laughlin (GBR) was ahead of Tomass Stolcermanis (LTU), while Louis Iglesias (FRA) was the fastest in Session 1 against Enzo Tarnvanichkul (THA). The overall rankings showed that Luigi Coluccio (ITA) was in 28th place, Miguel Costa (BRA) 44th, Luviwe Sambudla (ZAF) 47th and Matheus Morgatto 69th.
"Road to the first OK-N World Cup" Qualifying
In support of the Mondokart.com FIA Karting World Championship – OK & Junior, the Italian ASN is organising the "Road to the first OK-N World Cup" for the new OK-N and OK-NJ categories with almost 70 drivers, all equipped with Vega tyres.
Dean Hoogendoorn (NLD) took OK-NJ pole position with a time of 49"459, with Jesse Phillips (GBR) following in 2nd at 17 thousandths, then Kais Aziza (CGE) in 3rd, two tenths ahead of Iskender Zulfikari (TUR) and Asher Ochstein (ITA) in 5th.
In OK-N, Francesco Marenghi (ITA) was the fastest with a lap of 49'264, followed 55 thousandths behind by Nicholas Tomasella (ITA). Antonio Apicella (ITA) was 3rd, Lamberto Ferrari (ITA) 4th and Federico Rossi (ITA) 5th.
Provisional schedule for the Franciacorta event
Saturday 7th October
08.00 – 09.25: Warm-up
09.30 – 18.49: Qualifying heats
Sunday 8th October
09.00 – 10.05: Warm-up
10.50 – 12.25: Super Heats
15.15 – 16.30: Finals
You can follow the Franciacorta event on the official FIA Karting Championship app for mobile devices and on the www.fiakarting.com website.