Heartbreak for Nathan Dupuis at RMC US Trophy Final
Strong performance ends in contact and drive back forward in the main event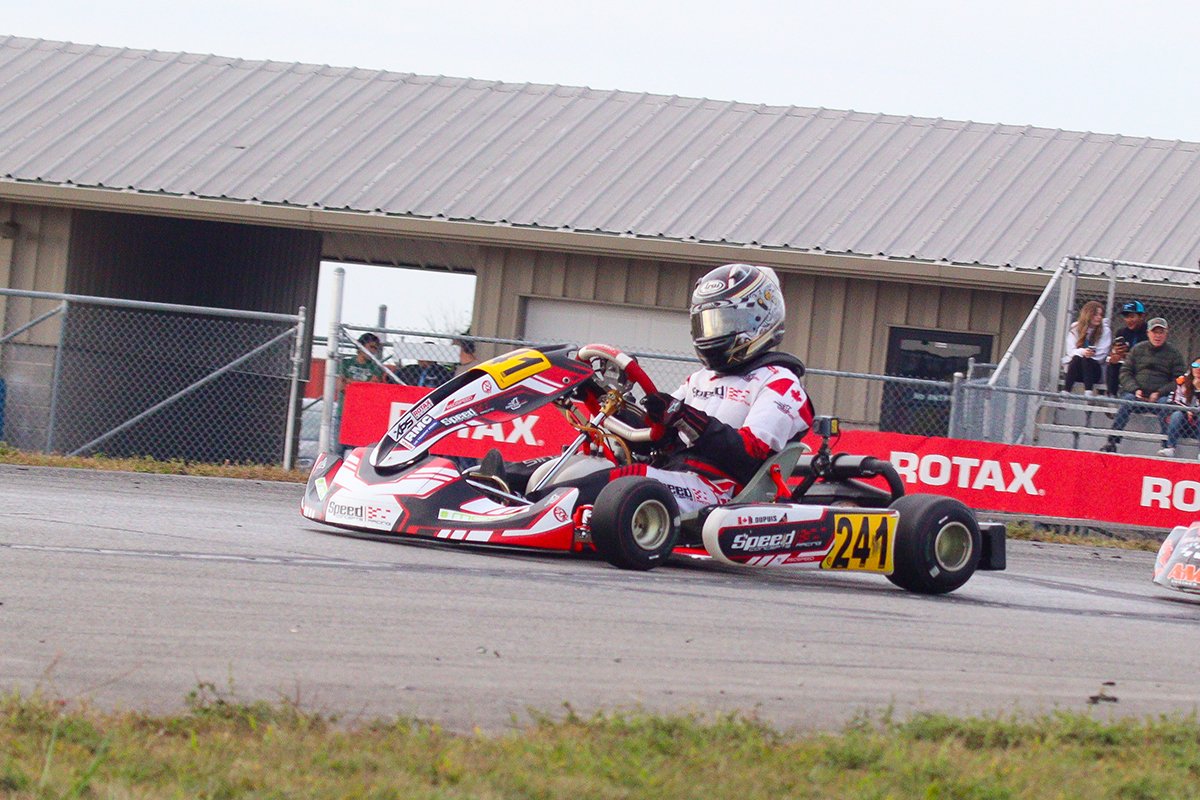 Nathan Dupuis battled more than 30 drivers in the Rotax Junior MAX class in New Castle last weekend
(Photo Credit: RTD Media)
Taking on the New Castle Motorsports Park for the fourth time this season, Canadian Nathan Dupuis was back behind a Speed Concepts Racing (SCR) Redspeed chassis. This time, bolted to his right was a Rotax MAX FR125 engine as Dupuis battled the Junior MAX class at the Rotax MAX Challenge US Trophy Final.
With more than 30 competitors in the Junior MAX class, Dupuis started his weekend off with a top-ten result in qualifying, earning the eighth fastest lap of the session, to line up on the outside of row four in the three heat races.
"We had a great two days of testing leading up to Saturday," explained Dupuis. "There were five Speed Concepts Racing drivers in the Junior class, and we all worked together to get better as the event went on. I think we had the speed to win, just luck was not on our side."
After his eighth-place qualifying effort, Dupuis went on to earn third, tenth, and third-place results in the three heat races on Saturday. Moving forward in two of the three heat races, Nathan's lap times were often in the top-five as he shifted his focus to Sunday and the chance at an RMC Grand Finals berth to compete for his country in Bahrain.
With his heat race results lining him up third for the start of the prefinal, Dupuis battled again at the front of the field but fell back in the latter stages of the race. With starting positions on the line for the main event, drivers raced aggressively as Dupuis crossed the line eighth. 
A good start in the main event saw Dupuis maintain his position on the opening lap but contact from behind into turn four on lap two saw Dupuis run into the driver in front as both competitors were off the track and out of contention. Utilizing his never-quit attitude, Dupuis was able to get back on track, albeit down in the 30th position. Looking to march his way back forward, the SCR driver had a spirited drive forward often turning some of the fastest laps of the race. Crossing the line just outside the top-ten in 11th, Dupuis' drive was all for not as a post-race pushback bumper penalty relegated him back down to 27th on the results sheet.
Dupuis added, "The finishing result does not mean that much to me as I proved that I can race with some of the best Junior drivers in the country. I can't wait until the next opportunity to fight for the chance to compete for my country overseas."
For more information on Nathan Dupuis Motorsports, please contact Melissa Dupuis via email at Melissa@WorkSmartSafety.com or by phone at 519.819.9887. To learn more about Nathan Dupuis Motorsports, please visit him online via his new social media pages on Facebook, Twitter, and Instagram by searching "Nathan Dupuis Motorsports".