Coft: Final Round For Vortex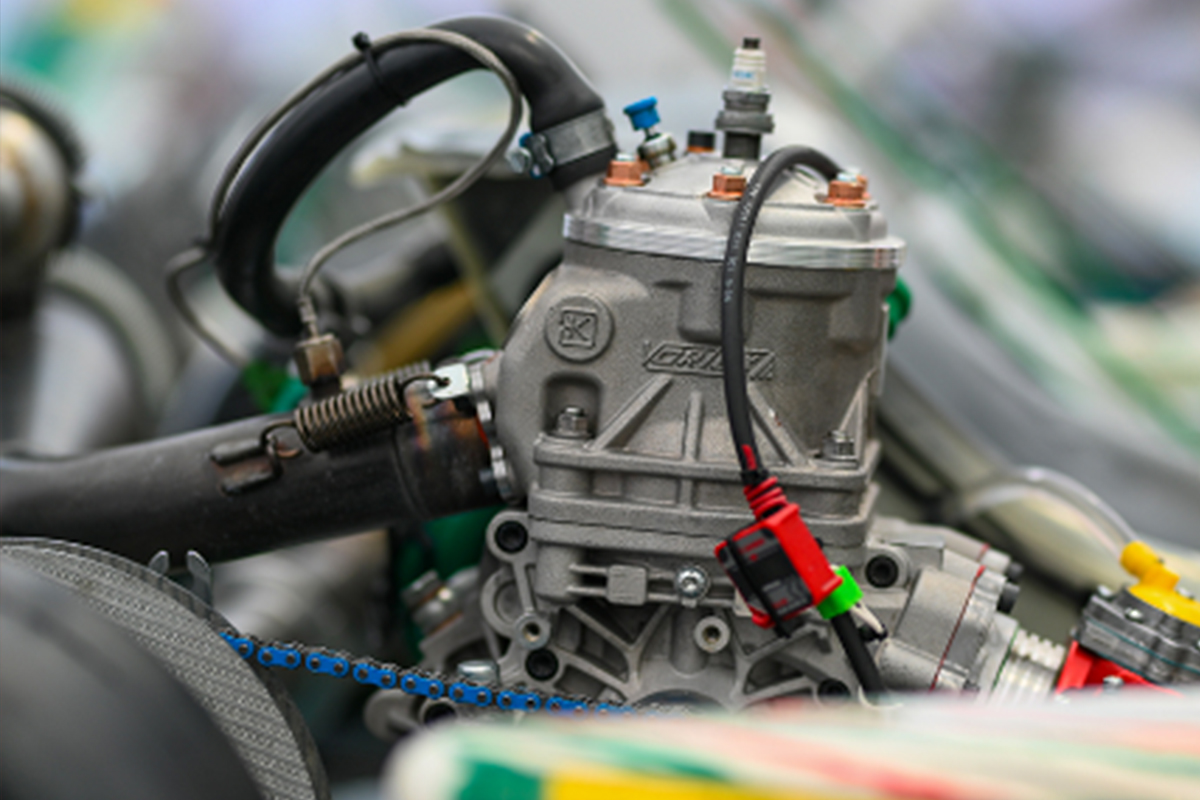 In the final round of the Champions of the Future Euro Series, the VTJ engine comes close to the podium in the OKJ final with Scott Kin Lindblom (Tony Kart Racing Team)
OKJ – Two VTJ engines occupy the top places in the combined chrono practice ranking: Elliot Kaczynski (Ward) sets the second best time in Group 4 as well as Kirill Dzitiev (Tony Kart Racing Team) in Group 1. In the following eliminatory heats, Vortex achieves 5 victories, 11 podiums and 4 fastest laps, plus a win and a third place in Super Heat B.
The final sees Dzitiev jumping from the second position on the starting grid: the Tony Kart Racing Team driver does not make any mistakes at the start, but some brawls prevent him from fighting for the top positions. Scott Kin Lindblom, on the other hand, emerges in the course of the race and fights until the last lap to conquer the podium, also recording the second best time in the race.
Kaczynski also reaches the Top10, while Alp Hasan Aksoy (Tony Kart Racing Team) and Davide Bottaro (Tony Kart Racing Team) are protagonists of two remarkable comebacks, respectively with 19 and 11 positions gained compared to the starting grid. Scott Marsh (Tony Kart Racing Team), author of a victory in the qualifying heat, also attends the last race of the weekend.
The OTK Kart Group's "engine division", throughout the whole championship, shows an enviable consistency of performance at the top, as confirmed by the results obtained: 11 victories, 31 podiums and 16 fastest laps in the eliminatory heats (other than 1 success, 2 Top 3 places, and 1 best lap in the super heats).
OK – Jules Caranta (Jana Racing) and Jan Przyrowski (Tony Kart Racing Team) are the two best performers in Thursday's qualifying heats, both third in Group 2 and Group 4, respectively. During the qualifying heats three more Top 3 placings are set by the VTS engines engaged in the Senior category.
Przyrowski, in Saturday's decisive race, is still confirmed to be the fastest driver with the Vortex engines and gains 6 positions from the starting grid of the final; the Polish driver finishes the last race of the weekend ranking among the top ten. David Walther (Koski Motorsport) is the best climber of the day, with 21 positions gained.
Caranta is the third Vortex driver to cross the finishing line, ahead of Kai Rillaerts (Tony Kart Racing Team), able to gain 8 positions in the ranking, and Aleksandar Bogunovic (Tony Kart Racing Team), with a score of 14 positions recovered. Sebastiano Pavan (Tony Kart Racing Team) also attends the final.
Vortex's final balance, over the whole championship, counts 2 pole positions in the qualifyings, 20 victories, 32 podiums and 12 fastest laps in the qualifying heats, as well as 1 first place and 4 top 3 finishes in the super heats, plus a podium in the final.