EKN Trackside: 2023 Rotax Max Challenge US Trophy Final – Preview
Twelve Rotax Grand Finals tickets up for grabs at New Castle Motorsports Park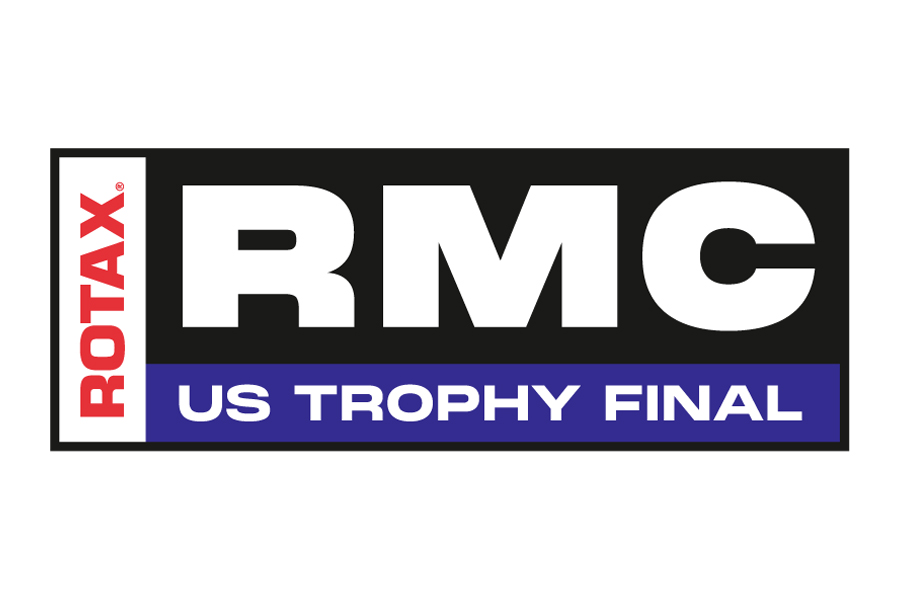 The second edition of the Rotax Max Challenge US Trophy Final is set for this weekend – September 15-17 – at the New Castle Motorsports Park. Rotaxians from around the United States and handful of countries from around the world will converge on the New Castle, Indiana for a chance to take home victory, and the 12 tickets to the 2023 Rotax Max Challenge Grand Finals up for grabs.
The format for the Rotax US Trophy Final has changed from the 2022 edition, continuing with the same five categories; Micro MAX, Mini MAX, Junior MAX, Senior MAX and Masters MAX. Competitors who took part in the two regional programs – US Trophy Series West and US Trophy Series East – have earned a spot on the 'Reserved' list competing for RMCGF tickets in their respective categories. The remaining drivers are fighting for the 'Open' tickets for a chance to compete at the Bahrain International Karting Circuit in Sakhir, Bahrain from December 2-9.
2023 RMC US Trophy Final Prize Package
Micro: 1st USA Ticket; 2nd $1000 Rotax Voucher; 3rd $750 Rotax Voucher
Mini: 1st Open Ticket, 2nd Open Ticket; 3rd Reserved Ticket
Junior: 1st Open Ticket, 2nd Reserved Ticket, $1000 Rotax Voucher
Senior: 1st Open Ticket, 2nd Reserved Ticket, 3rd Open Ticket (DD2), 4th Reserved Ticket (DD2)
Masters: 1st Open Ticket; 2nd Reserved Ticket; 3rd $1000 Voucher
The largest category with 33 drivers representing seven different countries is Senior MAX. A total of four tickets are up for grabs with high profile drivers in the field – including nine in the top-50 of the EKN TaG Driver Rankings presented by Skip Barber Racing School. Among them is Ryan Norberg (Kosmic), a former Team USA member who led at the 2019 Rotax Grand Finals in Italy before contact took him out. A US Rotax title is missing from his historic CV. The driver who won this event last year, British driver Oliver Hodgson (CompKart) is back to defend his crown, already coming in having won a Rotax Grand Finals ticket at the Canada Final program. Among the drivers to watch with a 'Reserved' spot are last year's Junior winner and West series top driver Cooper O'Clair (CompKart), Race Liberante (Kart Republic), Macy Williams (Gillard), East series top driver Aidan Lourenco (Kosmic) and Canadian Griffin Dowler. Those also gunning for victory including Aidan Fox (Kosmic), Dalton Hanes (TB Kart), recent King of the Rock double winner Chase Jones (Kart Republic), Frankie Mossman (LN Racing Kart), and Brazilian Diego Ramos (Birel ART).
The Junior MAX division is on the verge of breaking into the 30s with 29 set to battle at New Castle. Last year's winner Cooper O'Clair has moved up, opening the door for a new winner in 2023. Nixx Eggleston (Exprit) and Wesley Gundler (Kosmic) are the West and East series champions respectively, leading the 11 drivers on the 'Reserved' list. Among them is last year's Team USA member Ben Hernandez (LN Racing Kart), who finished third a year ago at New Castle. A long list of contenders in the 'Open' slot, including Jackson Wolny (Redspeed), recent Route 66 Sprint Series champion Austin Olds (Kart Republic), Ty Fisher (TB Kart), Nathan Dupuis (Redspeed), Turner Brown (Redspeed) and Diego Ardiles (Tony Kart). Brown and Ardiles have already won at NCMP at the recent SKUSA SummerNationals event in this direction. Canadian Lucas Deslongchamps (Kart Republic), who finished second in Mini Max last year, has a Rotax Grand Finals ticket already from the Canadian Open.
The Mini MAX field is 18 drivers deep, featuring more big names from the USA. Defending race winner Gage Korn (Kart Republic) is back for a chance to repeat and leads the seven drivers on the 'Reserved' list. Matteo Quinto (Tony Kart) came away with the West title. Three drivers who represented Team USA last year at the Rotax Grand Finals are also on the list, including two that have graduated up to Mini. Last year's winner Marco Sammut (LN Racing Kart) has been improving each weekend throughout 2023 and finished third in the East series program. Luke Kanjanapitak (Praga) won his ticket at the Rotax Winter Trophy USA last year and is looking to gain one of the three RMCGF tickets up for grabs this weekend. Fion Shi (Gillard) was part of Team USA a year ago as well. Isaac Malcuit (Birel ART) is among the top drivers in the 'Open' list – a multi-time winner at NCMP in Cadet racing.
Seven of the 11 drivers in the Masters MAX class this weekend are on the 'Reserved' list. Derek Wang (LN Racing Kart) – the new 'Captain America' has been part of Team USA 11 times, and already has a ticket from the Canada Final program. Billy Cleavelin (Kosmic), Wang and Christopher Mann (Kosmic) were the top drivers in the West program, while former Team USA member John Bonanno (CompKart), Ray Banach (CompKart) and Chris McGinley (CompKart) showed the way in the East series. Of those six, Banach is making his US Trophy Final debut. Defending race winner Danillo Ramalho is not on the entry list, but runner-up Laurentiu Mardan (Tecno Kart) is returning, leading the list of 'Open' drivers.
One lone ticket is available in the Micro MAX division. Last year's winner Marco Sammut has moved up, with only two drivers in the field of 12 returning from last year. Cam Becker (Kart Republic) finished fourth with Conner Lypka (CompKart) placed seventh a year ago. Standing out in the entry list is Lucas Palacio (Kart Republic). The young driver has shined in the Mini division across the country – earning a SKUSA Pro Tour title this year. The age limit of 8-11 allows for Palacio to compete in the Micro division, similar to what we saw with Brent Crews back in 2018 when he went on to win the Rotax Grand Finals to become the third different USA driver to claim a victory – Juan Manual Correa (Senior) in 2013 and Diego LaRoque (Micro) in 2016. Enzo DiGennaro (Kart Republic) – who claimed the East series title – is coming off victory at the USPKS event in Ohio last month. Gage Grant (Nitro Kart) took top honors in the West series. Danny O'Gara (Kart Republic) is another one to watch, defending Indiana home turf.
Be sure to follow all the EKN Social Media outlets for updates, photos, videos and more from the Rotax Max Challenge US Trophy Final. Listen to the racing action by heading to the EKN Live page or tune in on the EKN Radio Network.
---
Provisional Senior MAX Entry List
| No. | Driver | Chassis | Nation | Reserved |
| --- | --- | --- | --- | --- |
| 332 | Josh Bethune | CompKart | NZL | |
| 322 | Jeremy Cooper | OTK | USA | X |
| 355 | Lai Dali | Kosmic | TWN | |
| 306 | Griffin Dowler | Tony Kart | CAN | X |
| 300 | Kai Fassino | CompKart | USA | |
| 313 | Aidan Fox | Kosmic | USA | |
| 305 | Ben Gaunt | Kosmic | USA | |
| 388 | Matthew Goddard | Kart Republic | USA | |
| 389 | Dalton Hanes | TB Kart | USA | |
| 362 | Chris Harrower | CompKart | USA | X |
| 333 | Cam Hill | CompKart | NZL | |
| 359 | Oliver Hodgson | CompKart | GBR | |
| 397 | Quinn Ian | CompKart | USA | |
| 354 | Chase Jones | Kart Republic | USA | |
| 343 | Race Liberante | Kart Republic | USA | X |
| 329 | Aidan Lourenco | Kosmic | USA | X |
| 302 | Frankie Mossman | LN Racing Kart | USA | |
| 348 | Ryan Norberg | Kosmic | USA | |
| 321 | Cooper O'Clair | CompKart | USA | X |
| 351 | Timothy Pernod | Birel ART | CAN | |
| 366 | Ian Qiu | Falcon | CAN | |
| 313 | Diego Ramos | Birel ART | BRA | |
| 312 | Yash Rampal | CompKart | USA | X |
| 357 | Tyler Ruth | Exprit | USA | X |
| 303 | Raif Shah | LN Racing Kart | USA | |
| 309 | Carter Sheets | CompKart | USA | X |
| 398 | Matthew Taskinen | OTK | CAN | |
| 357 | Ethan Thorne | EOS | USA | |
| 301 | Ziming Wang | Falcon | CAN | X |
| 318 | Henry Wheeler | Birel ART | USA | |
| 323 | Justin White | Gillard | USA | |
| 314 | Macy Williams | Gillard | USA | X |
| 319 | Jia Zhabin | Tony Kart | CHN | |
Provisional Junior MAX Entry List
| No. | Driver | Chassis | Nation | Reserved |
| --- | --- | --- | --- | --- |
| 293 | Diego Ardiles | Tony Kart | USA | |
| 236 | Turner Brown | Redspeed | USA | |
| 251 | Landon Cardwell | LN Racing Kart | USA | X |
| 290 | Kaylee Countryman | CompKart | USA | X |
| 227 | Lucas Deslongchamps | Kart Republic | CAN | |
| 220 | Kyle Drysdale | Exprit | USA | X |
| 241 | Nathan Dupuis | Redspeed | CAN | |
| 224 | Nixx Eggleston | Exprit | USA | X |
| 222 | Archer Eversman | CompKart | USA | |
| 219 | Luke Fedowitz | Gillard | USA | X |
| 231 | Paityn Feyen | Exprit | USA | X |
| 237 | Ty Fisher | TB Kart | CAN | |
| 246 | Wesley Gundler | Kosmic | USA | X |
| 200 | Killian Harris | Exprit | USA | |
| 208 | Ben Hernandez | LN Racing Kart | USA | X |
| 250 | Mannix Jakubiec | Redspeed | USA | |
| 213 | Mason Kuhn | Kart Republic | USA | |
| 207 | Sterling MacKenzie | Exprit | CAN | |
| 205 | Jake Millan | OTK | USA | |
| 254 | Austin Olds | Kart Republic | USA | |
| 222 | Sebastian Rist | Redspeed | USA | X |
| 271 | Giovanni Santora | CompKart | USA | X |
| 211 | Maximillian Spilger | Exprit | USA | X |
| 243 | Ethan Tovo | Redspeed | USA | |
| 231 | Jackson Tovo | Redspeed | USA | |
| 238 | Cole Turney | CompKart | NZL | |
| 295 | John Wade | Birel ART | USA | |
| 221 | Jasper Wang | Falcon | CAN | |
| 296 | Jackson Wolny | Redspeed | USA | |
Provisional Mini MAX Entry List
| No. | Driver | Chassis | Nation | Reserved |
| --- | --- | --- | --- | --- |
| 197 | Jeremy Cyr | Birel ART | CAN | |
| 124 | Decklan Deonarine | Energy | CAN | |
| 171 | Rayah Grandour | Kosmic | CAN | |
| 108 | Luke Kanjanapitak | Praga | USA | X |
| 137 | Tyrone Kemper Jr. | Birel ART | USA | |
| 180 | Darren Kidd | Benik | USA | X |
| 133 | Gage Korn | Kart Republic | USA | X |
| 111 | Iago llempen | OTK | USA | |
| 175 | Isaac Malcuit | Birel ART | USA | |
| 146 | Max Mokarem | CompKart | USA | X |
| 101 | Warner Oliver | Kart Republic | USA | |
| 177 | Isaac Payn | Parolin | USA | |
| 134 | Matteo Quinto | Tony Kart | USA | X |
| 155 | Paxton Romero | CompKart | USA | |
| 157 | Marco Sammut | LN Racing Kart | USA | X |
| 153 | Fion Shi | Gillard | USA | X |
| 179 | Benjamin Sosa | Parolin | USA | |
| 101 | Oliver Warner | Kart Republic | GBR | |
Provisional Masters MAX Entry List
| No. | Driver | Chassis | Nation | Reserved |
| --- | --- | --- | --- | --- |
| 629 | Ray Banach | CompKart | USA | X |
| 672 | John Bonanno | CompKart | USA | X |
| 644 | Vincent Carey | Kosmic | USA | |
| 658 | Billy Cleavelin | Kosmic | USA | X |
| 633 | Mundy Loyer | Gillard | PER | |
| 618 | Christopher Mann | Kosmic | USA | X |
| 682 | Laurentiu Mardan | Tecno Kart | USA | |
| 671 | Chris McGinley | CompKart | USA | X |
| 652 | Randy Nelson | Birel ART | USA | X |
| 625 | Gary Peterson | CompKart | USA | |
| 688 | Derek Wang | LN Racing Kart | USA | X |
Provisional Micro MAX Entry List
| No. | Driver | Chassis | Nation | |
| --- | --- | --- | --- | --- |
| 16 | Cam Becker | Kart Republic | USA | |
| 16 | Feliciano Bruschi | Parolin | USA | |
| 90 | Enzo DiGennaro | Kart Republic | USA | |
| 15 | Gage Grant | Nitro Kart | USA | |
| 79 | Hudson Howard | Parolin | USA | |
| 44 | Conner Lypka | CompKart | USA | |
| 14 | Sterling Mulata | Kart Republic | USA | |
| 36 | Holden Myers | CompKart | USA | |
| 67 | Danny OGara | Kart Republic | USA | |
| 2 | Lucas Palacio | Kart Republic | USA | |
| 7 | Lucas Tarango | Nitro Kart | USA | |
| 9 | Tyson Underwood | CompKart | USA | |
| 13 | William Vetor | OTK | USA | |