Energy and Stolcermanis Win in OK and Shine in KZ2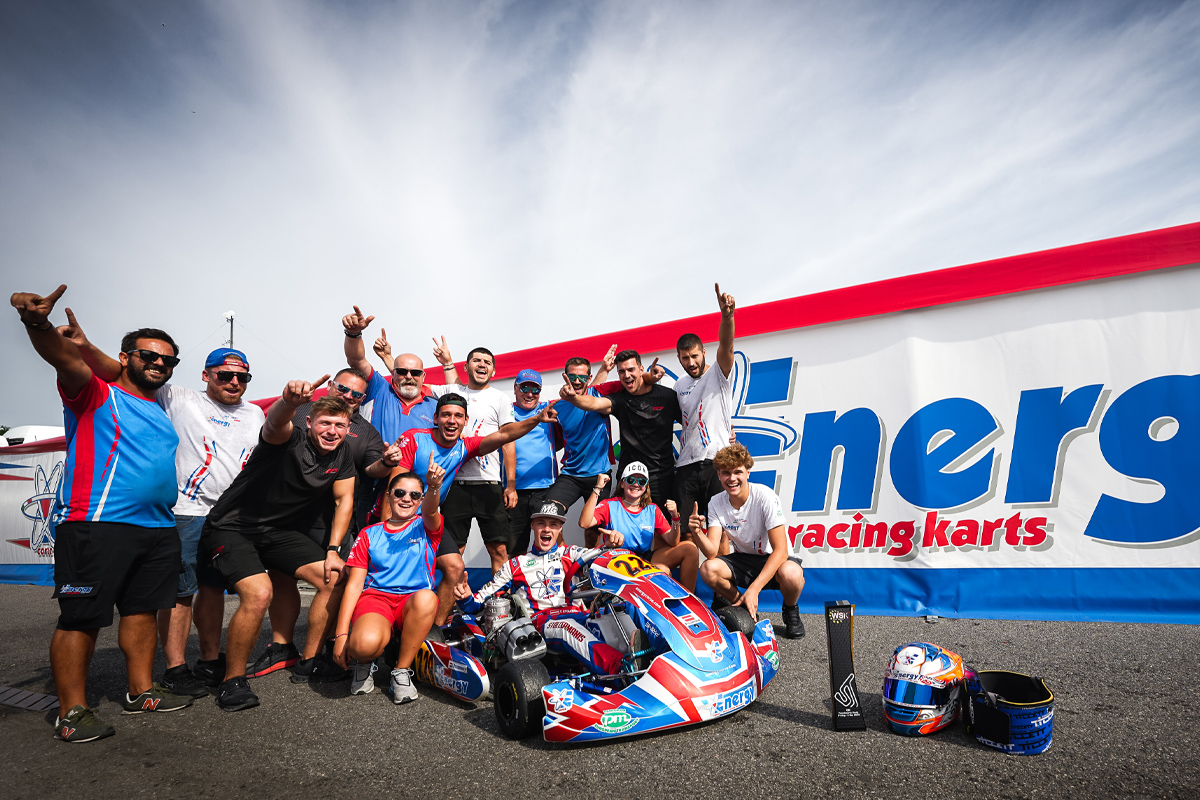 The latest international events have once again placed the Energy Corse team at the top of the hierarchy, confirming the team's value and its ability to rise to the greatest challenges. After his victory at the Road to Wackersdorf in July in KZ2, Tomass Stolcermanis dominated the OK Final at the first round of the WSK Euro Series in Franciacorta. With just a few weeks to go to the World Championship, this result is extremely encouraging for the whole team, which can rely on top- class equipment and technical staff.
The Energy Corse team approaches each new meeting with the same determination and passion, maximising the preparation of its equipment to enable its drivers to achieve their objectives. At Franciacorta, for example, the Italian brand's chassis and the TM Kart engines prepared by GFR proved particularly competitive for the opening round of the highly-rated WSK Euro Series, with all the top drivers and teams competing in OK and OK- Junior.
In OK, Tomass Stolcermanis finished all his Qualifying Heats in the top five, winning once and finishing 2nd twice. His rise to prominence continued in the Super Heat, with a 2nd place finish and the 2nd fastest lap of the race. Starting 5th in the Final, the talented Latvian driver made a superb start to the race, driving equipment that was effective from the very first laps. He remained competitive right to the end, completing all the laps at the top of the order.
A brilliant winner on this demanding Italian circuit, Stolcermanis took the opportunity to take the lead in the series, which will finish in early November in Sarno. "I'd like to congratulate Tomass on this magnificent success, our engine manufacturer and our entire technical team, led by Luigina Guerrini, who continues to do invaluable work for all our drivers," commented Mick Panigada, head of Energy Corse. "It's obviously satisfying to see our equipment competitive in OK, but also in KZ2. Tomass won the Road to Wackersdorf this summer and has just had a remarkable World Cup. 118
drivers were present and he came 7th in the Final."
"At Franciacorta, we were also delighted to welcome Luka Sammalisto from Finland. We wish him all the best, as well as all the drivers present under the structure. We'll be doing the same for anyone who wants to join us at the end of the season. We have a lot of work ahead of us, especially at Franciacorta with the Champions of the Future Euro Series coming up and of course the World Championship in October."