FIA Karting 2023 – Wackersdorf Heats Accentuate Selection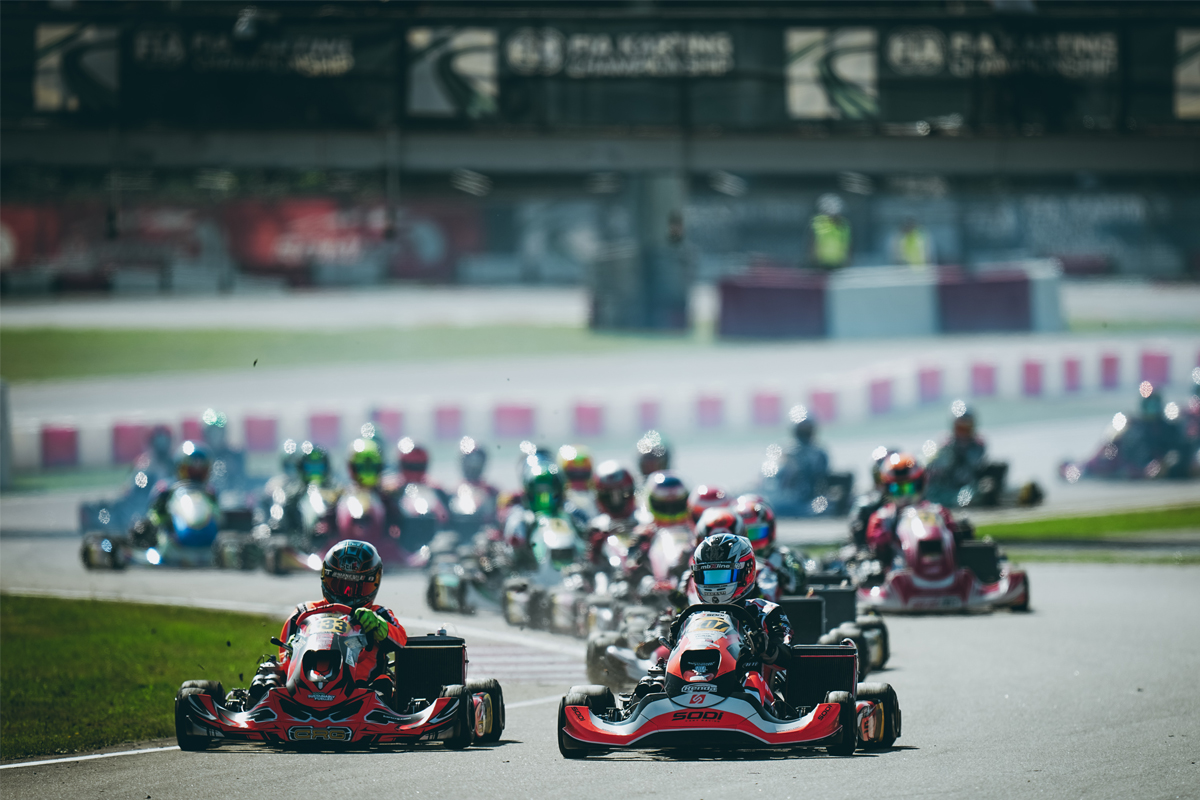 At the end of the 40 Qualifying Heats contested since Friday afternoon, the first verdict fell on Saturday evening in Wackersdorf. David Trefilov (DEU) leads the intermediate standings in the Mondokart.com FIA Karting World Championship – KZ, Alex Powell (JAM) leads in the FIA Karting World Cup – KZ2 and Davide Forè (ITA) is in first place in the FIA Karting International Masters Super Cup – KZ2.
The constant fine weather over the Upper Palatinate for several days provided ideal conditions for high-intensity sporting clashes on the 1190 m Pro Kart Raceland circuit. The situation progressed well during the Qualifying Heats, and a new hierarchy was established in the three categories. On Sunday morning, the Super Heats will determine the list and starting order of the 36 finalists in each category, with a view to the three titles in the afternoon.
KZ: Trefilov takes the lead
The Qualifying Heats of the Mondokart.com FIA Karting World Championship – KZ at Wackersdorf concluded with a new top three. Given their competitiveness, Émilien Denner (FRA) and Danilo Albanese (ITA) were the favourites, as confirmed by their two victories. But problems delayed them, with Albanese fifth after a mechanical problem and Denner sixth following a run-off after a collision. David Trefilov (DEU) took the lead in consistent fashion with three second places. Stan Pex (NLD) climbed from 15th to second, while Jérémy Iglesias (FRA) moved up from 16th to third. Paolo Ippolito (ITA), who was penalised for moving before the red lights went out in his last heat, was fourth with one win to his name. Tom Leuillet (FRA), also a one-time winner but penalised for the same reason, dropped back to seventh. Viktor Gustafsson (SWE) moved little in eighth place ahead of Matteo Vigano (ITA) back in ninth. Yohan Soguel (CHE) was a constant in the top 10.
KZ2: Powell leads ahead of Tröger
Third in Qualifying, Jamaican Alex Powell scored six wins in seven heats to climb to first position in the FIA Karting World Cup – KZ2 intermediate standings. Germany's Niels Tröger returned from seventh to second place with four wins, while poleman Maksim Orlov was third with two wins and a few setbacks. British driver Kean Nakamura-Berta, who had won four times but was forced to retire in his final heat, was just fourth behind Germany's Daniel Stell, a one-time winner. Matteo Zanchi climbed ten places to sixth ahead of Thomas Imbourg (FRA). The retirement of Daniel Vasile (ROU), who was second in his last heat, dropped him back to eighth place ahead of Matteo Spirgel (FRA) and Nikolas Roos (ZAF). Ranked 13th, Jorge Pescador moved up 11 places, as did Tomass Stolcermanis (LVA) in 16th place. Tim Tröger (DEU) had moved up 12 places to 17th.
KZ2 Masters: Forè takes the lead
With two wins and a second place, Davide Forè (ITA) moved up to first place in the intermediate standings of the FIA Karting International Masters Super Cup – KZ2. Daniel Bray (NZL) remained second, just three points behind the new leader, while Alessandro Manetti (ITA) retained his third place, with all three drivers taking two wins apiece. Andre Nicastro (BRA) climbed five places to fourth ahead of Riccardo Nalon (ITA). Italian poleman Mirko Mizzoni was sixth without a win to his name, but with a penalty for moving before the red lights went out in his last heat. Several drivers had gained ground, including seventh-placed Samuel Gafner (CHE) +9 places, Alessio La Martina (ITA) eighth +6 places and Thomas Mich (FRA) ninth +9 places. Andrea Spagni (SMR) completed the top 10 ahead of Jeroen Bos (NLD), who was severely delayed at the start of his second heat.
The Italian manufacturer LeCont is the exclusive tyre supplier for the three FIA Karting categories at Wackersdorf.
Provisional programme for the Wackersdorf event
Sunday, 10th September
08.30 – 09.55: Warm-up (10′)
10.00 – 10.20: Historic Karts demonstration
10.25 – 12.50: Super Heats
12.55 – 13.15: Historic Karts demonstration
14.05 – 14.35: Presentation of the finalists on the track
14.40 – 17.25: Finals and podiums
The Wackersdorf event can be followed on the official FIA Karting Championship app for mobile devices and on the website.