Three Decades: George Barks' TM Racing USA
Industry veteran remains committed to iconic brand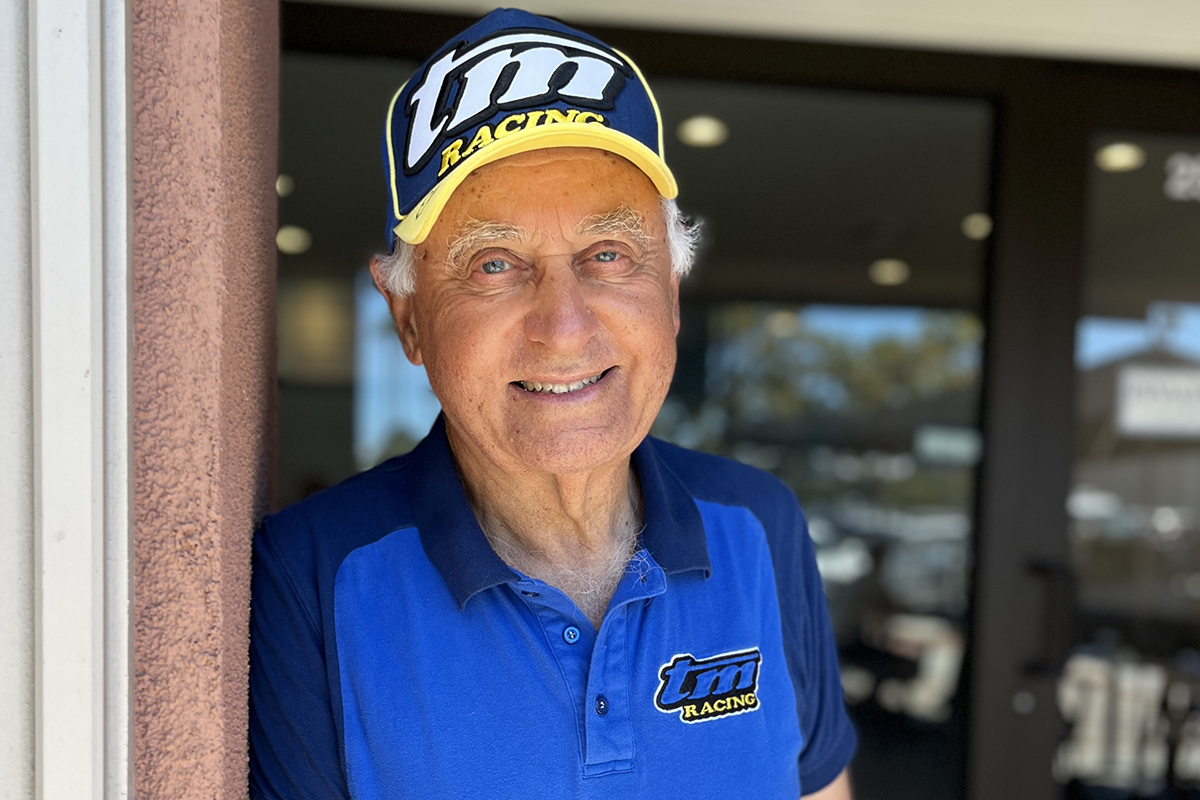 George Barks of TM Racing USA
Loyalty and commitment are important words in motorsports, and they're highly revered for the simple reason that in the never-ending search for speed and performance, they're not easily found. California's George Barks has been a fixture in American karting for over three decades, and he's also been an importer and distributor for TM Racing since 1990. That's over three decades with a single manufacturer. Barks' dedication and focus to the TM brand is his calling card and, from his Redondo Beach, CA shop, he supplies many of the sport's leading engine builders, like Darcy DeCoste, Ron White, and SwedeTech.
As the owner/operator and sole proprietor of TM Racing USA, Barks has had a lifelong passion for auto racing. Born and raised in Hermosa Beach, George's interest in racing was sparked by his older brother Guss, who started drag racing in 1949. The Santa Ana drag strip, which is now the John Wayne Airport, served as their early racing grounds until its closure in 1955. The famous Lions drag strip in Long Beach, situated at 223rd and Alameda Street, became their new racing venue when it opened in 1956. In his high school years in the early 60s, George built his first go-kart and equipped it with a McCulloch chainsaw motor. This early endeavor ignited his enthusiasm for karting, as they ran at a track near the famed Ascot Park. As George grew older, he and his brothers continued to follow and participate in various forms of auto racing.
Fast forward to 1988 and George attended the Long Beach Grand Prix INDYCAR race. It was during this event that he discovered the Jim Hall Kart Driving School, which had a booth at the LBGP Convention Center. George's son had the opportunity to attend the driving school and thoroughly enjoyed the experience. Inspired by his son's interest, George purchased a used go-kart – a KT100-powered Bug – and began participating in karting events. They raced at the legendary Adams Kart Track, as well as Oxnard, which was part of the California circuit. His son's natural talent and dedication led him to become deeply involved in the emerging shifter kart category.
During this time, the kart shop that George frequented started importing air-cooled TM gearbox motors from Italy, which were becoming increasingly popular in the sport. However, the shop later decided to switch to Honda CR125 motors, a move George was not keen on. Determined to continue using TM motors, he visited the factory in 1990 and began importing TM motors independently. This marked the birth of TM Racing USA.
George's dedication to karting extended beyond his personal pursuits. He recognized the benefits of TM's motocross motors, particularly their cost-effectiveness and superior performance, and sought to have them approved for racing in the United States. He approached various sanctioning bodies, including International Kart Federation, World Karting Association, and Superkarts! USA, presenting the TM motocross motor package and demonstrating its advantages. Despite resistance from those supporting Japanese motors, who feared competition, George successfully convinced the sanctioning bodies to allow TM motocross motors in the shifter class. By the year 1999, TM motocross motors were approved for racing in all major karting events in the United States.
Now almost 25 years down the road for those initial days, TM Racing USA continues to thrive, selling a significant number of motocross motors and purpose-built TM Kart motors across the country. These days, it's all about the KZ and OK-N motors here in the United States. These Italian-made motors became the industry standard, providing karting enthusiasts with enhanced performance and convenience.
Through his dedication to the sport and his advocacy for TM Kart motors, Barks played a pivotal role in shaping the karting landscape in the United States. His passion for racing and commitment to providing cost-effective, high-performance motors have made TM Racing USA a respected name in the karting community.
Website: tmracingusa.us
Facebook: tmracingusamotors
Instagram: @tmracingusamotors