Driver Diary: AJ Myers – 2023 FIA Karting KZ World Championship – Pre-Race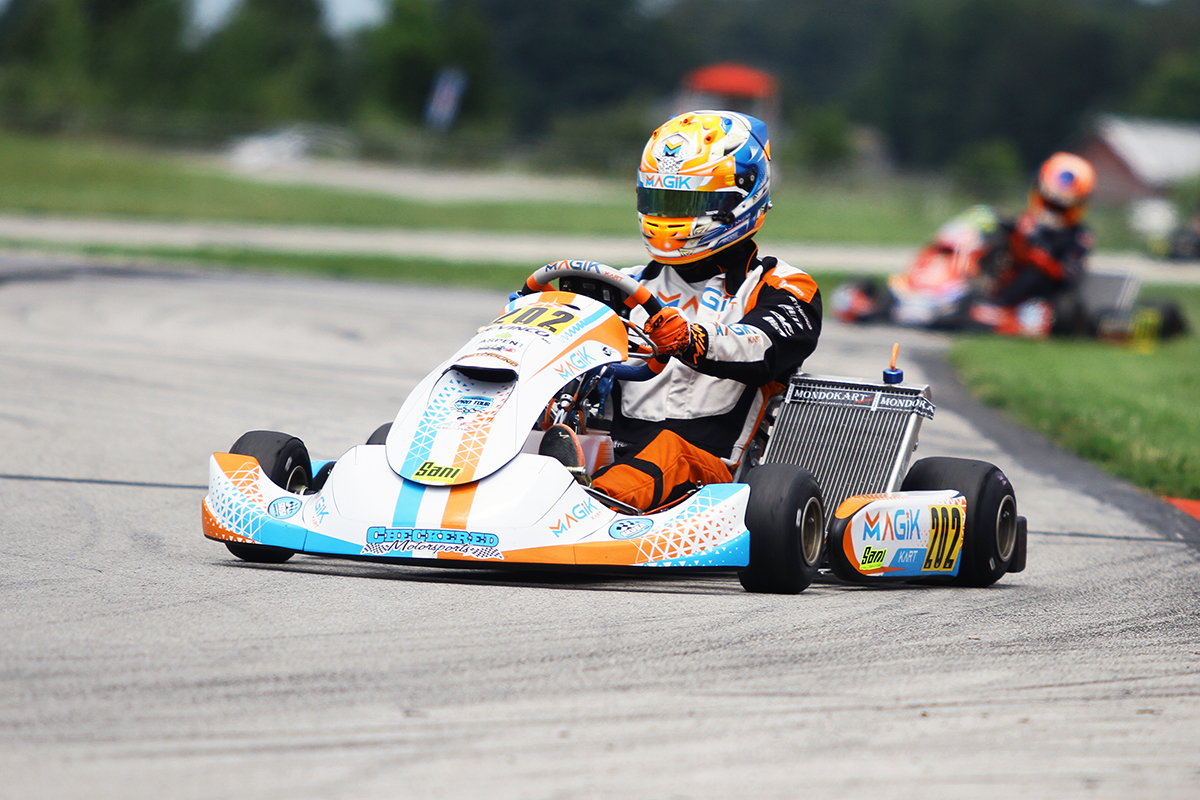 AJ Myers is set to make his third start at the FIA Karting KZ World Championship (Photo: EKN)
The 2023 FIA Karting KZ World Championship is set for September 7-10 at the Pro Kart Raceland in Wackersdorf, Germany. Many of the top shifterkart drivers from around the world will converge on the 1.19km circuit to decide this year's world champion. USA drivers have competed at the event in the past, including multi-time SKUSA Pro Tour champion AJ Myers. The 27-year-old is set to make his third start at the event, this time racing under the Magik Kart USA banner with support from key personal from Europe to take on the major manufacturers and factory teams.
Myers will provide his insight into the event, including a pre-test preview, a post-test submission to help set the stage for the upcoming world championship, and a post-race report to help bring you the readers closer to the experience of racing at a world championship.
---
My name is AJ Myers, and I will be representing the United States of America at the upcoming FIA Karting KZ World Championship this September in Germany. This will be my third start at the event, having raced in 2015 and 2019.
My first trip overseas was in 2015 when I raced with Factory PCR. I contested the three events that made up the FIA Karting KZ2 European Championship, with a best finish of 13th in Zuera, Spain to record three championship points, the only USA driver to do so that season. We moved up to the KZ division for the FIA Karting KZ World Championship in Le Mans, France later that year. I qualified 28th, had a best heat finish of 12th, drove up to 23rd in the Prefinal but ended up 30th. It was a bit of a disaster, not being able to test prior to the race and having never driven the track before.
The next time came four years later, joining the CRG Factory team for the FIA Karting KZ World Championships at the South Garda Karting facility in Italy for the 2019 edition. I joined CRG Nordam in the Spring that season here in the USA, coming off my SKUSA Pro Tour S1 championship the previous year. It was another disappointment across the big pond, unable to transfer from the heat races into the main event grid, missing that little bit to contend with the front runners.
In each of my previous experiences, I was always walking into the race hoping I would get good equipment. As you know, in KZ racing, the engine is huge. In the KZ class, you have the best engines available in the world all racing on the same track at the same time. On this occasion I know exactly what I am going to have. I will have the same Magik Kart USA chassis and the same Sani Competition engines that I know are incredibly strong. Now, it is time to put them to the test against the world's best.
This is truly a fight of David v Goliath. It will be a team tent for one driver in the highest class in karting against the world's best in the industry. We will be going up against the best that CRG, OTK, Birel ART, Kart Republic and others have to offer.
I have all the trust in the world I will be given a package capable of running up front, it is up to me to put it up there.
For myself, I have stepped up the workout routine leading up to the world championship. It is not every day that you get to compete for a world title, so you must give it everything you have. Luckily, Magik Kart USA has hooked me up with a chassis and Sani Competition got me an engine here at home to make laps at the Trackhouse Motorplex. I have been able to be in the seat training a few times each week, squeezing in any laps I can after I get off work during the week.
Giuseppe Morcia – or 'Peppo' – is the Team Manager at Magik Racing Team in Europe. He's worked with Checkered Motorsports since their inception, back when we were racing the PCR chassis. Peppo has been a notable mechanic for many stars in karting, including Lorenzo Travisannuto. He's has been prepping my chassis over these past couple of weeks to make sure everything is perfect. I wouldn't want anyone else getting my equipment ready. My first time working with Peppo was back in 2014 at the SKUSA SuperNationals. It was my first start in KZ, and I drove to a fifth-place finish – the highest result of a USA driver that year. Ever since then we have become longtime friends and now work together on a regular basis.
Our newest collaboration is with Sani Competition and owner Flavio Sani. He is an ex-driver for Peppo in years past. When we were looking for a new partnership to service our engines in June, Sani was our outlet, and we could not have asked for anyone better. Our performance at the SKUSA SummerNationals at New Castle proved it on the track.
Aside from the physical side of preparing, I have also been working on my mental side. If you walk into a race thinking you aren't the best person in that paddock, your chances at winning are essentially over right then and there. Confidence is key, this is an area I think that hurt me in the past, being intimidated by all the world-class drivers when competing in Europe. The field is full of drivers capable of winning the race, but it takes perfection – and a bit of luck. I just want to be there on pace, fighting for the win. It is a race everyone wants to win, of course, I want to win it more than anything. But have to keep things realistic. I expect to be right there on pace; however, it will come down to a singular lap in qualifying that will set our course for the weekend. The goal is to win the race, as always. Yet, I will be happy with a top-10.
I'll be in Germany for a testing weekend (August 18-20), trying to prepare the best we can. It is difficult when the race is across the Atlantic, so we just do the best we can.
I'd like to thank everyone who has been so helpful in making this possible, It is going to be cool to see the package we have developed go up against the best in the world! Thank you to all of You – including Magik Kart USA, Checkered Motorsports, Sani Competition, Greyhound Seats, Magik Racing Team and everyone else involved with our program.