Factory Karts: The Return of the American-Made Shifter Kart
Veteran driver putting stamp on sport with domestic chassis brand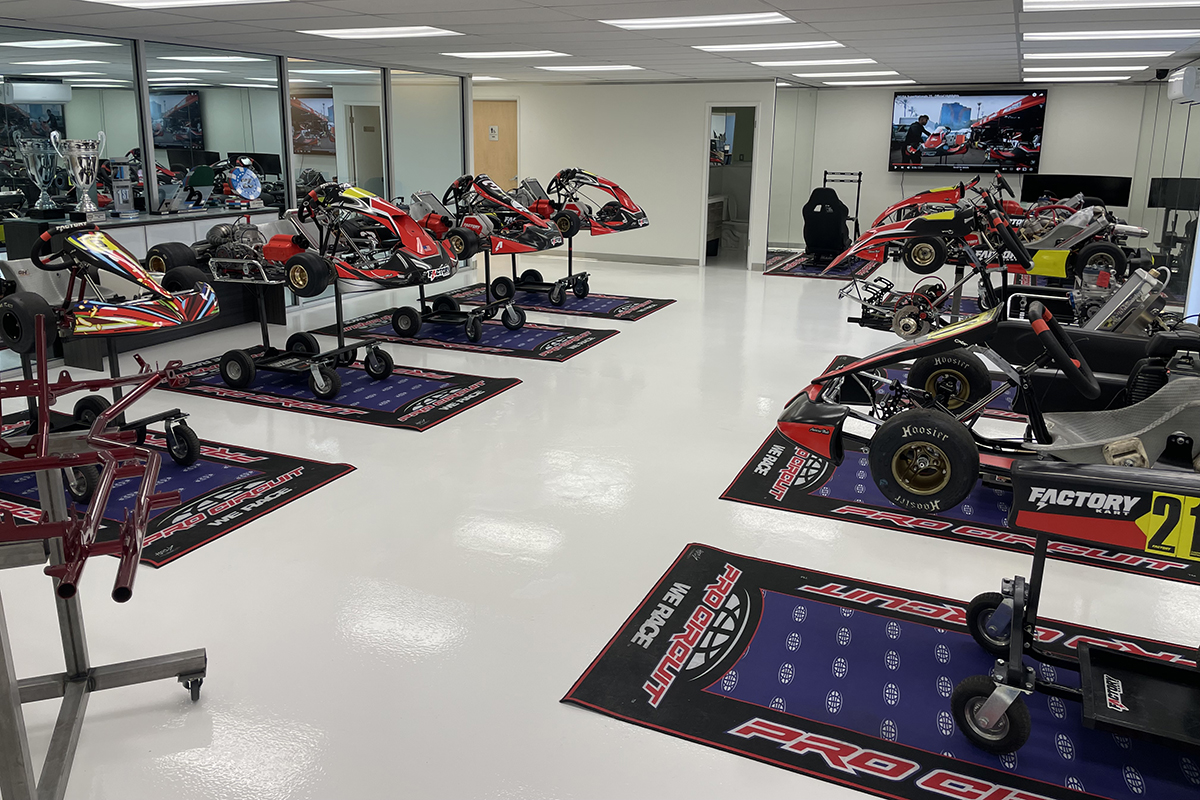 Factory Karts establishing themselves as American-made chassis manufacturer (Photo: Factory Karts)
It's been over 15 years since an American-made kart has won a major national event. You have to go back to Gary Carlton and Trackmagic in 2007 at the Stars of Karting event in Las Vegas to find the victory by a driver piloting American steel. This feat was accomplished again in March 2023 when Billy Musgrave topped a stacked Pro Shifter field at the Superkarts! USA WinterNationals in Orlando, and the story is far deeper than that. It's one of passion and dedication, and complete commitment to building a brand and designing a better mousetrap. This is the story of Factory Karts, a California manufacturer attempting to take on the European establishment.
American-made karts find their way to victory lane every weekend in the United States, but these days, that success is focused primarily on the Briggs 206 classes where iconic brands like Margay, Coyote, Comet, and Invader share the spotlight with newer names like MGM. Enter Factory Karts, and Billy Musgrave, and American-made material is back on the shifterkart grid in major national events, battling the big dogs of European karting like Birel ART, CRG, and OTK. Add in the US-designed and European built players in GFC and Magik Kart, and the field is certainly stout.
The story of the launch of Factory Karts of America is truly the culmination of a dream for Musgrave, the 31-year-old driver who has won the Superkarts! SuperNationals a record-tying four times, first in the S2 Stock Honda category in 2012, and then in the S1/Pro Shifter class three straight years from 2017 to 2019. In March, Musgrave put his own chassis on the top of the podium in the opening event of the SKUSA Pro Tour, winning Round Two at the WinterNationals in Orlando, and that was most certainly just the beginning for a brand that is unwaveringly focused on designing and building a full line of karts from Cadets to Pro Shifters.
Musgrave was a motocrosser when he first tasted two-stroke competition, riding alongside his father Willy, who was a top-notch amateur AMA rider who also worked closely with major magazines like Motocross Rider as a test jockey. Racing is life for the Musgrave family, and they eventually found karting in 2008. Both Billy and his father competed at the local and regional level in karting until going all in around the 2012 season. It was something fresh and exciting after eventually getting 'burnt out' with the motocross world. A broken femur – ironically in a karting incident – made it easier for Billy to make the transition from motocross to karts. It was after injury that they started competing full-time in karts, taking on the national schedule and winning in his debut at the SKUSA Pro Tour SpringNationals at Phoenix Kart Racing Association in the S2 Semi-Pro Stock Moto category – on the Australian-made Arrow Kart. He returned to action later that year, shocking the paddock with victory on SuperSunday at the SKUSA SuperNationals 16.
After falling in love with the sport of karting 15 years ago, both a business and a career in the sport that was bigger than Musgrave ever could have imagined, they'd grown weary of dealing with the Italian chassis companies; both in terms of business and product. They'd seen the sport evolve so far in certain areas, and yet when it came to the frames themselves, it was their belief that chassis technology hadn't progressed much over the years. Musgrave points to the fact that the tubes and welds still fail regularly in all the usual spots, the frames themselves wear out way too quickly, and that he feels that certain components have so much room for innovation. It was this motivation that led Billy down the rabbit hole of designing and manufacturing their own chassis.
Following in the historic footsteps of iconic California karting brands like Bug, Emmick, Invader, and Trackmagic, Factory Karts is located in Riverside, California. When COVID-19 shut down the world in 2020, Musgrave used all that down time to begin development and building their chassis jig to construct the first prototypes for Factory Karts. As they began producing their initial frames, the Musgraves would sneak out to the tracks to test what they had built and develop the concept for their first shifter kart frame. They hit the ground running a lot faster than they originally expected, but there was still a monumental amount of work to do to fine tune both the chassis and the manufacturing process.
They've used the last three years of racing and testing to dial in their shifter kart chassis, as well as develop their single-speed, Cadet, and Kid Kart chassis. Most of Musgrave's early product testing was done at Adams Motorsports Park, which is one of the oldest and most historic kart tracks in the world. It's an intriguing layer to the story when you consider how much new chassis development has been performed at Adams over the last six decades of the sport. It's certainly a 'return-to-the-sport's-roots' type of story with Factory Karts doing most of their testing at such a classic location.
As time went on and racing slowly went back to normal, Musgrave did a ton of development work at the CalSpeed Karting facility outside the Auto Club Speedway in Fontana, California. The laps at CalSpeed provided a known baseline as Billy's logged 1000s of laps at that track since he began karting back in 2008 and spent countless hours during the week for the last decade testing and racing.
"I knew every square inch of that track so well that we could quickly identify the strengths and weaknesses of each iteration," Musgrave told EKN. "We still attended every SKUSA Pro Tour race, as we had to see how the chassis worked in a variety of tracks and conditions, which helped us further isolate and solve issues that we've experienced not just with our own karts, but others in the past. So that was pretty cool to have a couple of those 'aha' moments when things finally clicked."
The shifterkart may have provided that expected entrance into the kart manufacturing world, but Musgrave was quick to expand their line of designs to offer a full range of frames to include a single-speed chassis for 125cc liquid-cooled and 100cc air-cooled classes, a Kid Kart, as well as a Cadet kart that is being track-tested and raced by young Jaxon Porter. The 10-year-old is also having the time of his life as the test driver for Factory Karts' new Mini Shifter.
Factory Karts is developing one for Cadet drivers along with a Junior Shifter package as well. They are working with a major Japanese motorcycle manufacturer, calling the engines the FZ65 for Mini Shifter and FZ85 for Junior Shifter. Factory Karts are looking to take the formula that made the stock Honda program so successful and modernize it with 2024 technology for these new shifter categories. The emphasis is on durability and parity to create a class that is fun, exciting, and economical for the average racer.
"Shifterkart racing is our passion, but we also recognize it is missing in the development of drivers at the younger ages," added Musgrave. "It is a tough jump to go from KA100 Junior to KZ category here in the USA. Our thought is to provide the foundation for Cadet Shifter and Junior Shifter programs here at the local level and expand to regional racing if possible."
For 2023, Factory Karts is focused on continuing their product development in the toughest pressure cookers in the sport, national level racing, just like Trackmagic, Emmick, and Invader during their years in the sun. And like these iconic names, they've also spent loads of time competing in the top series in California.
"We have focused on the national SKUSA Pro Tour, regional SKUSA Pro Kart Challenge, and the local LAKC series," continued Musgrave. "My main focus has always been with the shifters, but lately we've been working hard with a much younger group of drivers than I'm used to, which has been a fun but rewarding challenge so far. We recently brought on-board Truly Adams for KA100 Junior and Jaxon Porter has been a huge asset to our Mini Swift program."
The Factory Karts fleet of chassis includes Shifter, Single-Speed, Cadet, and Kid Kart. Each can be turn-key with the engine, seat, and tires of your choice. Shifter is available with IAME SSE 175cc, IAME Screamer, TM KZ or ROK Shifter. The Single-Speed model comes with either a IAME KA100 or IAME X30. The IAME Swift engine is available for the Cadet and the Kid Kart can be completed with either a Honda or an IAME. The unique part of their offering is there are no special names or 'branding' for each model. This is done on purpose to make it easier to the new karting consumers.
Musgrave said, "We've done that to help those coming into the sport to better understand what kart fits their needs. Those outside of karting have no idea what any of the karting terms are or what a special model name would even mean. We want to keep it simple and easy for new karters to come in and get exactly what they want so we they can be on-track right away."
The Musgraves are not the only people who make up Factory Karts. The operation also includes two in-house welders, a painter, and two other employees who help in all aspects of the company. They currently have 100 frames in stock, ready for new customers or dealers to expand the Factory Karts brand throughout the USA. From pieces of metal and components, Factory Karts can produce a winning machine in the matter of five days, including the painting process that takes up 48 hours.
"Our staff is mainly comprised of myself, and my father Willy, as well as some long-time friends who we couldn't have gotten this done without," Musgrave added. "We partnered with our friend Howard Foote at HAF Corp last year, which has helped us survive the growing pains and put us in a great position to expand this year."
When asked about what his brand stands for, Musgrave was quick to focus on the 'Made in the USA' reality.
"Factory Karts stands for a return to American manufacturing and the weight that used to carry. Do you remember when American-made meant innovative, original, stronger, faster, and just plain better? We want to bring that back."
The success has come in 2023 for Factory Karts with victory at the SKUSA Pro Tour WinterNationals thanks to Musgrave winning in Pro Shifter. Truly Adams produced the next major victory with a triumph in the KA100 Junior division at the SKUSA SpringNationals in Utah. Luis Quinones added two Master Shifter wins at the SpringNationals enroute to the Pro Tour title, while a sweep of the weekend in Master Shifter by John Crow at the SKUSA SummerNationals in New Castle shows the brand is ready for success at all levels in USA karting.
Website: factorykarts.com
Instagram: @factorykarts