Jonathan Ocasio: My First Road Racing Experience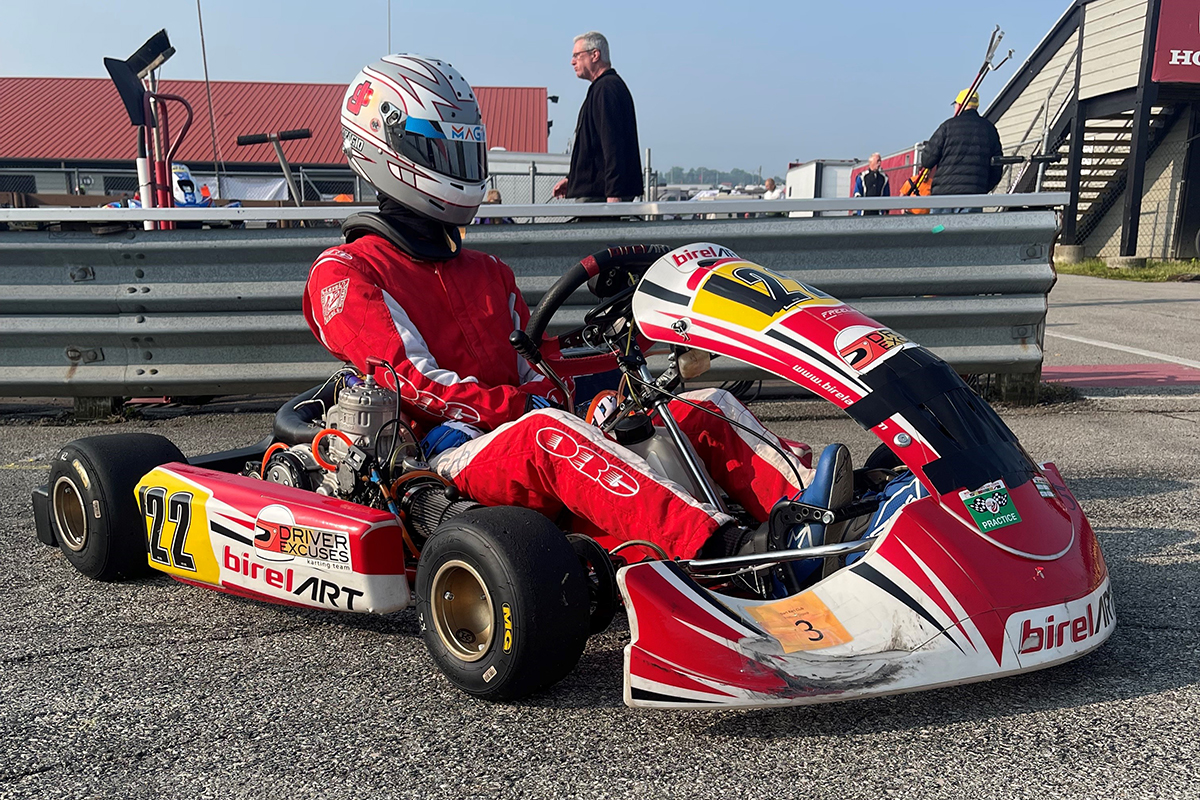 Jonathan Ocasio made his road racing debut in June at Mid-Ohio Sports Car Course
The following is a first-hand experience of an up-and-coming shifterkart sprint racer making his first start at a road race event. Road racing – or 'enduro' karting – has been part of the sport dating back to the late 50s and early 60s when the sport was evolving outside of the parking lots and purpose-built facilities, and the 'need for speed' sent karters to the full-size car tracks around the country. Today, road racing remains part of our sport with many giving this form of karting the cold shoulder, ignoring or not caring to learn what the experience is all about. Insert Jonathan Ocasio and his exposure to the road racing world.
My name is Jonathan Ocasio and I started karting 11 years ago. I started in Kid Karts, and have climbed up the karting ranks and have now graduated to racing shifterkarts. Currently, I am a driver for the Magik Kart USA and the Checkered Motorsports team. I have been sprint racing at a regional and national level with the team for seven years. All the racing I have done up to this point is at the sprint track level and I have always wanted to try racing a shifterkart on a true road course.
My good friend Brad Berelsman has been road racing karts for several years and he gave me the opportunity to drive his KZ powered Birel ART kart under the Drivers Excuses team. My family met Brad at Thompson Kart Raceway in Thompson, Ohio. We started racing the same season. Brad was racing in Senior 206, and I was racing kid karts in 2012. Brad did sprint racing for a few years then made the move to road racing six years ago. Brad first started racing Stock Honda then made the move to the Superkart division with Driver Excuses. They are a group of good friends who share a commonality in racing. This is a group of friends that Brad met when he made the move to road racing.
To get ready for this race I spent a lot of time watching videos and using iRacing to help me prepare for that weekend. My father and I had visited Mid-Ohio several times. We had gone to a few AKRA races to support Brad and we had also attended a few NASA Spec Miata races. We could not race a shifterkart due to being too young. For my 18th birthday in January, Brad gave me an entry fee and the use of his KZ powered Birel ART kart for the Mid-Ohio weekend.
The race weekend consisted of Friday practice, Saturday warm-up and race, and the same for Sunday. We arrived early Friday morning and unfortunately it was raining on and off all day. Finally, we made the decision to go out on a damp track to get a feel for the track and the difference in speed.  I went out for one session, and it was sketchy. We went out on slicks and a majority of the track was dry however certain spot were damp, including the long back straight.  During the session, I hit 105 mph – which is the fastest I have ever been in a kart.  It was a rush and an awesome feeling. This left me craving a dry racing surface.
Saturday morning, we did a full 'nuts and bolts' check on the chassis. We made some carb adjustments as well.  Luckily, the morning was nice and dry. We went out for morning warm-up and that was the first time we got to make a few laps and truly see what pace we had. We were surprised to be quick, and we were able to keep up with the pack.  The Birel ART kart I was racing is equipped with an older TM 10C KZ engine, so we did not expect to keep up with the new R2 equipped karts, however, we held our own. I was able to hit 110 mph in a slight draft.  Once again, the fastest I had even been in a kart.
Saturday, we started the feature in P26. Starting position is based off the order of registration, and for the shifterkarts, they begin with a rolling start on the back straight. When the green was given, we all took off and all the karts barreled into the opening corner. Exiting the turn, I found myself in P17 and as the race went on, I moved into the top-10. All 10 karts were in a tight race.  In the draft, I was able to hit 116 mph and I ran a best time of 1:31.8 around the 2.4-mile course. It was a tight race for the last 10 minutes, but I was able to come home with a third-place finish. It was exciting to be able to finish on the podium in a class with 37 drivers.
Sunday, we went out for warm up and had to pull in early do to some fueling issues. We went over the kart, and we thought we had found the issue.  We started the feature P14 and after the start, I found myself to be in fourth within the lead group. Unfortunately, we had to pull off while running in the top-five because the fueling issues continued.  I made the decision to pull off track as I felt it wasn't safe to stay out in the draft group. The engine would come in and out of power and with the speeds, I did not feel comfortable continuing.
While sprint racing in a shifter kart, I got used to hitting speeds of around 80-85 mph so the rush of 115+ mph at a road course was a completely different feeling. The speed was amazing. Hitting 115 mph in a kart is a completely different feeling. My best lap time was 1:31.8 with a top speed of 115.8 mph. The focus and attention to detail was very demanding due to the number of karts on track all going around the same speed. The sustained mph is the biggest difference compared to sprint racing. After having this experience at one of the best tracks in the United States (Mid-Ohio) I would recommend all drivers to do this at least once in their careers because I feel like you learn new things when you do this type of racing. If a driver does decide to do one of these races, I would highly recommend Mid-Ohio because of the resources you have to learn the track.
This style of racing is completely different from what I am used to. First off you get one 25–30-minute race to make up as many spots as you can. Secondly there is a different type of fighting and aggression when it comes to road racing. There is no close quarter fighting, there is no defending on the last lap, and there is no standing start since it is a rolling start. I did notice that there was not as much physical fatigue and every time I came off, I didn't feel sore and felt like I could have kept going for another hour without breaking a sweat as I am conditioned to sprint racing.
There are several things I did enjoy while racing on a road course. First the atmosphere when you come to these races is relaxing, there is not a lot of last-minute thrashing to get the kart ready. Secondly the competitors respect each other and do not drive aggressively because of the high rate of speed. Third, there are so many different types of karts that people will not see on a sprint track. You will see Superkarts, which can get up to 135 mph, you will see laydown Yamaha KT100 powered karts that get over 100 mph and laydown 4-cycle karts as well. You do not get to see these karts at your normal track. Fourth thing I liked was that the series itself does a good job at running the program and tries to make sure everyone can get the same amount of track time. The fifth thing I liked was that every single class had so many entries. For example, the KA class had over 50 people running at the same time. The shifter karts in my class had 30 but on track there were 60 plus drivers because of the combined classes and that is something you do not see at a sprint track.
The race craft is very different compared to sprint racing and I feel this is due to the size of the track and speeds attained. Road racing reminds me of IMSA style racing. After doing one of these races, I realized I still prefer sprint racing, however, I am grateful to have had the opportunity to experience this. I love racing karts as they have been an important part of my life. I would love to race another road course race.
---
A Lap Around Mid-Ohio Sports Car Course in a Shifterkart