Qualifying Kicks off the RMCIT Competition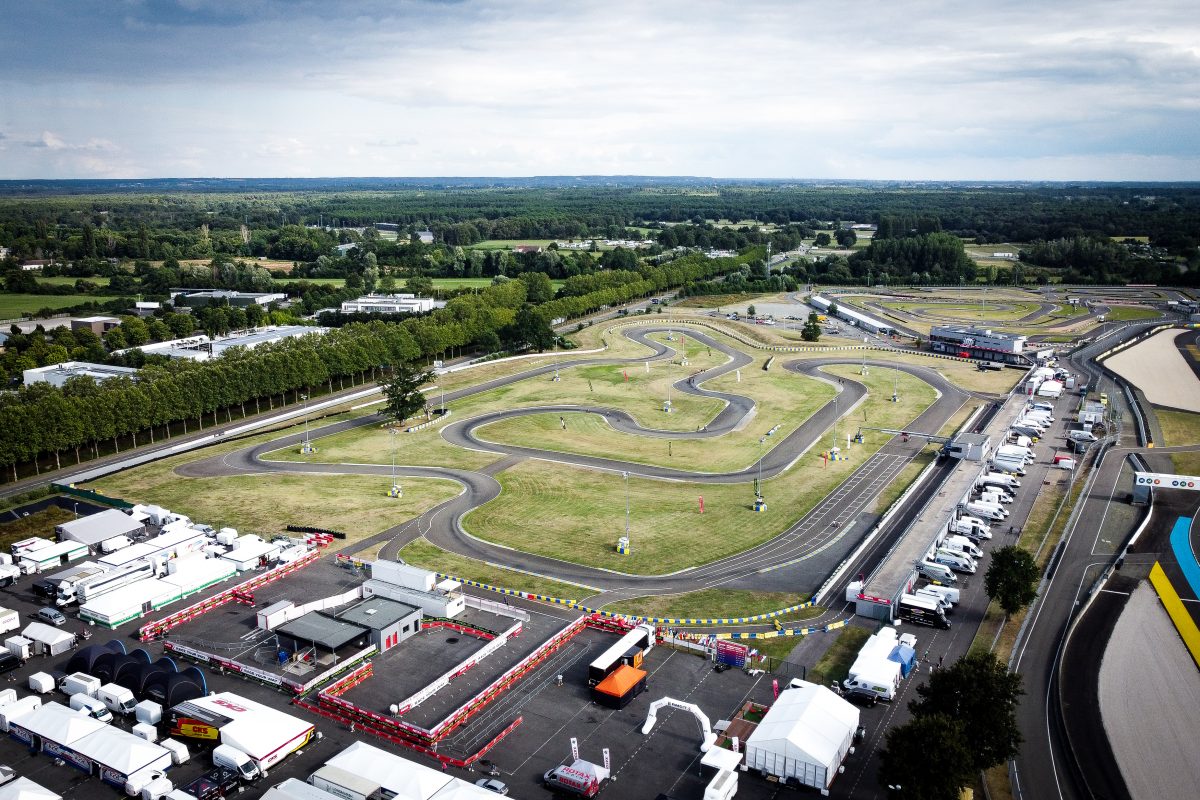 (Photo: KSP Reportages)
Thursday 27th July marked the real launch of the fifth edition of the Rotax MAX Challenge International Trophy on the Circuit International du Mans. After two days of Free Practice, the 294 participants were ready to compete in Qualifying, the first stage in a fierce competition for victory.
The sky was overcast and the temperature was close to 20°C at Le Mans on Thursday morning. The track was dry, except for the DD2 Max and DD2 Max Masters which had to contend with a passing shower. Frenchman Zack Zhu was fastest in Micro Max, while Estonian Nikita Ljubimov set the fastest time in Mini Max. Tom Dussol (FRA) took Junior Max pole position and Ethan Jeff-Hall (GBR) was the Senior Max poleman. Denmark's Christian Sørensen set the fastest time in DD2 Max and Germany's Lennart Schreiber secured pole position in DD2 Max Masters.
The inevitable last-minute no-shows were few and far between, and the number of participants in the 2023 RMC International Trophy remained close to 300 for all six categories. After a final Free Practice session, the serious business began with Qualifying, an intense six minutes for each driver.
Micro Max: French pole position with Zhu
Zack Zhu (FRA-Alonso Kart/Rotax/Mojo) had prepared to throw everything he had into the fifth and final lap of the session. He succeeded with a time of 59"781, putting him 15 thousandths of a second ahead of previous leader Senn Lindeman (NLD-Birel ART/Rotax/Mojo). Emerson MacAndrew-Ursen (GBR-LN/Rotax/Mojo) followed in 3rd place at 26 thousandths.
Ljubimov, fastest time in Mini Max
Nikita Ljubimov (EST-Tony Kart/Rotax/Mojo) gradually built up his power to take pole position – 57"159 – on his fifth and final flying lap. Jacob Ashcroft (GBR-LN/Rotax/Mojo) followed in 2nd at one hundredth while Maxim Bobreshov (KR/Rotax/Mojo) finished 3rd by 0.155".
Junior Max: second French pole position thanks to Dussol
The two Qualifying sessions produced very similar performances. In the end, it was Tom Dussol (FRA-CRG/Rotax/Mojo) who was fastest with 54'115 at the end of Session 1, while Philippe Armand Karras (FRA-Kosmic/Rotax/Mojo) set a time of 54'150 in Session 2. Toms Strele (AUT-LN/Rotax/Mojo) was 3rd ahead of Alberto Kiko Fracassi (ITA-Tony Kart/Rotax/Mojo) and Georges Nassar (ARE-KR/Rotax/Mojo).
Jeff-Hall makes the difference in Max Senior
Ethan Jeff-Hall (GBR-Tony Kart/Rotax/Mojo) was the only driver to go under 53" in the three Max Senior Qualifying sessions at the RMCIT. His third lap of 52"983 took pole position in the 107-strong category. In Session 3, Elia Pappacena (ITA-Tony Kart/Rotax/Mojo) posted a time of 53.072, while Matthew Higgins (GBR-Tony Kart/Rotax/Mojo) clocked 53.145 in Session 2. Adam Rahali (DZA-Kosmic/Rotax/Mojo) and Devyan Roest (NLD-Tony Kart/Rotax/Mojo) completed the top five.
Sørensen the DD2 Max poleman on a dry track
After the downpour experienced by the DD2 Max Masters drivers, the track changed rapidly during the DD2 Max session. Christian Sørensen (DNK-Birel ART/Rotax/Mojo) took advantage of the better conditions on his fifth and final lap to set a time of 1'05"310, more than a second ahead of his rivals, led by Antoine Barbaroux (FRA-Sodi/Rotax/Mojo) in 2nd place and Hugo Croquison (FRA-Tony Kart/Rotax/Mojo) in 3rd.
DD2 Max Masters: Schreiber in the rain
Lennart Schreiber (DEU-MS Kart/Rotax/Mojo) was immediately at ease on a track made slippery by the rain. In 1'11'150, he beat Primoz Matelic (SVN-Praga/Rotax/Mojo) by 1.4" and Andreas Matis (DEU-Gillard/Rotax/Mojo) by 2.3".
Thursday continued with the first Qualifying Heats, which will also occupy Friday's programme.
Provisional programme
Friday 28th July
08:09 – 09:26: warm-up
09:28 – 17:13: qualifying heats
Saturday 29th July
08:00 – 09:17: Warm-up
09:19 – 12:51: Super Heats
13:45 – 16:57: Finals
17:45: Draw
18:00: Podiums
You can follow the competition on the RMCIT website and on its social networks. Live streaming will start on Friday morning on Motorsport.tv