Back in the Seat: Our Editor Re-Fires SuperNats Effort
Howden set for SKUSA SummerNats entry this weekend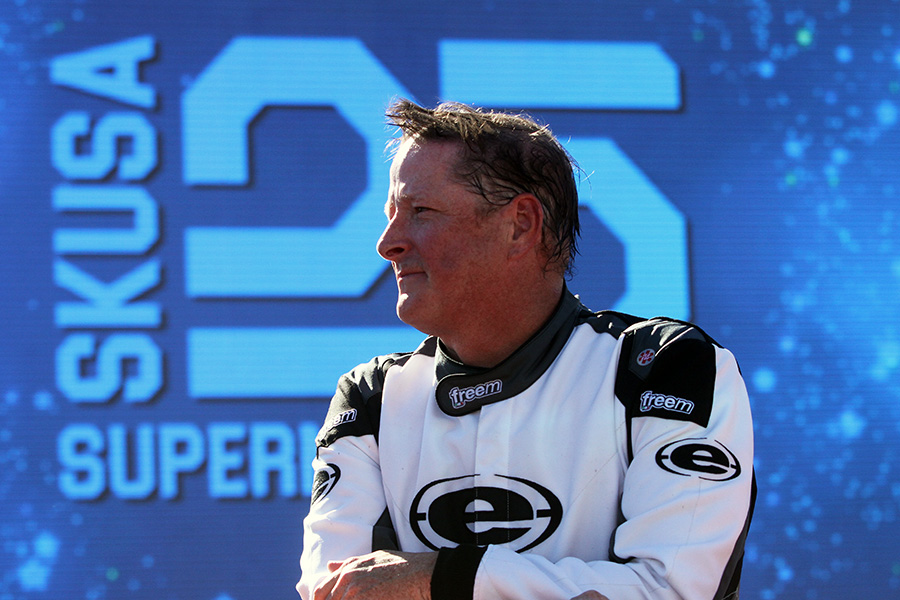 EKN Publisher and Editor-in-Chief Rob Howden is back doing double-duty for this weekend's SKUSA SummerNationals, racing in KA100 Master and calling the action on Kart Chaser
(Photo: EKN)
During my first trackside coverage weekend of 2023, the opening rounds of the Superkarts! USA Winter Series, I chatted with Mike Rolison on the Thursday of the event. We looked back and reviewed my experience with his team (Rolison Performance Group) at the SuperNationals just two months prior and discussed my overall success of finishing in the top-20 out of 47 in the KA100 Master class. I laughed that I had capped the EKN article series that detailed the adventure with a teaser question: 'Will I do it again? It's a definite 'maybe'.
Mike's quick response made me smile….
"Oh, you're running again. You have unfinished business with us."
So, yes, I guess I'm racing at the SuperNationals again this November. The base of the plan was set right then and there, but I can firmly state that my ridiculously busy schedule over the first half of the year allowed me to push off even thinking about this year's SuperNats until late June. I've kept up on my training in the meantime, although not with the fervor or commitment that I did to prepare for last year's race, but I'm way ahead of where I started last summer. Over the three months leading into the SuperNationals in 2022, I dropped from 211 pounds to 190 for the race and I've remained right around that weight all year, but that's still nowhere near where I'd really like to be. So it was quickly time to double-down with Chris G with four months left until the race.
A couple of weeks ago, Rolison sent me a text offering a seat in the KA100 Master class at the SummerNationals as a kickstart to Las Vegas. You know, something to help with my motivation and some valuable seat time that would surely put me in a better place come November. I jumped at the idea, although I'd need to convince a few other drivers to come to play so that SKUSA would add the category after they were force to cancel it at the SpringNats in Utah. I built a little momentum and the class was added thankfully, and we have eight confirmed entries, and I'm certainly hoping for a few walk-ups. Even if we don't, it will be some fun racing for sure. SKUSA has always been a place for Masters drivers to compete, all the way back to the Formula G1 days on the SKUSA ProMoto Tour from 2000 onward. That's how Tom Kutscher himself was introduced to SKUSA, running a 125cc shifter on the PMT and at the SuperNats.
So here I sit, ready to fly south to Indianapolis for what I expect will be a grueling and busy weekend in the summer heat of Indiana, splitting my time between driving and calling the action alongside Xander Clements on the Kart Chaser broadcast. I've never driven New Castle in the Reverse National layout, and I haven't done a full SKUSA Pro Tour race weekend in the summer heat. In fact, after calling all 14 seasons of the Pro Tour and missing only last year's SpringNationals in Utah, this is the first time I've ever competed in a SKUSA Pro Tour event. To say I'm pumped is an understatement. The forecast is hot, with temps in the high 80s and low 90s, and I'm happy to be working with a new EKN partner – Titanium Nutrition – which specializes in hydration, energy, and recovery products. Hydrating is going to be key for everyone, especially us Masters drivers.
I don't have any expectations for the race weekend, and my sole focus is to get quicker and quicker throughout the weekend, as I did at the SuperNationals. This race will be an excellent barometer of my current fitness and will set my baseline. The next event on my personal racing schedule after the SummerNationals will be the Trackmagic Owners Group Rally at Pats Acres in early September, and I'm sure hustling my 2002 Trackmagic Memo Gidley Signature Edition 125cc ICC shifter around the PARC will require some serious stamina. Thankfully, I have six weeks before that outing.
Check out my social media accounts throughout the weekend as I'll give a little insight into how things evolve. I'm super excited to get back in the seat, and ready to begin 3.5 months of training for this year's SuperNationals.