Champions of the Future: Exciting Consolidation of Positions in the Series Standings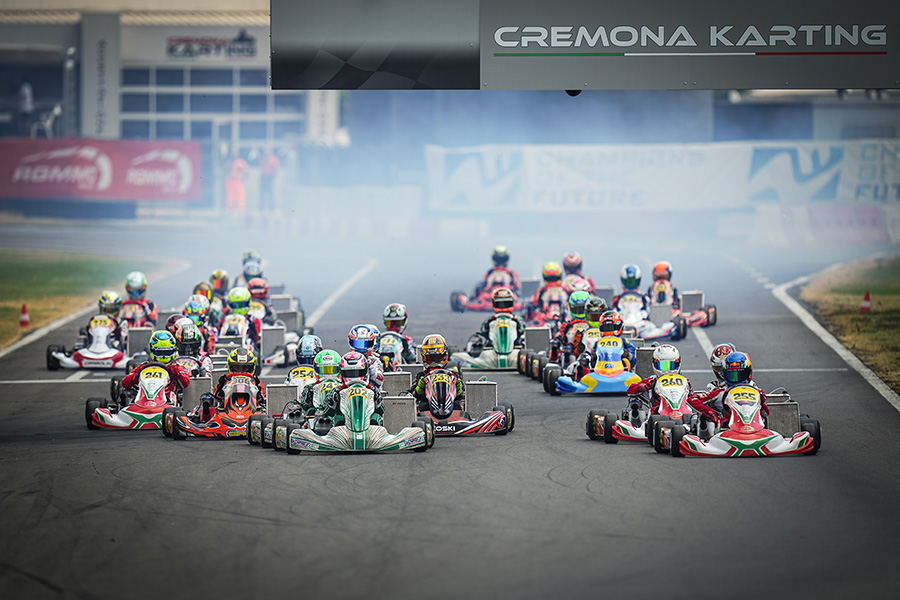 The fourth of the five Champions of the Future Euro Series events, held at the Cremona circuit in Italy, lived up to all its promises. The final stages were full of twists and turns and the winners of the previous meetings were not necessarily able to confirm their success. Dries Van Langendonck in the OK-Junior class and Enzo Tarnvanichkul in the OK class took their first ever podium places. The competition has been completely revitalised and several drivers will be in a position to win this prestigious series at the end of September in Franciacorta.
Eight finals, seven different winners
There's no shortage of interest in the Champions of the Future Euro Series. With the exception of Britain's Joe Turney, winner of the first two Finals of the season in OK at Valencia and Trinec, all the other Finals have seen different drivers come out on top. More than ever, the RGMMC group's events are giving full satisfaction to the drivers and teams involved. By limiting itself to two categories, both of which are very well-stocked with 73 drivers entered in OK and no fewer than 98 in OK-Junior, the meeting offers an ideal timetable each day for all the competitors. There is still plenty of time to race, and the Finals are held early in the afternoon on Saturday, to give everyone time to put their equipment away and enjoy their Sunday. For RGMMC, the success of an event depends above all on its quality, without necessarily maximising the number of categories.
OK-Junior: Van Langendonck confirms his rise to prominence
After Thibaut Ramaekers (VDK Racing) at Valencia in Spain, Oleksandr Bondarev (KR Motorsport) at Trinec in the Czech Republic and Lewis Wherrell (Forza Racing) at Rodby in Denmark, it was once again a driver from the Forza Racing team who took victory, this time the young Belgian hopeful Dries Van Langendonck. "During the race, the whole team was thinking of Dilano Van't Hoff, who sadly passed away at the beginning of July at Spa Francorchamps. Dilano raced for Forza Racing for several years and this victory is also his," declared Dries a few minutes after his victory, in the form of a tribute.
Austrian Niklas Schaufler (DPK Racing) had been ahead of the Belgian in Timed Practice, before Ukrainian Oleksandr Bondarev took the lead on Friday evening after the Qualifying Heats, before retaining his 1st place on the grid for the Final. Bondarev remained in the lead at lights out. Initially under pressure from Schaufler, he then found himself under pressure from Langendonck. Ramaekers, who had started 3rd, tried to stay with the leading pack, defending his position against his rivals who were making a comeback, such as the Italian Iacopo Martinese (Cetilar Racing) and Stepan Antonov (KR Motorsport). A breathless duel lost places for Spaniard Christian Costoya and Schaufler, who was later penalised.
As the laps went by, Van Langendonck proved faster than Bondarev and eventually took the lead to cruise to a brilliant victory. Martinese in turn passed the Ukrainian to secure 2nd place. Never far from the leading trio, Ramaekers crossed the finish line in 4th place ahead of Antonov, Germany's Taym Saleh (Sauber Academy), who had been brilliant throughout the meeting, and Sweden's Oliver Kinnmark (Koski Motorsport), who set the fastest lap of the race. 9th behind Britain's Noah Wolfe (Charles Leclerc by Lennox Racing), Wherrell remains at the top of the series, but only 16 points clear of Ramaekers, 17 of Bondarev, 19 of Van Langendonck and 26 of Antonov. The suspense will be intense in Franciacorta. Colombian Salim Hanna Hernandez (RFM), Dutchman Mees Houben (Eyckmans Grand Prix) and Germany's Arjen Kräling (KR Motorsport) put in a fine display at Cremona, while Portugal's Noah Monteiro (KR Motorsport) dropped from 25th to 12th place in the Final.
First major victory in OK for Enzo Tarnvanichkul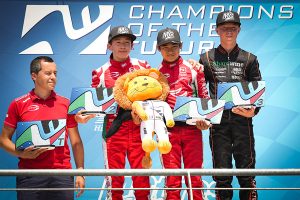 The experienced Italian Luigi Coluccio (Tony Kart Racing Team) was the fastest in Timed Practice ahead of Hungary's Martin Molnar (Energy Corse), then confirmed more than ever in the Qualifying Heats: five wins out of five! Thailand's Enzo Tarnvanichkul (Prema Racing) also impressed, winning four heats. Dutchman Rene Lammers (Parolin Motorsport) won three times, Italy's Sebastiano Pavan (Tony Kart Racing Team) twice and Belgium's Thomas Strauven (KR Motorsport) once, while Louis Iglesias (CRG Racing Team) held on to the lead in this highly competitive field. Lammers and Tarnvanichkul won the Super Heats, before experiencing a diametrically opposed fate in the Final.
Thai driver Tarnvanichkul surprised poleman Coluccio at the start and took the lead at the first corner, while Lammers retired a few metres further on after a collision with Iglesias. Among the victims of the spectacular incident after the start were Alex Powell (Prema Racing), Martin Molnar and Nathan Tye (Sodikart).
After a brilliant start from 6th position, Kean Nakamura-Berta (Prema Racing) quickly passed Coluccio and set off in pursuit of his team-mate, in addition to setting the fastest lap of the Final. Although he eventually came back to within two tenths of the Thai, the Briton failed in his attempt to overtake with just a few bends to go. Tarnvanichkul and Nakamura-Berta thus secured the Prema Racing one-two ahead of Denmark's David Walther (Koski Motorsport), who had overtaken Coluccio a few laps earlier. Pavan finished isolated in 5th position ahead of Latvian Tomass Stolcermanis (Energy Corse), who held off Anatoly Khavalkin (Parolin Motorsport). Just behind, Mozambique's Ghazi Motlekar (KR Motorsport), Portugal's Francisco Macedo (CRG Racing Team) and Italy's Nicolo Cuman (Forza Racing) moved up 21, 27 and 22 places respectively.
Gabriel Gomez (CRG Racing Team), who finished 17th after a difficult weekend, was unable to take advantage of Powell's retirement in the Final to claw back points from him in the series' provisional standings, and Nakamura-Berta even managed to slip into 2nd place with one race to go.
---
USA Driver Results
OK Junior
Vivek Kanthan – 16th
Jack Iliffe – 20th
OK
Ryan Vincent – DNQ