Second Consecutive European Championship Title for Kart Republic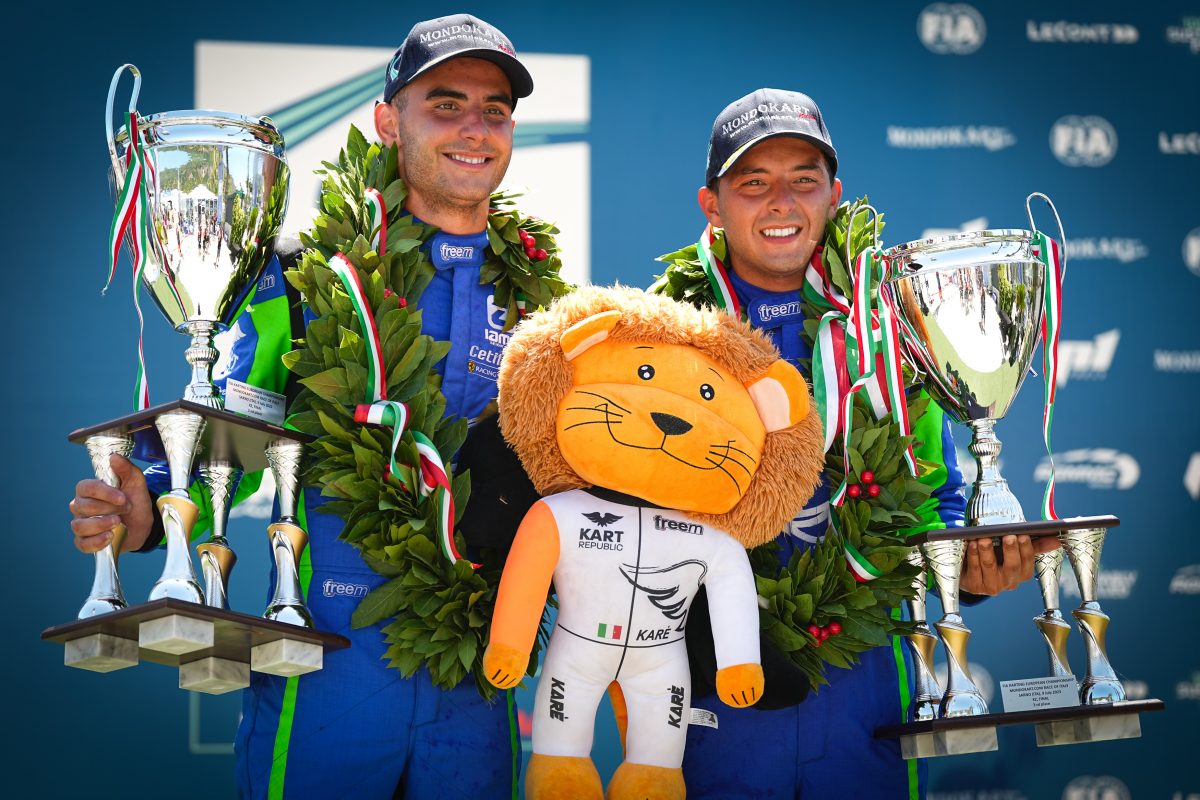 (Photo: KSP Reportages)
Paolo Ippolito in 2022… Danilo Albanese in 2023… History is repeating itself in the most spectacular way for the KR Global Motorsport group in the FIA Karting European KZ Championship. It's important to remember that above all it's thanks to the quality of the equipment and the competitiveness of the drivers that the Italian brand manages to remain at the top of the world hierarchy. In addition to Albanese's coronation, the two Italian drivers won their places on the podium at Sarno in the premier class. And in KZ2, the results of Alex Powell and Kean Nakamura-Berta kept Prema Racing in 2nd place in the team standings.
With temperatures in excess of 30°, overheated tarmac, a very demanding track with rubber deposits building up on the racing lines and tyres that were difficult to manage, the second round of the European Championship proved to be highly selective. The role of the chassis was crucial. In this respect, the KR clearly gave its drivers satisfaction. With average lap times in excess of 100kph, the engines also had to be as powerful as possible. The KR Motorsport and Prema Racing teams were therefore able to thank their partner IAME for the work they had done.
KR and Cetilar shine in Sarno
Danilo Albanese was the driving force behind the opening round of the KZ category at Zuera, and was once again impressive at the foot of Mount Vesuvius. Already by far the fastest in the final Free Practice on Friday morning, he confirmed this with pole position in Timed Practice. The rest of the race confirmed this flattering result: three heats, three fastest laps and three times leader at the chequered flag. Only a penalty deprived him of victory in one heat, but he retained the lead on Saturday evening, as well as after the Super Heat on Sunday. The Italian also set the fastest time in the two warm-ups on Saturday and Sunday.
"I had a fantastic weekend," confirmed Danilo Albanese. "My only regret is that I wasn't able to hold on to 1st place in the Final. My rival Gustafsson got off to a better start than I did. I knew that he was going to defend his position fiercely, because he didn't have the possibility of fighting for the Championship podium, but only the will to win. From then on, I didn't want to take any risks to win at all costs, because 2nd place was good enough to become European Champion. I saw that behind me my team-mate Paolo Ippolito was driving solidly in 3rd position, so the situation was under control."
Like Ippolito in 2022, Danilo Albanese is now European Champion for the first time in his career. Furthermore, Ippolito's 5th place in the European Championship means that KR Motorsport has moved up to 2nd in the team standings, three points behind the leader.
A comment from Dino Chiesa, Head of KR Global Motorsport Company
"I must admit that we would have preferred to win this last Final, especially as Danilo clearly had the potential to do so. He was the fastest for most of the meeting. But in a Championship, the most important thing is to win it! Similarly, we were able to bring Paolo Ippolito up to a very high level of performance throughout the meeting and we were delighted to see them both on the podium. Of course, we're a little disappointed with the KZ2 result. Alex Powell, Kean Nakamura-Berta and Luka Sammalisto all performed well. Kean and Alex set the fastest laps in the heats. Alex even has the absolute record for the event in KZ2. But these three drivers have to manage a double programme, in OK and KZ2, and it's not always easy to switch from one kart to the other. There are the starts and overtaking to be managed differently from OK, and mistakes happen quickly."
"I congratulate Stan Pex on his 6th place in KZ with our KR chassis and I thank Cetilar Racing for supporting our two drivers Danilo Albanese and Paolo Ippolito in KZ. We'll now be back with our OK and OK-Junior drivers, before preparing for the World Championship in Germany. The circuit is quite short and narrow. I hope that the CIK-FIA will divide the drivers into several groups for the Timed Practice so as to avoid having too many drivers on the track at the same time, as many of them are likely to be hindered by traffic. When you consider the importance of the Qualifying sessions in a race like this, I think it's a factor to be taken into account."