FIA Karting 2023 – Qualifying in Sarno Confirms the Main Favourites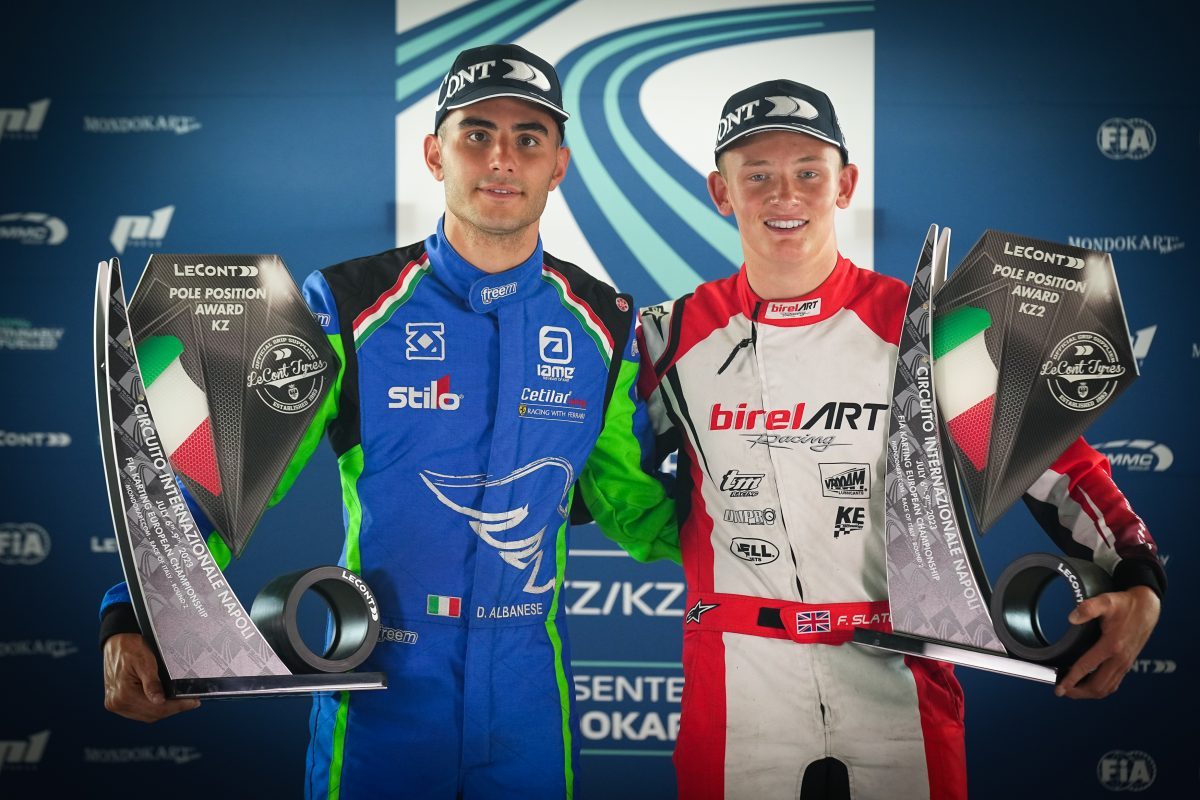 (Photo: KSP Reportages)
The second and final round of the FIA Karting European Championship – KZ & KZ2 sponsored by Mondokart.com got underway in very hot conditions at the Circuito Internazionale Napoli in Sar-no. After Qualifying Practice, Danilo Albanese (ITA) took pole position in KZ, while Freddie Slater (GBR) was fastest in KZ2.
Temperatures in excess of 30° prompted drivers to delay their entry onto the track in order to have two or three laps under their belts to get the best out of their LeCont tyres. The top three in the pro-visional KZ rankings were in the top three in Qualifying, while the KZ2 leader took pole position. Italy and France were once again in the majority in the KZ top 10, while nine nations were represented in the KZ2 top 10. Six different makes of chassis shared the top 10 in each category. TM Kart had the numerical advantage over IAME and Vortex in terms of engines.
Advantage Albanese in KZ
Italian Danilo Albanese set the fastest time on the second lap of Qualifying Practice for the FIA Karting European Championship – KZ in 53"324. Dutchman Senna van Walstijn was 78 thousandths back in 2nd place on his fourth lap, while Frenchman Jérémy Iglesias secured 3rd place on the third lap. The Championship protagonists were well placed from the start of Qualifying. Lorenzo Travisanutto (ITA) and Arthur Carbonnel (FRA) completed the top five ahead of Tom Leuillet (FRA). Matteo Vigano (ITA), currently 4th in the Championship, was 7th, while his direct rival Emilien Den-ner (FRA) was only 16th.
KZ2: Slater starts from pole position
Leader of the provisional standings of the FIA Karting European Championship – KZ2, the young British driver Freddie Slater got the Sarno event off to a very good start by setting the fastest Quali-fying time from the outset, with a third lap completed in 53"574 in the third session. Germany's Max-im Rehm followed at 49 thousandths in Session 1, Finland's Paavo Tonteri was 0.124" behind in Session 3 and Maxim Orlov was 0.229" behind in the final session. Tomass Stolcermanis (LVA) was competitive in 5th place, 55 thousandths behind Slater in Session 3. Cristian Bertuca (ITA) was very fast in 6th place ahead of Tim Gerhards (NLD) and Alex Powell (JAM). Yevan David (LKA) put in an excellent performance in 9th place ahead of Artem Severiukhin. Among the other three drivers in the top five, Kean Nakamura-Berta (GBR) was 12th, Daniel Vasile (ROU) 21st and Matteo Spirgel (FRA) 25th.
Provisional programme for the Sarno event
FIA Karting European Championship – KZ Mondokart.com Race of Italy
FIA Karting European Championship – KZ2 Mondokart.com Race of Italy
Saturday 8th July
08:30 – 09:25: Warm-up (10′)
09:30 – 16:20: Qualifying Heats
17:00: Tribute to Dilano van't Hoff
Sunday 9th July
08:00 – 08:40: Warm-up (10′)
09:15 – 10:25: Super Heats
11:25 – 13:55: Finals
You can follow the Sarno event on the official FIA Karting Championship app for mobile devices and on the website.