Bogdan Cosma Cristofor is the New WSK Open Series Champion!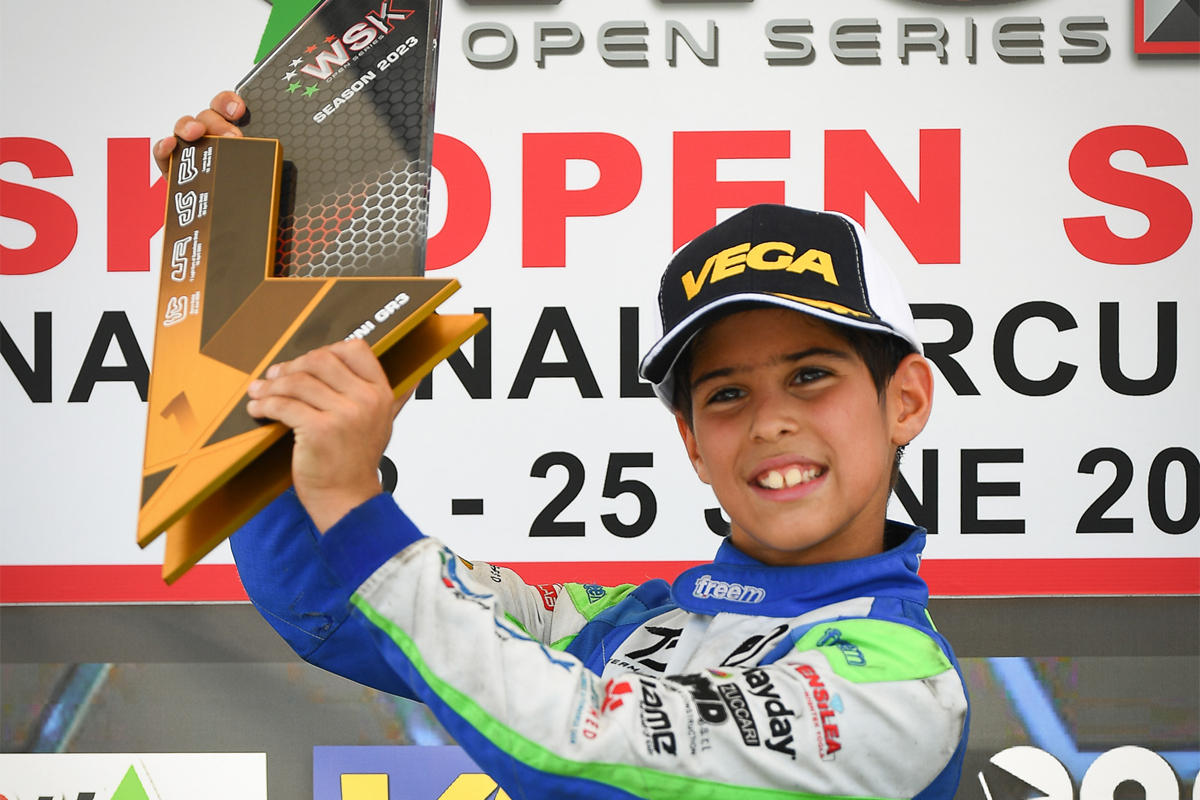 (Photo: Sportinphoto)
WSK Promotion, the organiser of the biggest international series for the Mini category, scheduled the Open Series over four meetings in 2023. Over 40 different nationalities were represented, and the level of competition was extremely high. By finishing in the top three for the third consecutive time, Romanian Bogdan Cosma Cristofor brilliantly secured the coveted title on the difficult Sarno circuit…
Bogdan Cosma Cristofor has confirmed his status as one of the very best kart drivers in the Mini category at international level. At each new event, the Driver Racing Kart driver is in a position to fight for victory, thanks to his driving skills and the effort made along with his team, who always push him to give his best. And the results are in!
A suspenseful end to the race
Ranked 5th at South Garda Karting in Lonato, winner at the Kartodromo Cremona and 3rd at the 7 Lakes circuit in Castelletto, Bogdan came out on top in the final round at the Naples International Circuit, determined to hold on to his position. The young Romanian hopeful knew that nothing would be easy in a field where the overtaking was relentless.
Fast at the wheel of his KR-IAME, Bogdan was solid in the leading group in the first part of the competition: P4 in Qualifying, P5, P5 then P4 in the Qualifying Heats. He was pushed around at the start of the Super Heat and was disappointed to finish only 7th, but he nevertheless secured an excellent 3rd place on the grid for the Final. Concentrating on his goal of becoming Champion, he was always careful to avoid any incidents and to achieve the best possible position.
As he had expected, the battle was fierce in the Final. Bogdan managed to get back to 1st position shortly after the halfway point, before the hierarchy was completely shaken up in the last two laps. But 3rd place on the wire was enough to take the crown. In the wake of his recent successes in Romania and Italy, Bogdan Cosma Cristofor could be satisfied with the outcome, which he also owes to all his supporters, notably Cetilar Racing, Dragos Gulie, Miko, Urban and AMC Global Investments SA.
The 2023 season is not over, and Bogdan is still hungry for more victories…