Parolin: European Victory in OK for Lammers at Rødby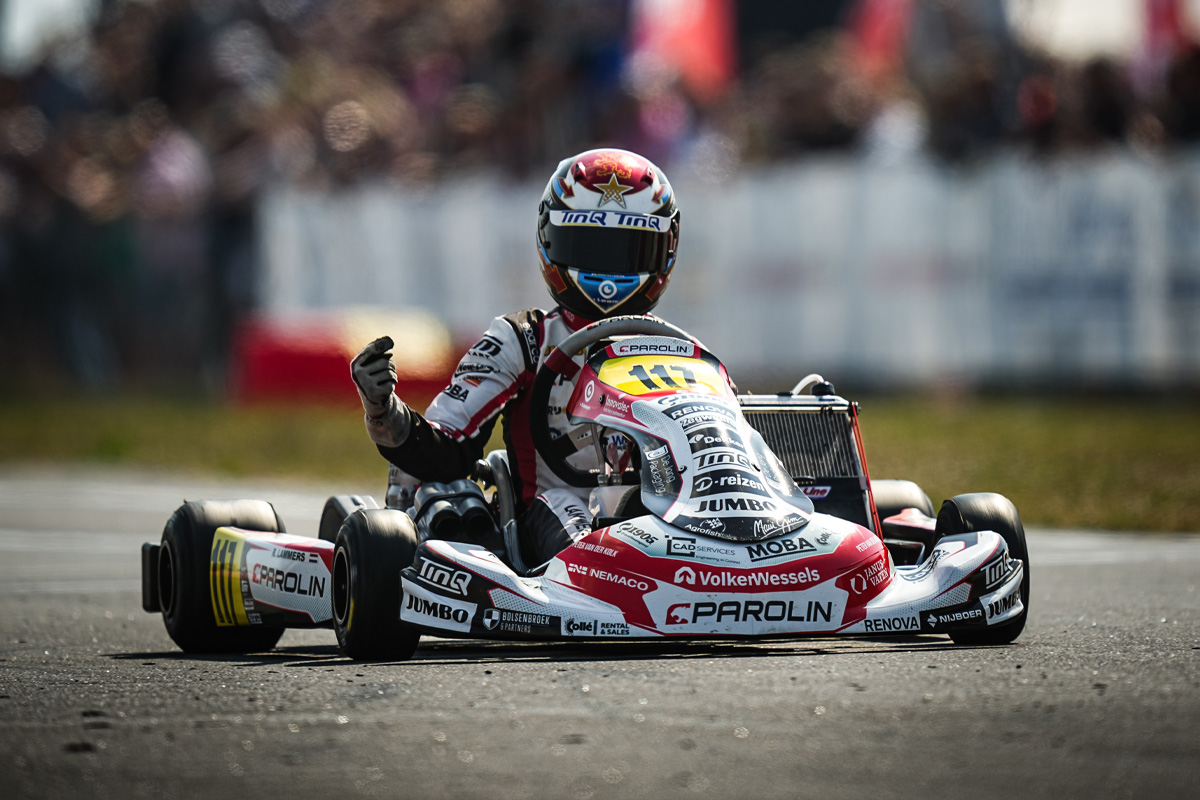 (Photo: KSP)
Parolin Motorsport confirmed its ambitions in Denmark at the third round of the European Championship. Rene Lammers took a magnificent victory in OK and moved to the top of the provisional standings. Miguel Costa followed in 7th place, while Anatoly Khavalkin made a very good start to the meeting. Poleman in OK-Junior, Christian Costoya put in a string of good results before finishing in 4th position. Zac Drummond made up five places to finish 6th in the Final, Jack Ilife climbed from 28th in Qualifying to 9th in the Final ahead of Vivek Kanthan in 15th and Sebastian Lehtimaki in 16th.
"The work of the Parolin Motorsport team was rewarded in both categories with top performances from most of our drivers," said Marco Parolin. "Christian Costoya's pole position in the Junior class got the competition off to a good start. He maintained a very high pace throughout the competition, as did his team-mates. Zac Drummond managed to stay in the top four of the Championship. Of course, Rene Lammers' victory in OK was a real thrill, given the highly selective nature of the Rødby circuit. In particular, he set the fastest time in his Super Heat and in the Final. We're determined to do everything we can to help him win the European title in Cremona at the end of July. We're delighted to see the overall strength of the team rise, which puts us in a very favourable frame of mind. I would also like to pay tribute to the performance of our satellite team Shamick Europe in the Junior class, with Tiziano Monza 5th and Andy Consani 10th, bringing the number of Parolin chassis in the OK-Junior top 10 to five."
OK
Rene Lammers: 3rd in Qualifying, three heat wins, 2nd in Super Heat with fastest lap, winner of the Final with fastest lap, Championship leader.
Miguel Costa: 6th in Qualifying, 2nd place and 3rd place in the heats, 3rd in the Super Heat, 7th in the Final and 9th in the Championship (+9 places).
Anatoly Khavalkin: 2nd in Qualifying, twice 2nd in the heats, 6th in the Super Heat, retired in the Final.
OK-Junior
Christian Costoya: 1st in Qualifying, three times winner in the heats, winner in the Super Heat and 4th in the Final. 6th in the provisional Championship standings.
Zac Drummond: 6th in Qualifying, 2nd and 3rd three times in the heats, 6th with a five-place improvement in the Final, 4th in the provisional Championship standings.
Jack Iliffe: 28th in Qualifying, winner, twice 4th and 5th in the heats, up 15 places, 9th in the Final (up five places).
Vivek Kanthan: 7th in Qualifying, 3rd and twice 5th in the heats, 15th in the Final (+7 places)
Sebastian Lehtimaki: 19th in Qualifying, 20th after the heats, 16th in the Final (+3 places)