Parolin USA Driver Truchot Wins at Italian ACI Karting Championship
SKUSA Winter Series Mini Swift champion claims victory at Cremona Circuit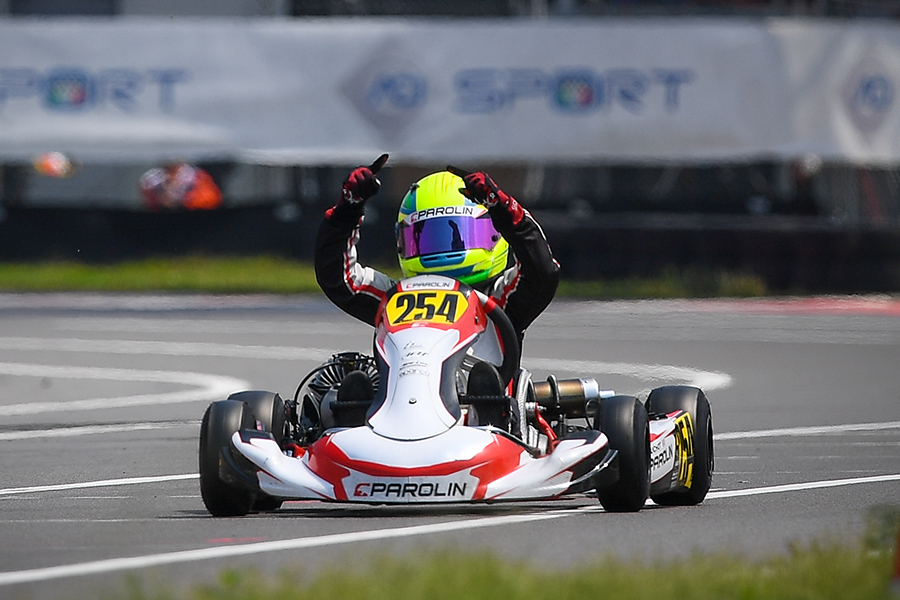 Alessandro Truchot celebrating victory at the Italian ACI Karting Championship with Parolin Motorsport
The work and development here in the United States by Parolin USA is extending across the Atlantic Ocean into international karting events. Team driver Alessandro Truchot traveled to the Italian ACI Karting Championship event from May 19-21, held at the Cremona Circuit in the northern portion of Italy in San Martino del Lago. The opening round of the 2023 program featured 39 competitive drivers, representing 15 different countries in the Mini Gr3 U10 category. Truchot – racing with Parolin Motorsport factory team – was able to battle his way forward throughout the weekend, claiming third in Final 1 before walking away to victory in Final 2.
Truchot opened the event with a qualifying session that began with fast opening circuits until he was blocked by several drivers in the final laps, unable to improve his quick lap time to be placed ninth in his qualifying group, ranking him 17th overall in the field and placed in the B group for his two heat races. Alessandro started the opening eliminatory heat B-C in the 11th spot and drove up to fourth on track. A pushback bumper penalty of five seconds ranked him sixth on the results sheet. Starting 12th in the eliminatory heat A-B race, Truchot was making his way forward into the top-10 when he was shuffled back outside the top-15, fighting back to finish 15th. Those two results placed him 11th in the eliminatory heat standings.
An amazing opening circuit to the start of Final 1 landed Truchot inside the top-five, where he began fighting for a podium position over the next 12 laps. On the final lap, Alessandro was able to claim the third spot. Starting sixth for Final 2, it was another great lap on cold tires for the Florida driver as he navigated his way to the front of the field on the opening circuit. From there, Truchot established a six-second advantage over the 10-lap race aboard his Parolin Opportunity machine powered by TM engine, claiming his first series victory.
Truchot is back in the USA to join Parolin USA at this weekend's Sunshine State Karting Challenge at the Andersen RacePark in Palmetto, Florida. He returns back to Europe where he will have two consecutive races at the famed La Conca circuit in Italy, including the WSK Super Cup on the June 9-11 weekend.
For more on the Parolin chassis line, visit www.parolinusa.com or contact them at 305-927-1133.