Mission Accomplished in Cremona, With Performance and Consistency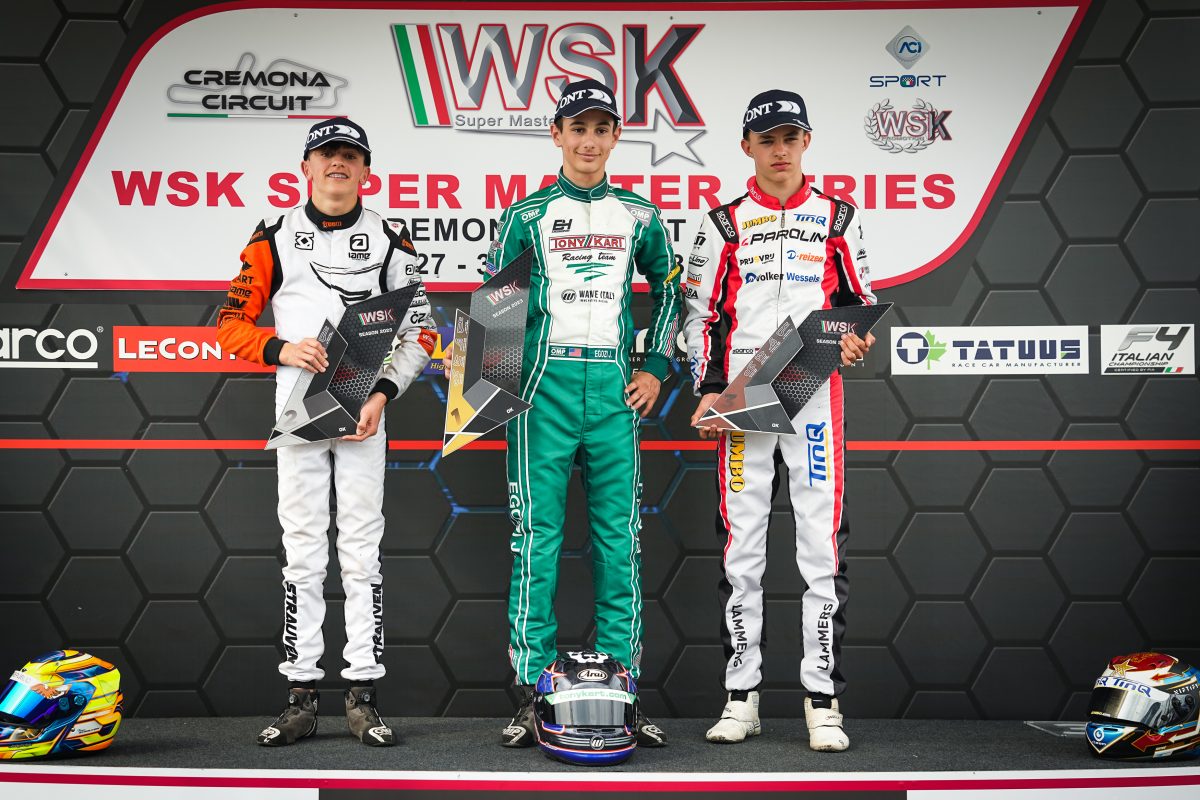 (Photo: KSP Reportages)
The Italian karting track of Cremona, which has a reputation for being a difficult circuit for tyres, was the final event of the 2023 WSK Super Master Series. It was another opportunity for the manufacturer LeCont to prove the effectiveness of its products. Competing in the OK category and ranked 2nd in the Final behind Belgium's Thomas Strauven, South Africa's Luviwe Sambudla set the fastest absolute time of all the Finals combined in 46″357 at an average speed of almost 94 km/h! As a partner of the WSK Promotion for several years, LeCont made a major contribution to the success of the highly competitive OK category throughout the four meetings. The series ended with the coronation of the American James Egozi, who secured 4th place in Cremona behind Sebastiano Pavan to win this major title.
With averages per event of over 300 drivers and 55 starters in the OK category alone, the WSK Super Master Series clearly justified its status as a benchmark international competition, close to the FIA Karting meetings. Organised successively on the superb Italian circuits of Lonato, Franciacorta, Sarno and Cremona, this series saw quality drivers and teams compete from February to April, as is customary in World and European Championships. LeCont supplied the OK category with its usual professionalism and expertise.
The record still stands for LeCont in KZ2 in Cremona
The first observation is that the time of 45″645 set at the European KZ2 Championship in Cremona by Frenchman Tom Leuillet in 2022 with LeCont tyres was not beaten at this WSK event. At each new meeting, LeCont also wants to demonstrate its ability to deliver tyres capable of limiting the drop in performance from race to race. This was the case at this event in OK, with a difference of only three tenths between the fastest laps of all the heats and Super Heats.
"We are extremely happy with the performance of our Prime tyres," said Paolo Bombara, LeCont's Marketing Manager. "On a circuit like Cremona, it is important that the chosen manufacturer can ensure sporting fairness between all competitors and this was the case throughout the three days of competition. Several drivers, with different equipment and teams, were able to achieve fastest laps. This made the event exciting and breathtaking until the end. At some points in the meeting the weather was uncertain and we would have liked to see our wet tyres in action. In the end, the track remained dry for the entire event. The event had several twists and turns behind an impressive Strauven at the front. LeCont congratulates James Egozi for winning the final series ranking ahead of Thomas Strauven and Rene Lammers. We would also like to thank the WSK Promotion team for the trust they have placed in us to supply tyres for most of their events this year."
For LeCont, the season has only just begun and the Italian manufacturer will continue to demonstrate the quality and competitiveness of its tyres in many other competitions…