David Cosma-Cristofor Gets Used to the Podium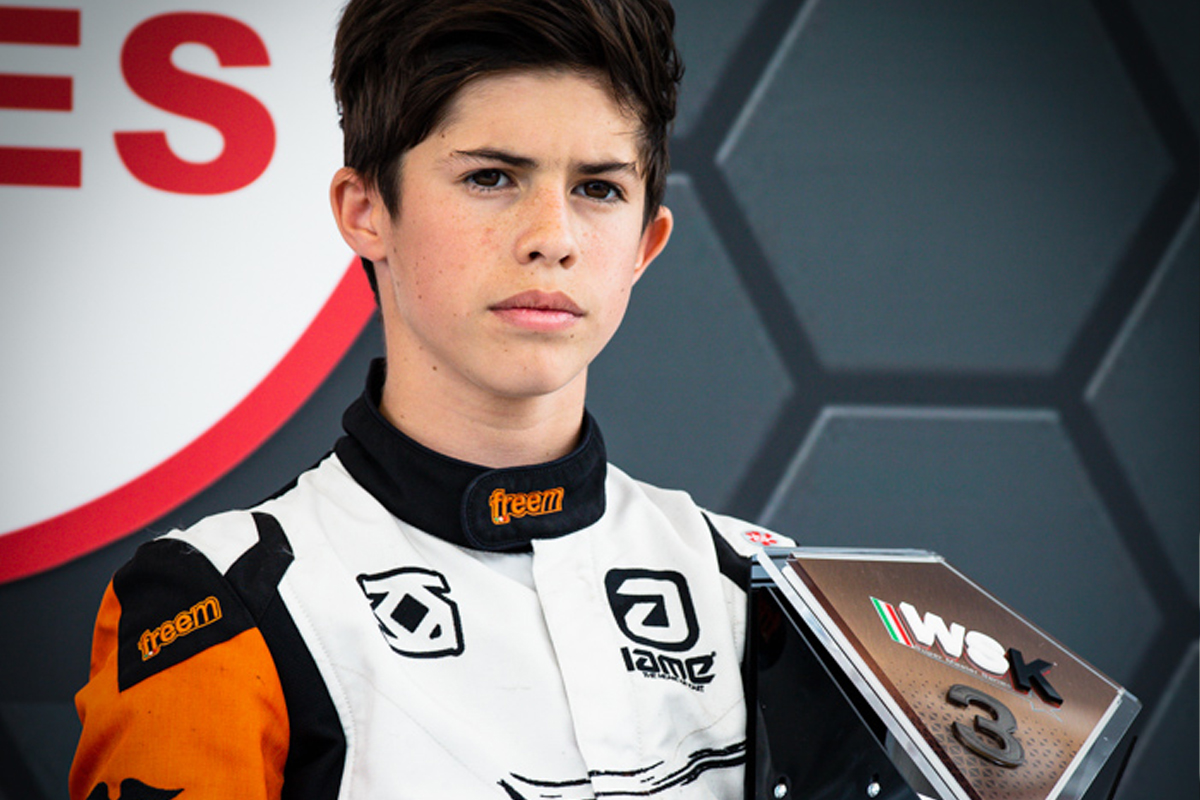 Since his move to the OK-Junior category, David Cosma-Cristofor has made impressive progress. In March, the Romanian karting hopeful brilliantly won the Andrea Margutti Trophy, but David was keen to confirm this result in an even higher level of competition. In the WSK Super Master Series on the Cremona circuit he achieved a new milestone in taking pole position then the podium thanks to a pass on the last lap of the Final!
The good news continues for David Cosma-Cristofor, who has just won two events in his home country (Romanian Kart Masters and Romanian Cup). The accumulation of excellent results since the beginning of the season has allowed the talented Romanian to join the Cetilar Academy. Racing at various levels of motor sport (single-seater, GT, 24 Hours of Le Mans…), this institution supports young drivers considered particularly promising in their career.
For this fourth and last event of the WSK Super Master Series organised from 28th to 30th April 2023, David immediately solidified the union by achieving a sensational pole position ahead of all the specialists in the OK-Junior category. In Cremona, his time of 47″527 at an average speed of more than 90 km/h was never beaten during the entire meeting! At the wheel of his KR-IAME with the Cetilar Racing graphics, David continued his momentum and showed off his skills in the Qualifying heats: three wins and a 2nd place. Unfortunately, an incident in the third heat caused him to fall to 3rd place on the starting grid for the Final, after having finished the Prefinal in 3rd place.
The Final was a constant battle, with fluctuating positions in the leading pack. The KR Motorsport driver made an excellent start and soon caught up with the leader, but a succession of overtaking moves pushed him back to 5th place. He got faster and faster as the laps went by and finished the race in 4th place, then 3rd place after a brilliant manoeuvre three corners from the finish.
Disappointed at having missed out on two consecutive podiums, including a win, due to penalties in WSK events when he wasn't necessarily responsible, David was particularly happy with the outcome this time and this new podium. With the support of Cetilar Racing, KR Motorsport, the International School of Bucharest and the Romanian Karting Federation, David Cosma-Cristofor intends to set even more ambitious goals for the future…