Bogdan Does the Maximum in Mini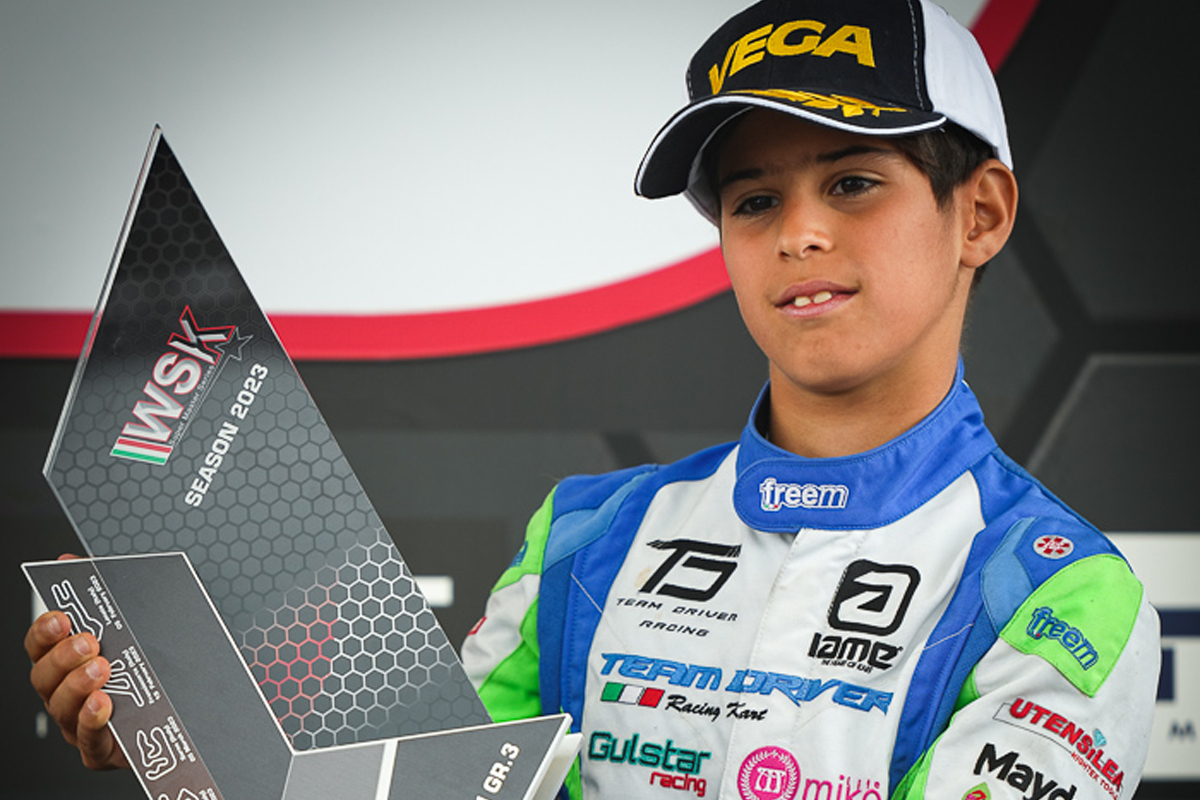 Already ranked 3rd in the WSK Champions Cup at the beginning of the season in the Mini 60 category, Bogdan Cosma-Cristofor has just finished 3rd in the final ranking of the WSK Super Master Series, one of the most prestigious competitions of the season. With his KR-IAME package from Team Driver Racing Kart, the 12-year-old driver has continued to put in a series of brilliant performances and display the Romanian colours on the international podiums. And it's probably not over yet, as by finishing 3rd on the Castelletto circuit in mid-April, Bogdan is in the lead of the WSK Open Series with one event to go!
Focused and determined as soon as he closes the visor of his helmet to take to the track, Bogdan Cosma-Cristofor is constantly looking for the maximum performance. On the Cremona circuit, where he took 2nd place in the IAME Series and a victory in the WSK Open Series a few weeks earlier, he started his weekend in the best possible way in the Super Master Series by setting a perfect lap to take the pole position… just like his brother David a few minutes before in OK-Junior! His time of 52″585 will remain the absolute lap record of the meeting.
However, the heats proved to be difficult against seasoned opponents. Bogdan was twice 2nd and twice 3rd in the Qualifying Heats, including once in wet conditions, but found himself in 5th position at the start of the Final despite a superb Prefinal where he finished in 2nd place. The talented Romanian set the fastest lap in the morning warm-up, but was confident of a podium finish.
In the Final, Bogdan Cosma-Cristofor immediately moved up from 5th to 4th place in the first few corners. Unfortunately, the gap between the leading trio and the talented Romanian had already increased. A second is a very small gap, but it is impossible to close it when the drivers in the leading pack are all running similar times. A few minutes after crossing the finish line in 4th position, the good news came: Bogdan scored enough points to move up to 3rd position in the final ranking of the WSK Super Master Series in the Mini 60 class. It must be said that he was one of the most consistent drivers: 2nd in Lonato, 8th in Franciacorta, 4th in Sarno and 4th in Cremona.
Although his conquest of Italy and international events is still in its infancy, the driver supported by the Bucharest International School hasn't forgotten how to win races at home, as Bogdan has also won the Romanian Karting Masters and the Romanian Cup!