Sodikart Double Vice-champion in WSK With Denner in KZ2 and Sala in OK-Junior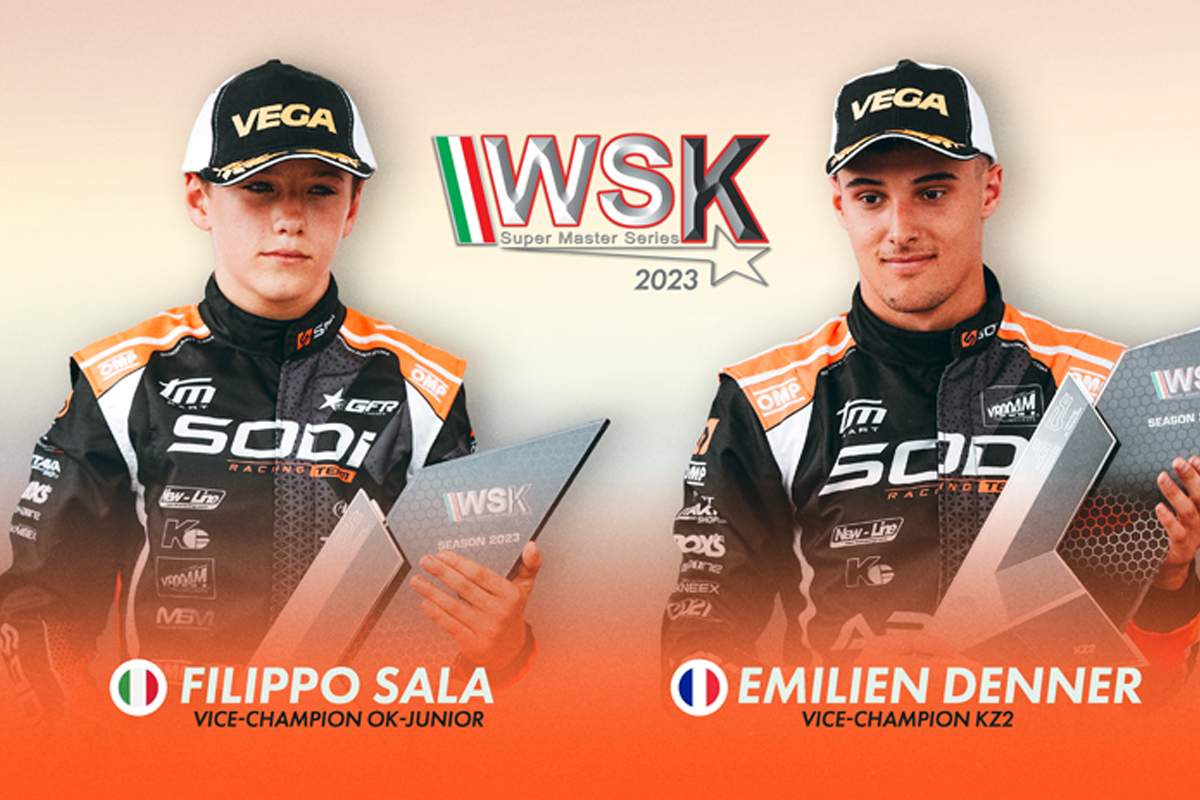 The fourth and final round of the 2023 WSK Super Master Series, which brings together the top international drivers and teams, once again highlighted the performance of the Sodi Racing Team, the French chassis and its drivers. As was the case during the recent FIA Karting European Championship event in Zuera, Emilien Denner and Senna Van Walstijn showed their competitiveness by racing at the front of the field in KZ2 over the three days. On the very demanding Cremona circuit, Denner succeeded in climbing to the second step of the podium in the Final and in the general classification of the series. In OK-Junior, the Italian Filippo Sala also finished runner-up!
The Sodi Racing Team has become one of the specialists of the WSK Super Master Series in KZ2. It has six podiums, including two victories in the last nine years, and Emilien Denner has also recently won the title. In Cremona, the Sodikart brand made an excellent start in Timed Practice, with Senna Van Walstijn setting the 2nd fastest time ahead of his team mate Emilien Denner and the Sri Lankan Yevan David, the driver from the CPB Sport team. Van Walstijn confirmed this by winning two heats, while David created a surprise by winning the third in front of the specialists in the category. Denner won the Super Heat and took pole position in the Final ahead of Van Walstijn and David.
The Final was very intense, as Emilien Denner tells us. "We had to fight all weekend with good opponents. I wanted to be back in the top three, as I was at the beginning of the season in Lonato, in order to secure a place on the final podium of the WSK Super Master Series. I was 3rd in the provisional ranking before this last round in Cremona and I finally finished 2nd. This is definitely a great result."
2nd place in OK-Junior and top 10 in OK
"Once again, the official team has achieved a very high standard of work for all our drivers, in KZ2, OK and OK-Junior," added Mansel Smith, Sodikart team manager. "Emilien managed his weekend brilliantly and we have two chassis in the top five thanks to Senna's performance. We are also very pleased with the results in the other categories. In OK, Nathan Tye had three top three finishes in the heats and 2nd in the Super Heat. He secured his place in the top 10 in the Final and overall. In OK-Junior, Filippo Sala confirmed his consistency throughout the WSK. Winner of the Super Heat and 4th in the Final after starting 6th in Cremona, he is the new vice-champion of this very competitive international series. I would like to congratulate the effectiveness of the official team, CPB Sport, Trèfle Racing, TM Kart and GFR Engines."