Anthony Martella Adds More Podiums in Canada and Shifts Focus to USPKS Event This Weekend
NIN Transport branded driver also set for F1600 test and races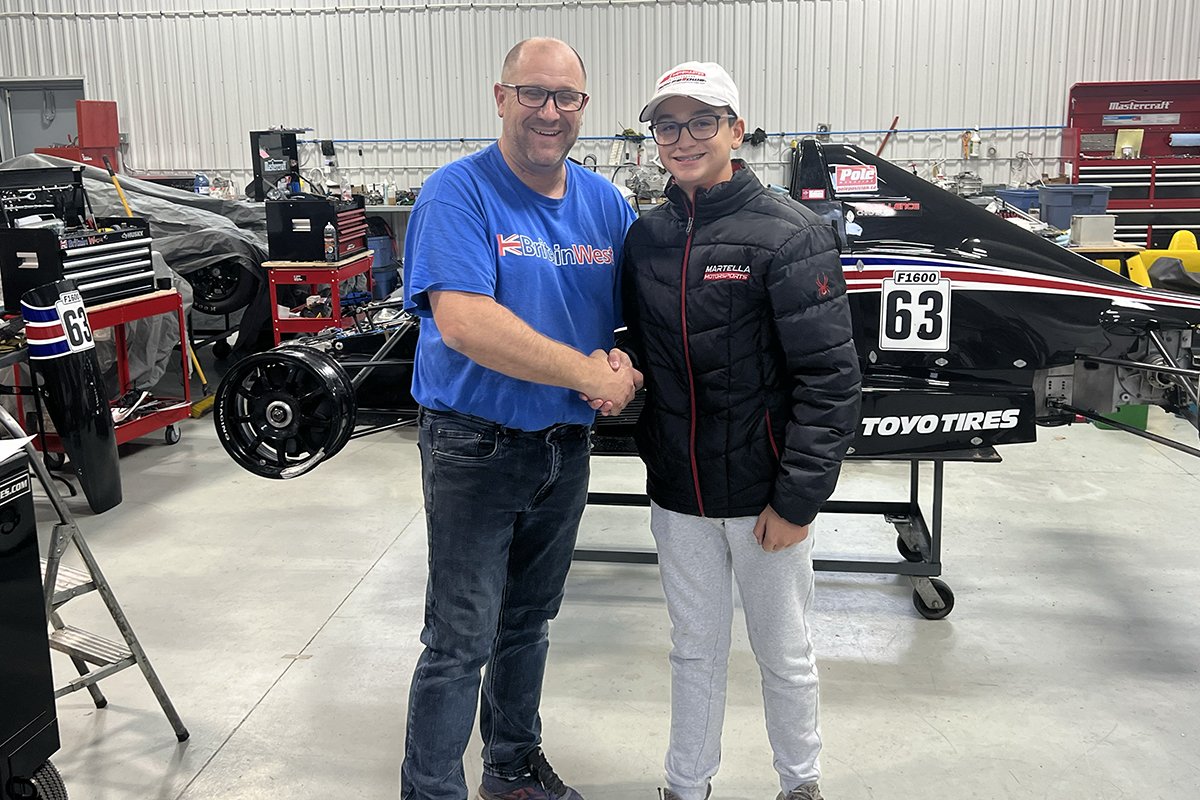 Anthony Martella has inked a deal with Britain West Racing to compete in the Toyo Tires F1600 Championship Series later this year
(Photo: Martella Motorsports)
It was a podium-winning weekend for Canadian Anthony Martella. Taking on the opening round of the Mosport International Karting Association (MIKA), Martella earned a pair of second-place podium results as he battled in both ROK Junior and ROK Shifter as well as inked a deal to join Britain West Racing behind the wheel of a F1600 machine.
Attending the first race weekend north of the border in 2023, Martella competed in two different classes with two different race teams. In his ROK Shifter debut, Martella was instantly on pace as he qualified third and lined up for his first standing start from the inside of row two. Moving forward in the prefinal to finish second, the young Canadian maintained his position in the main event to stand on the second step of the podium. In ROK Junior, a pole position effort in qualifying was negated by a crash in the prefinal start that saw Martella fall down the running order. Battling back to earn a third-place result, Martella bagged his second podium finish of the weekend finishing second in the ROK Junior main event.
Following the event weekend, Anthony Martella confirmed his future intentions. While set to continue his karting season south of the border with Speed Concepts Racing, Martella has also joined Britain West Racing and their potent F1600 program. With a test program commencing in a few weeks' time, the 14-year-old will compete in his first open-wheel event later this season in the Toyo Tires F1600 Championship Series.
"What a weekend," explained Anthony Martella. "A pair of podium results, a new deal to get behind the wheel of an F1600 car, and I get to look forward to my next karting event in Texas. A huge thank you to David Clubine of Britain West Motorsports in the belief and plans to advance my career, NIN Transport and Martella Motorsports."
It is a quick turnaround for Martella as he will be back behind the wheel of a Speed Concepts Racing prepared and Speed Lab Racing Engines powered kart this weekend for the second event weekend in the United States Pro Kart Series. Taking on the Speedsportz Racing Park near Houston, Texas, Martella will see action in both KA100 Junior and X30 Pro Junior.
For more information on Anthony Martella and Martella Motorsports, please contact Tony Martella via email at Tony@SkilledLabourOfCanada.com or by phone to 647.564.0874.