Hometown Heroes Take Australian Kart Championship Wins in Perth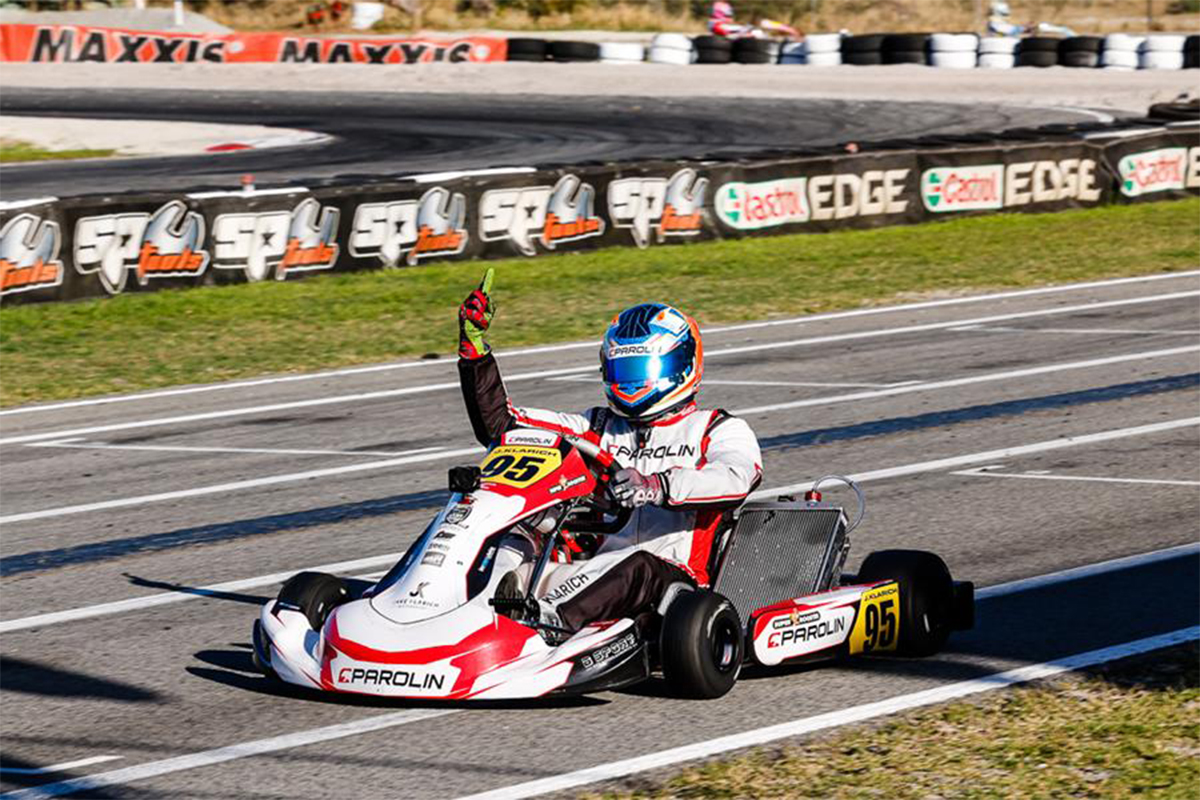 Jake Klarich crossing the line for victory in round two of the 2023 SP Tools Australian Kart Championship
(Photo: Pace Images)
West Australian competitors have taken the challenge to the SP Tools Australian Kart Championship regulars winning several classes on home soil in Perth on Sunday afternoon, the biggest win going the way of Jake Klarich, who took an emotional victory in KZ2.
The win brings Klarich's career round wins total to five, however it wasn't the dominant performance throughout the weekend that brought the emotion forward, it was the awarding of the inaugural Gary Light Cup as the best placed West Aussie in the KZ2 field.
The award honoured the contribution of Light to the sport throughout four decades, more than 20 years of which saw him as President of Karting Western Australia along with being a competitor, engine builder and mentor. Klarich was one of his many proteges from a young age.
The other WA wins included Jay Kostecki who took his second round win in succession in Cadet 9 and Jake Sawyer in X30.
There was more history than just the first visit of a multi round Australian Kart Championship visiting Western Australia, for the first time ever, brothers won two separate categories. Making it even more special, it was both driver's first ever national level event victories.
The Thompson brothers from Shepparton, Victoria took out their respective categories.
In TaG 125, Zackary Thompson withstood  a late race charge from Walkinshaw Andretti United Supercars racer, Nick Percat to take a narrow victory, while William Thompson took a fine victory in KA3 Junior having to chase down a flying Xavier Avramides.
Max Walton completed his preparation for next month's opening round of the FIA Karting Academy in the Czech Republic in fine fashion.
Walton took a 3.5 second win and cemented his position at the top of the table. His highest finish in KA2 was second at the final round at Newcastle last year, however he has now added his name to the illustrious list of round winners in the Australian Kart Championship. He beat home Mika Lemasurier convincingly and former Cadet 9 Champion, Ky Burke, who is in his KA2 debut year.
In KA3 Senior, Benito Montalbano had been on the back foot for much of the weekend after qualifying. His closest Championship combatant, Keegan Fraser had dominated, however come the final, Montalbano had superior tyre advantage and was able to use that to his benefit to take another round win over a rejuvenated Matthew Waters and Fraser salvaged third, however with a huge points haul after a perfect Saturday and Sunday morning.
Klarich's win in KZ2 was part of a WA benefit, with Sam Dicker working his way through to second. After not finishing the third or fourth heats, Dicker started the final 10th and by the time the field exited turn two – he was fifth.
Jay Irwin crossed the line in third, however a post race penalty elevated local driver Dylan Guest to the final podium position, his best ever SP Tools Australian Kart Championship finish.
The WA wins were celebrated very loudly by the parochial WA crowd that turned out in force. Kostecki won Cadet 9 from current Australian Champion, Cruz Kelly, however Kelly was eliminated from the results after the final following a post race technical infringement.
This promoted North Queenslander Brock Nolan to second. Nolan starred at round one and entered this weekend second on points. He had a quiet weekend until the final and then third place was Gladstone's Carter Grother.
In X30, WA racer Sawyer's win was another without post race discourse. Aidan Dekkers pushed from deep on the grid and carved his way to the front – and past current Australian Champion, Jace Matthews who dominated the weekend.
Unfortunately, Dekkers received a post race bodywork infringement dropping him to third, nevertheless, the lanky youngster announced himself on the national scene. It wasn't all doom and gloom for the locals with the win handed to Jake Sawyer. Sunshine Coast CXR-Racing backed Matthews' outstanding heat race performances saw him walk away from the weekend with a massive haul of points towards his championship, particularly when his closest rivals coming into the weekend struck trouble.
In TaG 125, Zackary Thompson had to stand tall staving away Percat's challenge, but it was the charge of Leigh Nicolaou to the podium in his 49th SP Tools Australian Kart Championship start that was one of the big talking points.
He started 16th on the grid after an incident on the opening lap of the final heat and systematically worked his way forward to end up in third.
The younger Thompson, William had to work his way past some of the best racers in the country to take his first ever AKC round win in KA3 Junior. He had the battle with Xavier Avramides race long to take the win. Jye Flynn ultimately got past Pip Casabene late in the race to take the third position.
Jackson Brasher took his first Cadet 12 win beating home Lana Flack and Liam Carr, Carr getting past local Chase Saxild late in the race to claim the final podium position. Several Championship contenders struck trouble late in the race which sets up an interesting round number three.
The next round of the SP Tools Australian Kart Championship will be held June 2-4 at Newcastle Kart Racing Club in Newcastle, NSW.
All in all, the first ever Western Swing of the SP Tools Australian Kart Championship is considered a major success with nearly 400 competitors and a contingent of more than 1,000 people each spending multiple nights each in the City of Wanneroo for the event. It attracted competitors from across Australia, New Zealand and the United States.
The Tiger Kart Club team, surrounding clubs and Karting Western Australia delivered a tremendous venue for something that was truly unique for locals and Australian Kart Championship regulars alike.
Full results of the weekend's proceedings can be accessed here https://speedhive.mylaps.com/Events/2168477
On demand coverage is available via the MySportLive site at www.watchmysportlive.tv.
RESULTS – ROUND 2, SP TOOLS AUSTRALIAN KART CHAMPIONSHIP, PERTH, WESTERN AUSTRALIA
KZ2
Jake Klarich (WA)
Sam Dicker (WA)
Dylan Guest (WA)
KA2
Max Walton (QLD)
Mika Lemasurier (QLD)
Ky Burke (QLD)
TAG 125
Zackary Thompson (VIC)
Nick Percat (SA)
Leigh Nicolaou (VIC)
X30
Jake Sawyer (WA)
Jace Matthews (QLD)
Aiden Dekkers (WA)
KA3 Senior
Benito Montalbano (NSW)
Matthew Waters (NSW)
Keegan Fraser (QLD)
KA3 Junior
William Thompson (VIC)
Xavier Avrimedes (VIC)
Jye Flynn (QLD)
Cadet 12
Jackson Brasher (VIC)
Lana Flack (QLD)
Liam Carr (NSW)
Cadet 9
Jay Kostecki (WA)
Brock Nolan (QLD)
Carter Grother (QLD)