EKN Trackside: Lindos Grand Prix – Event Preview
Bermuda Kart Club readies for country's own 'SuperNationals'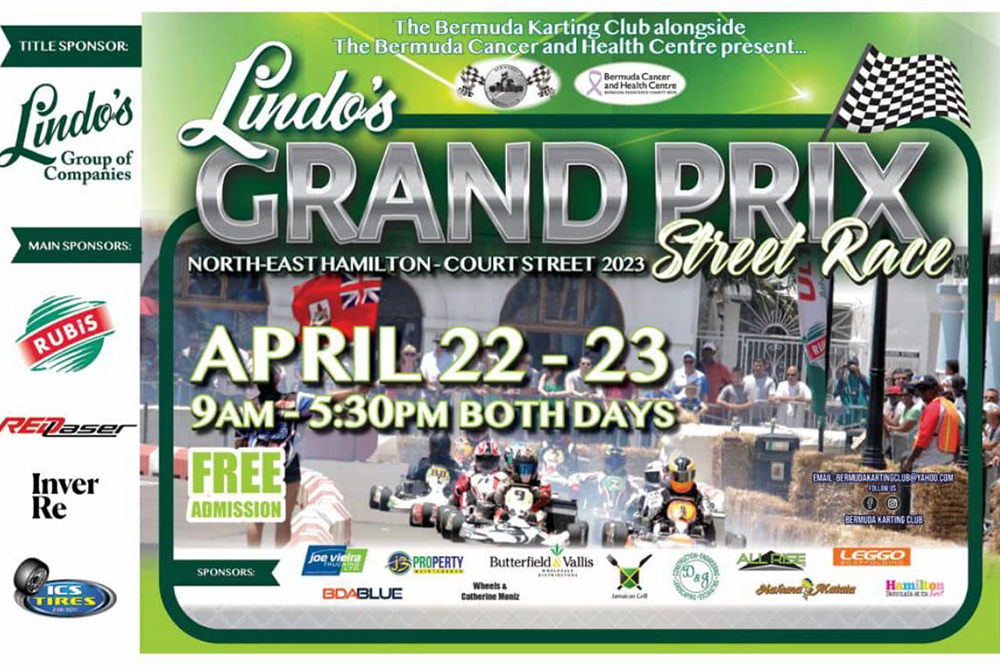 The Bermuda Karting Club is excited to be once again taking to the streets of its capital city this weekend for an exciting season-end temp circuit event. It's been six years since the BKC last tackled a temporary circuit – the Dockyard Grand Prix in 2017 – and club officials have been working hard to organize and fund a similar race ever since. The Lindos Grand Prix is the culmination of all that effort and will fire up the streets of North-East Hamilton on Saturday and Sunday. A total of eight classes are on the docket for the event, including KZ and Stock Honda Shifters, TaG Senior and Junior, Cadet, and 206 Senior, and Masters.
The Presenting Sponsor of the event is Lindo's – one of the island's largest grocery store chains – and the race is also being backed enthusiastically by Rubis, Redlaser, InVe Re, and ICS tires. The BKC is working closely with the Corporation of Hamilton and the businesses and residents of North-East Hamilton to put on this amazing event in their neighborhood. The race is also raising money for the Bermuda Cancer & Health Centre.
The BKC wrapped up its 2022-2023 season last weekend, so with the titles confirmed, the club's racers can focus on this weekend's street circuit event, which is being dubbed by some as their own 'SuperNationals'. BKC championship winning drivers Scott 'Skitchy' Barnes (Shifters / LO206 Senior), Stephen Corrado (TaG Senior), Roman Wilkinson (TaG Junior), and Tanner Corriea (Cadet) are all focused on capping their season's with a Grand Prix victory.
The BCK regulars will take to the track in competition with group of international drivers, included EKN's own Rob Howden, who will drive a CRG FS4 in the 206 Masters class with CRG Bermuda. Long-time Margay driver and street racing specialist Jeff Dolian is enroute to the island to run 206 Masters in a Margay Brava 4.11, while MGM Motorsports' own Paul Rice is also in the class line-up. Veteran driver and Checkered Motorsports' owner Robert Bujdoso will be competing in 206 Senior, while Colorado racer Cadence Presley arrived on Thursday night and will steer a 9 Lives Racing Margay in the TaG Junior class.
In the event staff side, the BKC has brought in veteran temporary circuit Race Director Terry Riggins from Indiana to manage the event, and he'll work alongside Assistant Race Director Marco Oldhafer, who owns and manages the F-Series Championship and NY Race Complex.
On-track action begins at 9:00 am ADT on Saturday morning with practice ahead of qualifying and two rounds of heat races. Sunday will feature a morning warm-up, the third round of heats, and the main events. Follow EKN's social media for photos and videos throughout the weekend.