EKN Trackside: 2023 Challenge of the Americas – Sonoma – Preview
Series finale hosts final two rounds to close out 16th season of premier winter west coast series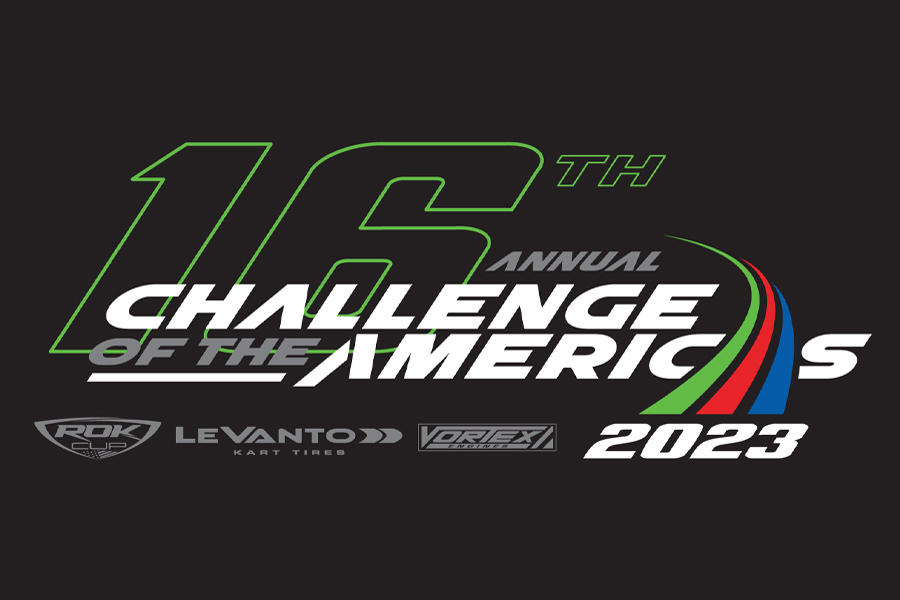 The Challenge of the Americas series finale is set for this weekend – April 14-16 – at the Sonoma Raceway. The Sonoma, California facility will be the location for Round Five and Six of the six-round international west coast winter championship series. Perfect racing weather is forecasted for the weekend, which can provide a great opportunity to crown the 2023 champions.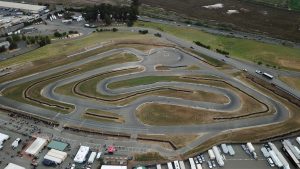 The third event of the 2023 Challenge of the Americas program travels to the Sonoma Raceway for the 12th time in series history. The 7/10-mile course features 12 turns, including the infamous Tic-Tac-Toe section on the 'National' layout. The weekend will feature two separate days of racing, with the exception for the new FIA recognized OK-N category. The non-championship class will run qualifying, three heat races on Saturday with Prefinal and Final on Sunday.
eKartingNews.com is proud to be entering the 12th season of Trackside Live program with Challenge of the Americas. EKN's own Rob Howden is set to call the action all weekend from Sonoma. Those unable to attend can listen in to the live broadcast. Bookmark www.ekartingnews.com/live and follow the EKN social media channels for more throughout the weekend in California.
It is essentially a two-driver fight for the championship in the SwedeTech ROK Shifter championship fight. Three-time winner Jacob Gulick (GFC Karting) has a 61-point advantage over Round Two winner Macy Williams (CB / Gillard) heading into the weekend. Ethan Booher (GFC Karting), Henry Barton (RWR / CRG) and Tazio Ottis (TKC / Sodikart) will be fighting for the third spot on the championship podium. Former series champion Hunter Pickett (PSL / Birel ART) is set for his 2023 debut at the Challenge, coming in with a solid record at his home track. Master champion Kevin Woods (RWR / CRG) is moving up to the Senior ranks for the weekend along with top Master driver Brian Keck (GFC Karting) – both with hundreds of laps at Sonoma. Preston Lambert (Speedsense / OTK) will make his ROK Shifter debut on the weekend after running Junior 100cc last season.
Only six drivers are set in the Ron White Racing ROK Shifter Master class. Three-time winner and championship leader Jonathan Vitolo (GFC Karting) will look to clinch the championship at his home track. He leads by 78 points over Nick George (Aluminos) – who is not pre-registered. The field is welcoming three new drivers to the class on the year, with Andrew Wait, Tim Barber and Samuel Gluss racing under The Karting Collective / Sodikart tent.
The P1 Engines OK-N category could set another record for entries, sitting at eight heading into the weekend. Three-time winner Blake Nash (Nash / EOS) is not entered but confirmed to compete in Sonoma. The Challenge has put up a $500 prize to the winner in the Final on Sunday, with an additional $500 'bounty' if the victor is not Nash. Dustin Salaverria (TKC / Sodikart), Anthony Freese (WCM / Birel ART) and Flavio Aquini (Italcorse America) are the only other drivers returning from the first two weekends. Former series champions Derek Wang (Ruthless / LN Racing Kart), Billy Cleavelin (Ruthless / Kosmic) and Kyriakos Sioukas (AKR / Birel ART) will be making their OK-N debuts along with Dane Idelson (Birel ART), and Canadian Kris Dinkov (VemmeKart).
The championship in the Alex Keyes Racing Mini ROK division is wide open. Canadian Gabriel Balog (Racelab / JV Kart) has two wins over the first four rounds, however, only holds a 31-point advantage in the point standings over three-time podium finisher Braydon Wagner (GFC Karting). Round Three winner Luca Popescu (Nash / Energy) sits third with two-time podium finisher Paxton Romero (FDM / CompKart), all separated by only 67 points. Throw in local driver Mateo Calderon (Aluminos) – coming off victory at the recent ROK Sonoma – and it should be an exciting two days of racing in Sonoma.
The largest category of the weekend is shaping up to be Forward Direction Motorsports Senior 100cc class at 29 drivers. Round Two winner Liam Letzsch (GFC Karting) holds a 36 point advantage in the championship standings over Arizona driver Josh Campbell (RPM / Tony Kart). Letzsch is on the entry list, however, Campbell is not. That could give Letzsch more cushion with third-place driver Timothy Carel (Tony Kart) back by 60 points while Senior rookie Stephen Eisert (SpeedSense / Exprit) back by eight more points. The field is full of contenders for the victories and podiums, including the return of 2022 champion Kyriakos Sioukas (AKR / Birel ART), Canadian Jordan Redlin (VemmeKart) and NorCal driver Hunter Kelly (SpeedSense / Exprit). The field will also expand to welcome British driver Harley Keeble (TKC / Sodikart) – a factory driver who impressed in his USA debut last month.
The Nash Motorsportz Junior 100cc is close in numbers with 28 set to battle in Sonoma. Two drivers stand out in the championship with Alexander Gonzalez (Nash / EOS) banking on his four straight podium finishes to lead the point standings by 44 ahead of three-straight race winner Nixx Eggleston (Ruthless / Exprit). Gage Korn (Race Factory / Kart Republic) is not entered but scheduled to race – sitting third in the championship behind by 135 points. Round One winner Archer Eversmann (FDM / CompKart) and Spencer Smith (FDM / CompKart) sit fourth and fifth with a host of drivers sitting on the outside of the top-five looking to move forward on the weekend. That includes Payton Westcott (Nash / EOS), Keagan Kaminski (GFC Karting), and Kyle Drysdale (Ruthless / Exprit). Through in last year's champion Christian Cameron (AKR / Birel ART) making his 2023 Challenge debut.
The tightest race in the championships is in the Ruthless Karting Masters 100cc class. Defending champion Ian Koentges (FDM / CompKart) has three wins while Christopher Mann (Ruthless / Exprit) earned victory in Round Four, and only trails by 20 points heading into the weekend. Daniel Jones (RWR / CRG) is coming off win at the ROK Sonoma weekend, sitting third in the championship chase with Luke Tracy (VemmeKart) and Ron Schoonover (JHM / LN Racing Kart) fighting for top spots in the championship chase. David Pergande (JHM / LN Racing Kart) is making his Challenge debut for 2023, coming off success last year in Sonoma.
Be sure to catch the action on Saturday and Sunday with LIVE audio at www.ekartingnew.com/live or www.ekartingnews.com/radio and be sure to follow the EKN social media channels for updates, photos, videos and more!