NCK Road Racing Attempting to Host Karting Event at WeatherTech Raceway Laguna Seca
Northern California club taking in deposits to confirm a race weekend in 2024
Built in 1957, WeatherTech Raceway Laguna Seca has become one of the most prestigious and well-known tracks in North America, and drivers worldwide know of its famous turns 8-8a complex, better know to most as 'The Corkscrew'. The 2.2 mile, 11 corner circuit has hosted some of the most well-known racing series in the world, with American series like IndyCar and IMSA having stops on their calendar at the central California venue. Laguna Seca has hosted global superstars of the bike racing world when MotoGP raced at the circuit in the early 90's, coming back to the track in 2005 and being a main stay on the MotoGP Calendar all the way up to 2013.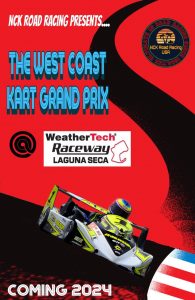 The chance to drive on its sacred assault is one you don't take for granted, but the chance to race in in a kart is an opportunity that does not come around often. Northern California Karting Club (NCK) is targeting to do just that, in an effort to bring kart racing to the track in the early months of 2024. The group is looking to hit the track in late March – early April, with an array of different kart classes.
Currently the estimated entry fee is set at $1050 for one class entry. With track restrictions capping the number of karts at 35 on track at a single time, currently, there are four race groups that drivers who wish to take on Laguna Seca can choose from. Group 1 will be set for Superkart classes, with Group 2 hosting 125 Shifter competition. Group 3 will host TaG karts, and finally, Group 4 will be all other karts. More details surrounding the class structures and race groups are still to come.
If you want your chance to race karts on one of Americas most beloved tracks, NCK is currently taking $400 deposits to secure your spot for the 2024 date and will be open through September 30 to try and reach their goal of over 100 drivers.
Click HERE for more details surrounding the deposit.
Contact Marc Morrison of NCK via email at info.nckroadracing@gmail.com for more specific questions or visit NCKRoadRacing.com.