SuperNats Time – Part II: Tiffany Kelly Takes on Las Vegas
Improving myself, not proving myself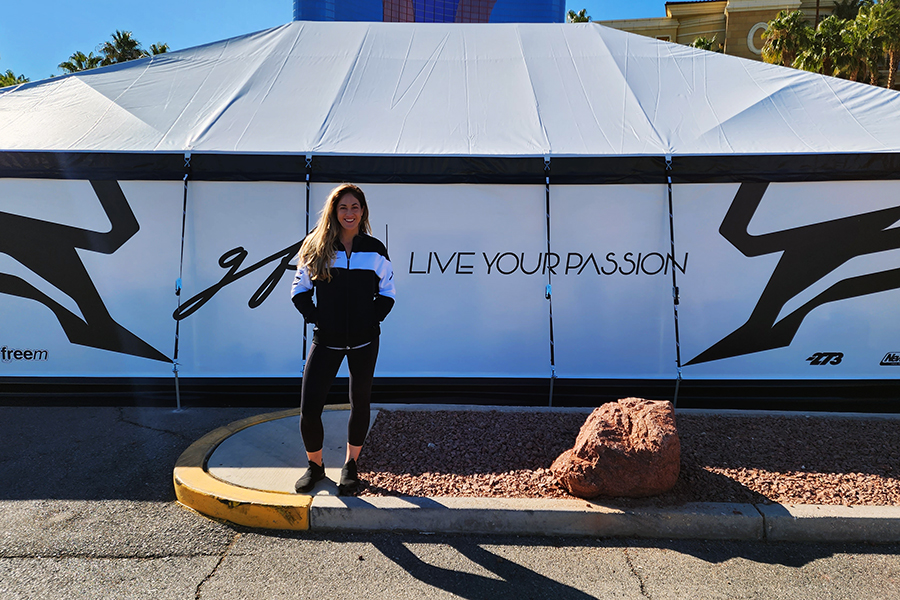 Tiffany Kelly competed in her first SKUSA SuperNationals this past November under the GFC Karting tent
This is the continuation of the column series by karter Tiffany Kelly, who made her first start at the Superkarts! USA SuperNationals this past November. Her first part (Imposter Syndrome) discussed the opening days of arriving to SuperNats 25 at the Rio All-Suite Hotel & Casino in Las Vegas.
If you are one of those people who loves a good underdog movie, where the main character goes through a bunch of struggles, overcomes obstacles, but ends up winning it all in the end.  Then this final recap of my 2022 season will not be the story for you. This may come as a shock (enter sarcasm), but I did not experience any spontaneous cinematic moment, where I suddenly found loads of talent, overcame the impossible, and won the SuperNationals.  I may have hoped, prayed, and even begged the universe for that to happen, but unfortunately, I had to face the reality that those moments are earned over time.
The first practice on the track was challenging, but it felt good to know that every driver had to learn the track together and no one had a home team advantage. We all had to figure out when to brake, when to turn in, and what was the best racing line to use.  By the end of the second practice, everyone had a transponder on their kart, and drivers were able to see their times compared to the group.  It was like a punch in the gut when I saw the fastest guy in practice was almost 4 seconds faster than me. Seeing that big of a time disparity is a double-edged sword.  On one hand, I am in in awe of the driver because I can't believe they can go that fast and I can't comprehend how they did it.  On the other hand, I am inspired and motivated because it proves that there was time on the table, and I needed to pick up the pace. I went out each session determined to go faster and shave off more time.  After the first practice I was 33rd out 42 drivers.  By the end of the day, I slowly moved up to 24th, which made me hopeful of being a proper 'Midpack Mary' for Qualifying.
I cannot emphasize enough how important qualifying is at SuperNats. Where a driver qualifies, will be their starting position in all three heat races. At the end of the heat races, the driver's average finishing position will determine the driver's starting position for the Final on SuperSunday. Another factor that comes into play is pushback bumpers.  If you end up hitting another competitor with your kart and it pushes your bumper in, you receive a 5-second penalty toward your finishing position. Qualifying was split into two groups to make sure there was enough room and space between drivers to get in a clean lap.  I was in the front of the second group, which meant I would have a lot of space and did not have to worry about getting caught behind someone.
When I got the signal to start my kart, I got it fired up and I was ready to go. Except, time kept ticking by and my water temps kept going up and we still didn't get the signal to go out on track.  So, I finally shut down my kart to let it cool down while we waited. Of course, that is right when they gave the signal to head out onto the track.  It took me and Josh, my crew guy, about five times to get me started again and everyone went out in front of me.  By the time I made it out, I was flustered, and I also needed to get by a couple people to put a flyer down.   I ended up running around 3/10th slower than I did in practice which put me back in 33rd place.  I was not a happy camper.
I knew I had some work to do with data to move my way up. I was super excited when I found out that two of the top three drivers in qualifying, Alan Sciuto and Brian Keck, were under the GFC tent and they could share their data.  I love using data and it has been one of the important tools for me to progress. I feel it is how I really grasp what I need to do on the track.  Yet, when Cameron Jocelyn – who was my awesome data guy – put my best lap over Alan's best lap, he didn't know where to start.  I think he thought he was going to help me clean up one section, but basically concluded I just needed to go faster everywhere. He helped me where he could, but I just needed to focus on improving.  I also had some motivation to get better because my family and Justin's entire family flew in to watch us race. I knew I didn't have to prove anything to them, and they are proud of me for just being out there, but I still didn't want to come in dead last and have them give me those pity "good job" or "you gave it your best".
Unfortunately, my performance in the first two heat races was subpar and I received a pushback penalty in each one. It was not until the last heat race, I gained about seven positions and finally kept my nose clean.  Overall, that had me starting in 28th for the final and Justin would be starting in 10th. We both needed to focus on having a good start and surviving the first corner.
Before I tell you how the final ended up, I need to talk about a particularly important SKUSA rule. If a driver is about to be down a lap on the leaders, they will be given the removal flag (Black Flag) and must exit the track. In the beginning of the season, I remember reading this rule and thinking to myself, if I were every that slow, I would just hang it up. That would be my worse nightmare to have that happen to me, especially in front of a crowd of people.  Now that I have shared that little tidbit, I am sure you are starting to assume what happened in the main event.
It was finally time, SuperSunday started with a giant ceremony where all the drivers, hundreds of them, gathered out on the track, announcements were made, the anthem was sung, and everyone got pumped for the finals to begin. It was one of the most spectacular things I have ever seen. My adrenaline was already through the roof, but the energy of the crowd was invigorating.
By the afternoon it was time for the Master Shifter class to battle. We all lined up, revved our engines, took off, with the hopes that one of us would be the champion. That much ambition from everyone piling into the first corner caused a lot of damage and multiple drivers crashed out. Not only did the drivers receive damage, but so did the barriers. The front of the group was able to get around one of the barriers swinging out, but the back half of the group got bunched up behind it and had to slow down to get around the barrier. This caused the front runners to get a big lead on half the field.
Of course, I was in the back half of the field and was trying to do my best to catch up. Halfway through I saw the flag guy waving the black flag at a group of us. I honestly did not think he was directing it at me, I even tried to do some sign language to the guy, which could only be interpreted as "that can't be for me, maybe the guy behind me".  Except, by the next corner I got the black flag again and I had to come to terms with the fact that I was being black flagged off the track in the middle of the race.  I finally pulled off and slowly putted over to the scales with my head down. I was devasted and just wanted to finish the race. The only thing that kept me from crying in tech, was realizing I was not the only one.  Half the field had been black flagged off the track and only seventeen drivers out of forty-two were left to compete for the win.  I got through tech and rushed over to the fence to make sure I could cheer on Justin and the others while they finished. Justin made me so proud when he finished 11th and I promised myself that I need to do everything in my power to improve so I can cross the finish line with him next year.
I want to thank everyone who followed my first year of racing shifterkarts and all the crazy adventures it included. I know I did not break any track records or get any podiums, but I do hope my story helps inspire people to give it a try.  Even if it is extremely scary and intimidating, it is worth the journey.  In the end, I improved as a driver every single day and one day I can hopefully prove that it all pays off.
---
Here are the links to Tiffany Kelly's previous columns: