Karting in Every State: Justin Dittrich's 'Race To 50'
New York driver has goal to race karts in every state in America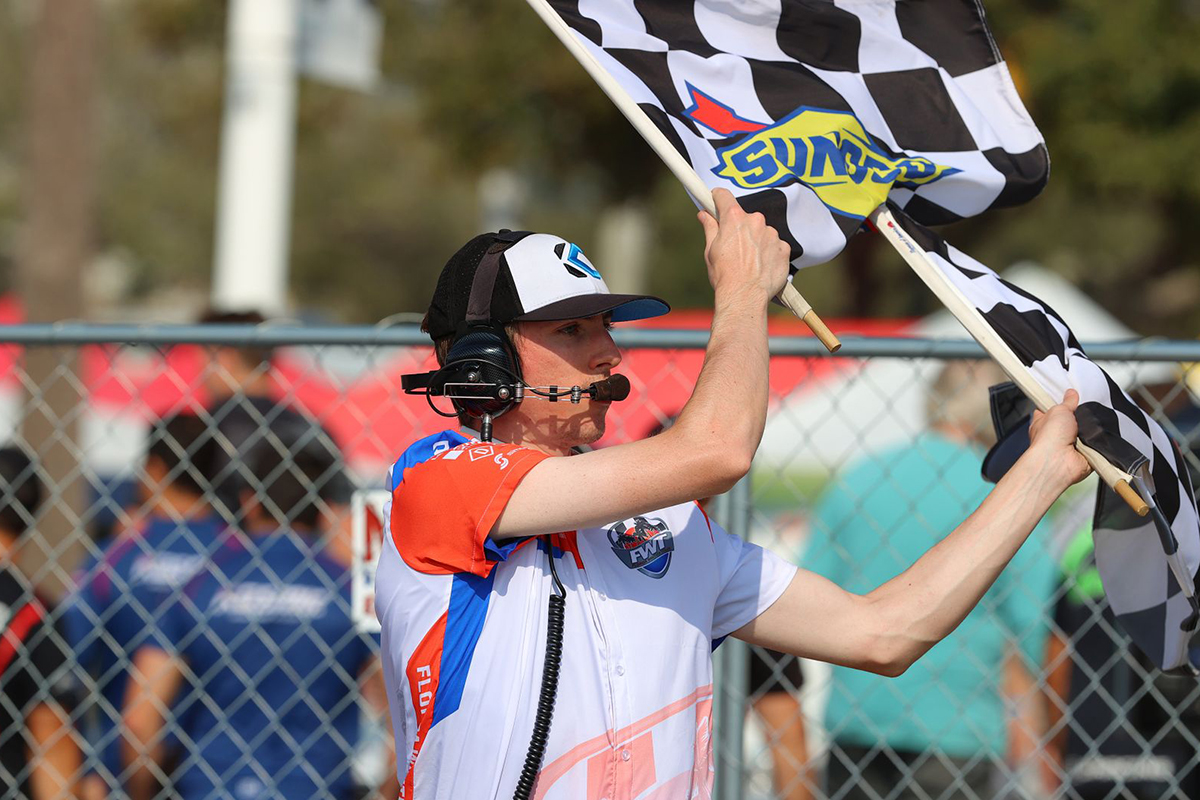 Justin Dittrich is working to race karts in all 50 USA states in his #RaceTo50 challenge (Photo: Canadian Karting News)
A 'bucket list' type journey for many Americans is to visit all 50 states. If you insert karting into that quest, you have Justin Dittrich's 'Race to 50' program. The 26-year-old from New York is on a mission to compete in a karting event within each of the 50 states in the USA.
Dittrich comes from a family where racing is heavily ingrained into their way of life. His two older siblings had been racing karts in the early 90's at tracks like Riverhead Raceway on the coastline of New York state, and although short-lived, both of his parents have karting experience. Just a couple years after birth, Justin grew up at race tracks, watching his older brother race Late Models. His brother's last full-time season was in 2001 and he ran off and on until 2005 when he stopped racing altogether. After his brother's retirement, Justin's interest in karting and motorsport began to decline. Although he kept up with NASCAR in the years to come, it wasn't until he discovered Formula 1 in 2012 that his racing interest was re-ignited. Soon after that, in 2013, his older brother received an invite from an old racing friend to come to a Long Island Karting Association event, where at the drivers meeting Justin took up an offer to work as a corner worker for a day.
"End of the day comes and I get cut a $100 check by the club president. I'm sure you can imagine that 16-year-old me was thrilled, so I went back for the next race, then the entirety of 2014."
It was in 2014 that Justin took his turn behind the wheel of a kart. After working with the Long Island Karting Association all season, Dittrich took part in a 30-lap race they held at the end of the year. The Duncovich family was able to put him in an old Arrow chassis powered by an HPV100, competing against Rotax and shifterkarts. His entire family came out to support him at the Nassau Coliseum parking lot, including borrowing his brother's safety equipment. Despite the ups and downs of a typical first time in a kart, Justin made it to the checkered flag.
"I pulled into the scale line and got a few high-fives and hugs from club members and the family, they knew how much this meant to me. My shoulders hurt more than anything as we packed up for the day, but I knew I was going to come back for more someday."
That would be his only time in the seat of a kart until 2016. Dittrich continued working within the sport, as he was hired by The F-Series for the 2015 season where he met Pete Maletto. It was Maletto who provided the opportunity for Justin to get back behind the wheel of a kart with club races at Oakland Valley Race Park and Englishtown. From there, they went all-in on the F-Series program from 2017 to 2019, along with OVRP's club series during the first two years. They partnered with Bob Falcone at EuroKart Racing, who was the importer for the Swiss Hutless chassis.
"I was still at the university when we got our program rolling, so I would use my Wednesdays to turn laps at OVRP."
His first season was about survival, learning the ropes and getting comfortable racing wheel-to-wheel. The 2018 season was a step up, testing more and training more, while also competing at his first United States Pro Kart Series event at GoPro Motorplex. Success began the 2019 season with victory at the F-Series GoPro event. Unfortunately, that success could not be replicated and he finished third in the championship chase. He also partnered up with Chris Rock to run other events throughout the year, including the USAC Karting Battle at the Brickyard, Rock Island Grand Prix, Daytona KartWeek and into 2020 with the SKUSA Winter Series program. Once the COVID pandemic began, the racing stopped as Justin pressed on with his other role in the sport – officiating.
To this day, Justin continues to work with series and tracks with race day operations and officiating. His stint at LIKA as an official lasted until the club became non-existent at the end of 2016. His work at The F-Series kept him in the sport, along with working at the OVRP club events as well. In 2018 his tenure with the ROK Cup USA began, working at the Florida Winter Tour as the starter. A season later, he became the race director at OVRP, adding Rotax Trophy Series from 2018 to 2021 to his resume as well.
Currently, you can see Justin waving the flags for ROK Cup USA, Stars Championship Series, and the Rock Island Grand Prix as the official starter for all three programs. Dittrich is also the race director at the GoPro Motorplex Challenge, AMR Homestead-Miami Motorplex, the Sunshine State Karting Challenge, and the IAME USA Grand Nationals. All this experience allowed him to expand his work outside of karting, doing a stint in race control for MotoGP and Formula 1 at Circuit of the Americas in 2022. Combining his work as an official and racing himself, Justin has been to roughly 85 events since the start of 2021.
Following the karting break due to the pandemic, Dittrich returned to racing himself. His only time behind the wheel in 2020 was the Rotax Trophy East Series and the occasional Team OVRP local event. It was in March 2021 at the Dallas Karting Complex where Dittrich was running VLR Senior that the #RaceTo50 concept was born. He described the hashtag as his way of making it a written goal.
"I have a few friends who also had some sort of spin on traveling to all 50 states, so this is my take on it."
Since then, Dittrich has raced in 11 other states around the continental US, crossing off states from the Northwest, South, and more from his home region of the Northeast. His travels have also included tracks outside the United States, visiting Buckmore Park in February 2022, taking part in their Club 100 event. At the time of publishing this article, Dittrich has raced in 23 of the 50 states, and has plans to cross off at least four more in 2023.
Of the 23 events on his #RaceTo50, the favorite moment was snagging that first win at GoPro.
"Nothing was going right on Thursday and Friday, so it was even sweeter to sweep Saturday's racing."
In the top three is the 2019 USAC Karting Battle at the Brickyard. There, competitors were given a 'pace lap' around the entire Indianapolis Motor Speedway 2.5-mile oval.
"Driving one lap of the famous circuit was worth the price of admission alone! I didn't realize how much banking the track had until I drove on it."
Also at the top of memories was the trip to the Montana Karting Association.
Second was his visit to the Montana Karting Association. Dittrich made a post to the KartPulse forums, fielding some suggestions for Race to 50. The owner of Neo Gothic Racing, Andy Anderson, was nice enough to reply with the suggestion to visit the Montana Karting Association. They connected on Facebook, figured out an event to attend in June, and Justin was on his way.
He landed in Helena on Friday night for a Saturday event. Woke up at the hotel that morning to figure out that there weren't any Uber or taxi services, so he ended up walking to the track. MKA races at the airport and the hotel was less than two miles away, so it wasn't a big deal. It had rained a little overnight and there was still a heavy mist that morning, so things were looking a little bleak since the MKA normally doesn't run in the rain. Fortunately, most of the club stuck it out since they had heard about my trip to their club.
"I felt a little bit like a celebrity with all the great people I met there!"
The rain ended up stopping, so everyone suited up and went out onto the damp course, many experiencing wet weather racing on slick tires for the first time. The plan was to race on a Stock Honda that Andy set up for Justin, but he couldn't even get it out of the pit lane. The spark plug wasn't providing any spark, so Andy told him to go recon the track in one of the Ghost arrive-and-drive karts and he'd have something for me when he returned. Andy ended up pulling out a brand new Formula K X30, just to make sure it was prepared correctly. The club held a few more practice sessions, to help dry off the track, then they were racing.
"I started at the back for the first heat race out of three, but I ended up picking off everyone and driving away from the field. Every session, we'd come off the track after the checkered flag, and I'd get questions about setup or how I was going so fast, which was a nice feeling for someone who barely clawed their way out of a SKUSA LCQ."
The people were incredible, and the track was fun. Andy and his wife, Karen, really saved the weekend for him. Tiffany Johnson and Keith Smith were great supporters, and the Ballenger family was kind enough to let Justin ride with them to Bozeman so he could catch his flight back home on Sunday evening.
The final race Dittrich has on the 2023 schedule is checking off Nevada and making a bid at racing ROK Shifter at the ROK Vegas event in late October outside the Rio All-Suite Hotel & Casino, relinquishing the role as starter for one-time only. To help cover weekend costs for ROK Vegas and his #RaceTo50, Justin has created a campaign on OpenFender. You can help support Justin and his aspirations to race in Las Vegas this fall, here.
"Some states will be easier than others, but I'm not just limiting myself to karting. As long as it has wheels and I'm racing against someone, it counts to the list."
2023 marks the 10-year anniversary of when Dittrich volunteered at his local track, igniting the flame to go racing and follow in the path of his siblings and parents before him. On top of racing in all 50 states, he added that he would like to achieve this goal by the age of 30. Some people never have the chance to see both oceans the USA is surrounded by or are lucky enough to step foot in all 50 states, so it makes Justin's story and his goal to race in every single state all that more special.
Justin Dittrich's #RaceTo50
1: New York – Long Island Karting Association
2: New Jersey – New Jersey Motorsports Park and Englishtown
3: Pennsylvania – Pittsburgh International Race Complex and Pocono
4: North Carolina – GoPro Motorplex
5: South Carolina – Carolina Motorsports Park
6: New Hampshire – Canaan Motor Club
7: Connecticut – Monza Karting *
8: Florida – AMR Homestead-Miami Motorplex
9: Maryland – United Karting
10: Illinois – Rock Island Grand Prix
11: Indiana – USAC Battle at the Brickyard
12: Texas – Dallas Karting Complex
13: Oregon – Portland Karting Association
14: Ohio – Motorsports Country Club of Cincinnati
15: Georgia – Atlanta Motorsports Park
16: California – CalSpeed Karting Center
17: Arizona – Phoenix Kart Racing Association
18: Montana – Montana Karting Association
19: Utah – Utah Motorsports Campus
20: Vermont – Rock Ridge Raceway
21: Delaware – Xtreme Zone *
22: Rhode Island – R1 Indoor Karting *
23: Mississippi – Finishline Performance Karting
* – Indoor karting facility