Karting Champion Caleb Gafrarar To Compete in 2023 Skip Barber Formula Race Series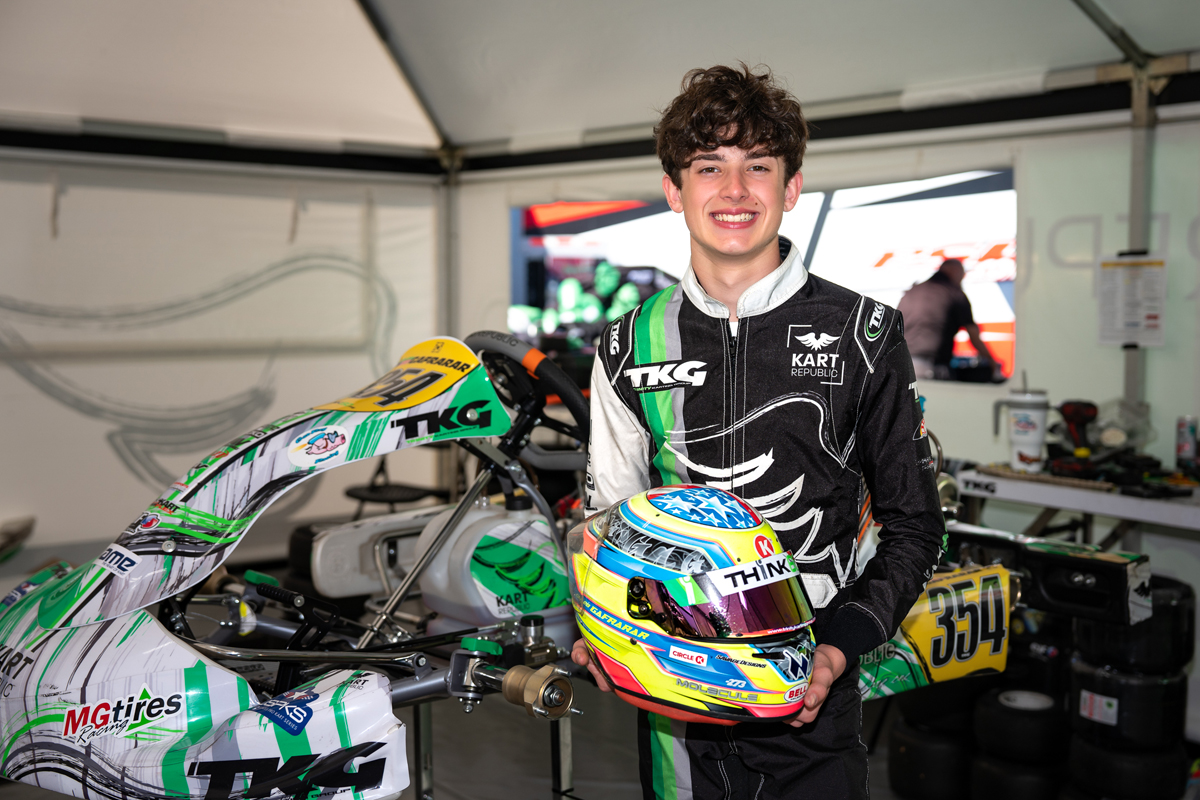 Skip Barber Racing School proudly announces that multi-time karting champion Caleb Gafrarar will compete full-time in the 2023 Skip Barber Formula Race Series season. The 14-year-old North Carolina native made his karts-to-cars transition last December with his 3-Day Formula Racing School at Circuit of the Americas and completed his 2-Day Advanced Formula School this month at VIRginia International Raceway.
Last year, Gafrarar secured four championships, and 24 race wins across multiple series, including SKUSA Pro Tour Championship in X30 Junior, SKUSA Pro Tour Vice Champion in KA Junior, USPKS Champion in X30 Pro Junior, and California ROK State Champion in VLR Junior. In addition, Gafrarar was the USA representative for the FiA Academy Trophy 3 race series in Europe, racing in Belgium, Italy, and France. When it was time to move up to Formula cars, he looked no further than the Skip Barber Racing School.
"I believe that the Skip Barber Racing School will give me the practice, skills, race craft, and tools to successfully compete in open-wheel race cars," Gafrarar said. "The goal is to be a professional motorsports driver, with the desire of open wheel racing, I believe Skip Barber Racing School can help get me there."
When asked what track he is looking forward to this year, Gafrarar points to Michelin Raceway Road Atlanta because of its elevation change and high speed, high commitment corners. In addition to campaigning in the full Skip Barber Formula Race Series season, Gafrarar plans to run a limited karting schedule at select SKUSA and USPKS events.
Join Caleb in the 2023 Skip Barber Formula Race Series! Experience the thrill of competing behind the wheel of an open-wheel car on some of America's most legendary racing venues including VIRginia International Raceway, Lime Rock Park, WeatherTech Raceway Laguna Seca, Road America, and Circuit of the Americas. Graduates of the Skip Barber Racing School 2-Day Advanced Formula Racing School and those with valid racing licenses are eligible to compete in the Skip Barber Race Series.
The arrive-and-drive race series combines the expert coaching of Skip Barber instructors with a true spec series, utilizing state-of-the-art Mygale Formula cars, offering a premier amateur racing environment at world-class North American tracks. Equalized race cars and a focus on driver development allow a driver's true talent to determine the race outcome. The 2023 Skip Barber Race Series Champion will win a scholarship to compete in the 2024 USF Juniors or USF2000 season, with second place receiving a full-season scholarship to compete in the Skip Barber Formula Race Series and third receiving a half-season Skip Barber Formula Race Series scholarship. Join the elite class of Skip Barber alumni including Sergio Perez, Michael Andretti, Colton Herta, Kyle Kirkwood, Josef Newgarden and Alexander Rossi.
Learn more about our Formula Race Series by clicking here.