Kart Tracks Align to Form Southwest Regional Cup Series in Texas and Oklahoma
Names like Rudolph, Berryhill, Jones, and Swayne unite to bring tracks together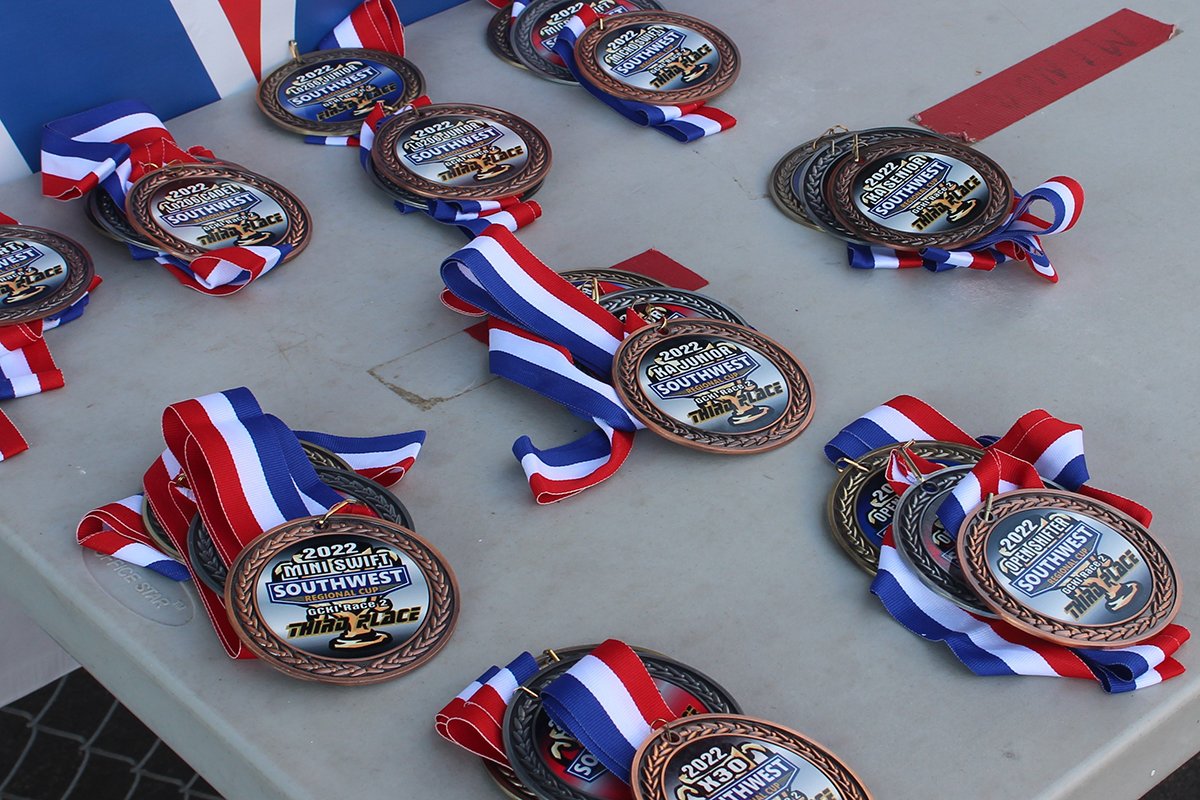 The 2023 Southwest Regional Cup Series will consist of a
four-weekend, eight race program in Texas and Oklahoma
(Photo: Southwest Regional Cup Series)
Looking to bring kart tracks and their program throughout the South-Central United States, track owners from Texas and Oklahoma have come together to establish the Southwest Regional Cup Series (SWRC). A four-weekend, eight-race program that is set to begin mid-April will take place throughout Texas and Oklahoma starting over the April 14-16 weekend at the Speedsportz Racing Park in New Caney, Texas, before moving on to the Oklahoma Motorsports Complex in Norman, Oklahoma, Gulf Coast Karters in Katy, Texas, and concluding at the Dallas Karting Complex in Caddo Mills, Texas.
"We are going back in time when kart clubs within the same region worked together," explained Alan Rudolph from Speedsportz Racing Park. "We are working to grow the sport and have a better business for all and deliver a high-quality race program."
Set to run a multi-class program that includes Kid Karts, Micro and Mini Swift, Junior, Senior, and Master 100cc classes, TAG Junior, Senior, and Master, Open Shifter as well as LO206 programs in Cadet, Junior, Senior, and Master, the Southwest Regional Cup Series provides ample opportunity for track time for both the professional racer, amateur looking to gain experience and the driver looking to run multiple classes.
Registration Now Open 
April 14-16 – Speedsportz Racing Park
Click HERE
Oklahoma Motorsports Complex's Rodney Berryhill added, "I have been involved in motorsports and karting all my life, and I have been a track owner for a long time, but I think we have a solid group of guys to head up this new program and we will all do our part to promote it in the best way possible. I know the other facilities will put on great events, and just wait until the racers come out to OKC."
"We have been putting a lot of money and time into our facility and the Southwest Regional Cup Series is a great way to expand our karting footprint in the local market," added Dallas Karting Complex's Mike Jones. "Everyone involved in this series lives and breathes karting, we do it for a living, so I am excited to be a part of it."
Iron Rock Motorsports Team Owner Charlie Swayne runs a top-tier national-level program around the country and offered his thoughts to the Southwest Regional Cup Series. "This gives both my regional races and national level drivers a place to race, test and get additional seat time. I can see local race programs expanding their efforts and gaining drivers, drivers from our regional advancing to the national level, and big-time teams coming to our events for test programs."
2023 Southwest Regional Cup Series Schedule
April 14-16 – Speedsportz Racing Park – New Caney, Texas
May 12-14 – Oklahoma Motorsports Complex – Norman, Oklahoma
July 14-16 – Gulf Coast Karters – Katy, Texas
October 27-29 Dallas Karting Complex – Caddo Mills, Texas
For more information on the Southwest Regional Cup Series, please visit them online at southwestregionalcupseries.com or by searching Southwest Regional Cup Series on Facebook and Instagram. For email inquiries, please reach out to Info@RTD-Media.com and they will point your questions to the appropriate contact.