FIA Karting European Championships: Gomez Confirms in OK, Kaczynski Takes Over in Junior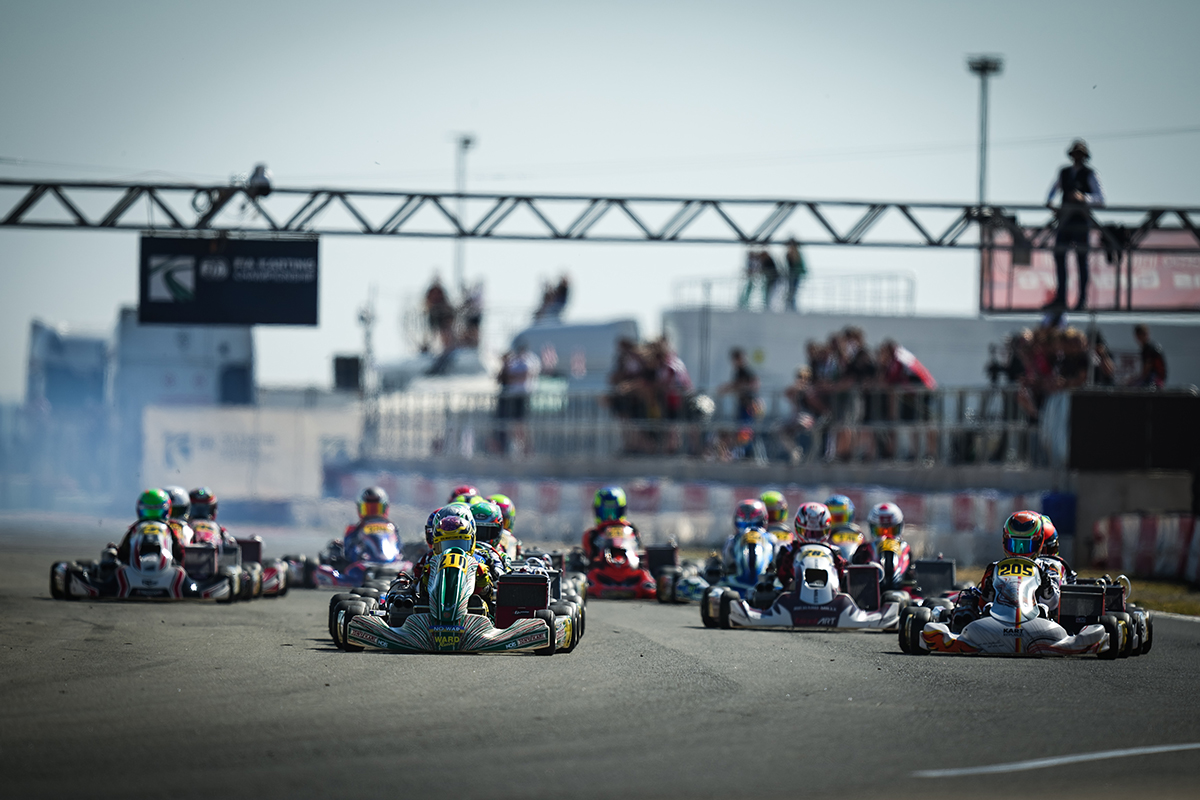 Thirty Qualifying heats were run in Valencia, 15 in each category, to establish the intermediate classification of the first round of the 2023 FIA Karting European Championships – OK and Junior. OK poleman Gabriel Gomez (BRA) managed a clean sweep and remains the unbeaten leader of the category. Elliot Kaczynski (SWE) took the lead in the Junior class against Taym Saleh (DEU).
To establish this ranking, the drivers had to keep in mind the state of their tyres, which will also be used in the Super Heats on Sunday morning, a stage that has become even more important this year with the new points system. The Kartódromo Internacional Lucas Guerrero is known for its abrasiveness and the best drivers skillfully applied a smooth driving style by avoiding unnecessary steering wheel movements.
With utmost finesse, the races were superb to follow on the Spanish track which quickly convinced the competitors with its subtlety after becoming accustomed to the Italian circuits much used in the winter period in particular. The debut of a new track on the FIA Karting calendar always brings an interesting breath of fresh air and renews the hierarchy to the benefit of those who adapt fastest, a very useful quality throughout a driver's career.
On Saturday, the weather was good in the Valencia region, spared from a strong wind and with temperatures between 20 and 25°. The competition reached its full scope in excellent conditions, especially as the incidents remained minor and few in number.
Sunday's programme will start with the Super Heats for the top 72 drivers to select the top 36 for the Finals in the early afternoon.
Junior: Kaczynski takes the lead
The battle was superb between poleman Taym Saleh (DEU), 2nd-placed Elliot Kaczynski (SWE) and Thibaut Ramaekers (BEL). Saleh and Ramaekers had three victories each and had to lose to Kaczynski, the new leader with four victories. Oleksandr Bondarev (UKR) is one to watch as he moved up from 6th to 4th place with a win. Meanwhile, Zac Drummond (GBR) put in a series of good performances to stay in the top five ahead of Niklas Schaufler (AUT), who also won, but was less consistent. Iacopo Martinese (ITA) confirmed his potential in 7th place, while Lewis Wherrell (GBR) pushed hard to move up from 15th to 8th position. Davide Bottaro (ITA) and Salim Hanna (COL) completed the top 10, while Kian Fardin (CHE) climbed 12 places to 11th. Christian Costoya (ESP) and Dries van Langendonck (BEL) were probably hoping for better than their respective 13th and 14th places. Other drivers were also making their presence felt, such as Marius Barry-Berg (NOR) in 14th +7 places and Ethan Lennon (ZAF) 15th +11 places. As far as the gains are concerned, Noah Monteiro (PRT) was in a good position with a 20-place improvement in 18th position, or Guy Albag (ISR), 33rd with 24 positions gained. David Cosma-Cristofor (ROU) had moved up from 75th to 48th place after his problems in Qualifying.
Superb run by Gomez at the front of the OK heats
Already poleman in Qualifying, Brazilian Gabriel Gomez (Italian licence) was imperial during the Qualifying Heats of the FIA Karting European Championship – OK. Five times a winner, he totalled the maximum points, 250, and remained in the lead of the category. Behind him, with 226 points, Dutchman Rene Lammers progressed from 8th to 2nd position with two wins and two 2nd places to his credit. The British driver Nathaniel Tye climbed back 11 places to finish 3rd with a victory, while the Latvian Tomass Stolcermanis, twice winner, moved up from 15th to 4th position. Jamaica's Alex Powell finished 5th with a great consistency at the front. Joe Turney (GBR) confirmed his ambitions with a victory and progressed to 6th position ahead of Jan Przyrowski (POL), twice winner, but less consistent otherwise. Kirill Kutskov made a good comeback from 17th to 8th position ahead of Arthur Poulain (FRA) and Luwive Sambudla (ZAF). Enzo Tarnvanichkul (THA) had problems in his first heat and was 11th ahead of Luigi Coluccio (ITA) who moved up from 20th and Anatoly Khavalkin who moved up 11 places. An engine problem delayed David Walther (DNK) in 16th place, but he ended the day with a victory. Kean Nakamura-Berta (GBR) did not finish well as he was disqualified from his last heat for not respecting the track limits and fell to 18th position.
Provisional schedule for the Valencia event
Sunday 26th March
09:00 – 10:05: Warm-up
10:10 – 11:45: Super Heats – Live Streaming
13:15 – 14:40: Finals – Live Streaming
The Valencia event can be followed on the official FIA Karting Championship app for mobile devices and on the website www.fiakarting.com.