Payouts Increased for 2023 Cassill Motors Midwest Pavement Grand Nationals
Unique event to showcase oval and sprint karting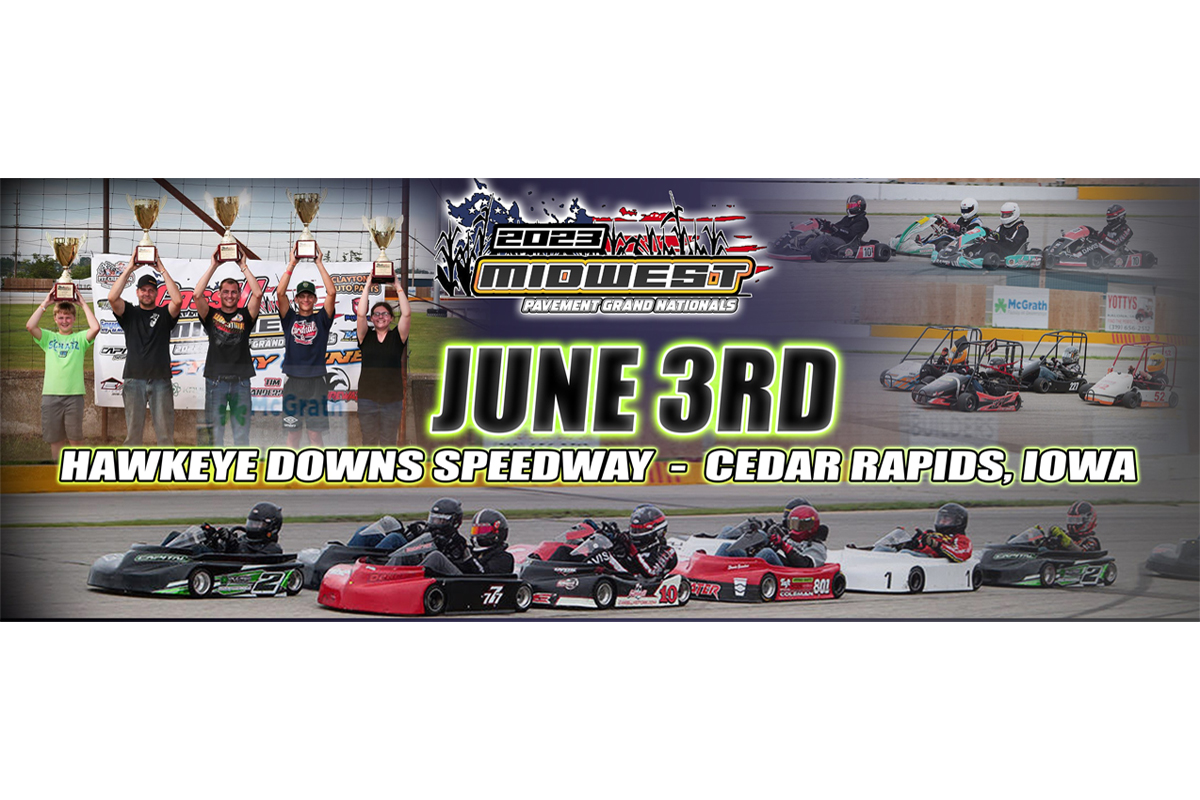 Full Throttle Promotions and Twenty7 Motorsports are excited to announce the Midwest Pavement Grand Nationals will return to Hawkeye Downs Speedway in Cedar Rapids, Iowa once again in 2023, this time with increased payouts and once again with title sponsorship from Cassill Motors, a car dealership in Cedar Rapids with a rich racing history. This year's event will be held June 3, 2023 and will feature a top prize of $1,000 to win for the Clone Grand National class, as well as $1,000 to win for the LO206 Sprint Grand National class.
This year's event is its second annual edition, and will build off a strong debut despite inclement weather in 2022. The Midwest Pavement Grand Nationals offers what is believed to be the only chance in the United States to see oval and sprint karting compete on the same track during the same event with several of the same competitors.
"Last year we put this together pretty late in the calendar, but we were thrilled with the response from the racers for the first time running the event," said Brian Kauffman, the event's promoter. "We had a strong adult Clone field, and believe we can build on the sprint side, as well as the junior classes. With bumping up the payout this year and offering $1,000 to win for the Clones, we believe it will be really big. It's such a cool thing to have both oval and sprint karting at the same event, and we love being unique in that way, as we have several drivers racing both styles this year."
Cassill Motors returning as the title sponsor was a no-brainer for Roger Cassill, Cassill Motors' owner, as well as the new owner of Hawkeye Downs Speedway. Cassill has sponsored racetracks and individual racers in the Cedar Rapids area since the 1980s, and his son is Landon Cassill, who competed in the NASCAR Cup and Xfinity Series. Landon started his racing career in go-karts at Hawkeye Downs. Cassill wants to help reintroduce karting as a regular staple at the legendary Iowa facility.
"The only way for racing to survive is for kids to become involved early and build that passion the sport," Roger Cassill said. "Karting is how we got started and I know it's the best way. We love supporting racing and I was really happy with how last year's event went, so we were obviously going to support Brian and his group again this year. We want Hawkeye Downs to be strong and grow, and getting young people in karts out here is a great way to build that foundation."
The Midwest Pavement Grand Nationals will have 19 classes in action, racing for a substantial purse. Oval karts will utilize the ¼-mile, while the sprint karts will run on a modified road course, using the ¼-mile and a portion of the ½-mile. The highlight class of Clone Grand National moved to $1,000 to win this year thanks to Firewater Tire Solutions and owner Mitchell Staats. Staats' company offers several services, including for tire prep for karts and big cars on both dirt and asphalt, and clutch services as well. Staats will compete again with his Firewater team and offer trackside support following a MPGN win last year in Adult Champ.
Additional sponsors include Kody King Motorsports, which will be the presenting sponsor of all eight junior classes; Waller Racing, supporting the additional adult oval classes; and Margay Racing, which will support the Ignite 206 classes.
"We're very lucky to have the support we do," Kauffman said. "Our racers gave us great feedback last year and everyone seemed to enjoy it. To be able to give back even more to those racers this year is obviously a dream for a promoter. We expect an even bigger turnout than last year and ultra-competitive racing. Being able to have oval and sprint karting race at the same event is special for me and it was so cool to see last year. With even more on the line, we're hoping to be a premier karting event in the Midwest.
For more information on Midwest Pavement Grand Nationals sponsorship packages:
Brian Kauffman
319-551-0077
ftpiowa@gmail.com
For more information on the Midwest Pavement Grand Nationals
https://www.facebook.com/MidwestPGN