Driver Diary: Preston Lambert – WSK Super Master Series – Franciacorta
Our EKN Driver Diary series is designed to provide our readers with a first-hand experience of competing in the sport of karting. Several of the Driver Diary series have featured a USA karter traveling across the big pond to compete in Europe. This next series follows that approach by riding along with Californian Preston Lambert as he travels overseas in 2023.
The 15-year-old from Folsom, California began karting in January 2020, competing at the local and regional level, and eventually into the national level under the GFG Karting banner. He scored his first major victory at the 2022 Challenge of the Americas opening weekend in Tucson, eventually finishing third in the championship chase. The remainder of the season included races in California, at the SKUSA Pro Tour SpringNationals and the ROK Fest West, where he scored top-five finishes across the board. Preston's first trip to Europe to race was the Rotax Max Central European Championship in Austria last fall, at which he finished fourth.
His first submission (Click HERE) provided a glimpse into his test weekend, moving to the OK category for the first time. The second entry (Click HERE) is his first start in the class, racing at the WSK Super Master Series at the South Garda Karting facility. The third is a review of his weekend at the Franciacorta Karting Track in Castrezzato, Italy over the February 16-19 weekend.
---
WSK Super Masters Series Round 2
I was back for my second race with Sodikart, a team where once Charles Leclerc and Pierre Gasly raced in their karting years. I came here to learn and race against the best drivers in the world.
After the race in Lonato, I had a few days off and I got to explore Lake Garda and the surrounding area. We had great weather with lots of sunshine!
After a few days of resting, we went back to Franciacorta to do another day of testing. There were a lot of drivers there, they had to split up the OK category into two groups, so just like in a race, we only got four sessions to drive, 10 minutes each. The track was so packed, it really felt like a race practice instead of a test day. Testing went well. Franciacorta track is fast and flowy and we were putting in some fast laps!
Wednesday, February 15, 2023
First day of official practice for the second round of the WSK Super Masters Series. I had four practice sessions, each 10 minutes long. I had good pace running up towards the front in my group. The day was almost perfect but in the third session the spark plug cap came off on lap two and I couldn't restart the engine. As usual, we finished the day with some data and video analysis and discussed where we could improve on.
Thursday, February 16, 2023
It was the same schedule as the day before, with four sessions again, each 10 minutes long. Each session, I was able to improve. I was fast for much of the race track, however, I was struggling a bit with the heavy braking zone sections. As the grip level increased, I had to change where and how I slowed down due to the changing conditions in grip. Overall, it was a good day. The speed is there, however, I just need to focus on putting everything together.
Friday, February 17, 2023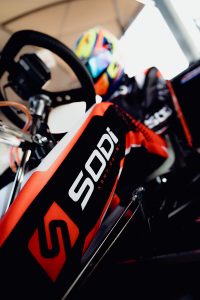 The goal for today was to qualify as high as possible to maximize my chances of securing a starting position in the Final on Sunday. We had a 10-minute warm up before the timed qualifying session at 12:30.
Qualifying did not go my way. I had four laps to put down my best time. The first three laps I was fighting in traffic, trying to get good track position. On my 4th lap, I put together a good first and second sector, but in the final corner there was dirt in the braking zone from someone going off track. This caused me to half spin, and thus my lap was ruined. I ended up 20th in my group. It was not the result we wanted, but I knew the pace was there.
The field was then split into four groups, with each driver competing in three heat race. In the first heat starting from 30th, I was able to get a good start and had some good passes with decent pace. I finished 24th on track but received a pushback bumper penalty, resulted from getting hit from behind at the start.
We knew what I needed to improve to be better the next day. I know it's not easy to race from the back, but the goal was to make up as many positions as I can in the heats.
Saturday, February 18, 2023
The morning was really foggy, which caused a 1.5-hour delay. We had warm-up pushed back to 11am and my first heat went off at 1:30pm.
I had a very good start in Heat 2, making up five positions right away and up to 22nd by the end of the second lap. The pace was good, and was up to 19th by lap four, catching a big group. That was when a driver I passed punted me in the last corner. That move unfortunately ended both of our races.
My third heat began with another solid start, making up positions right away. My pace was very strong as I moved past my teammate and caught up to last year's FIA OKJ European Champion Anatoly Khavalkin. And I was faster than him! I studied where I was better, and tried a pass at one of his bad corners. During my attempt to pass him, I made a mistake and my teammate caught back up behind me. A lap and a half to go, I got hit from behind in the hairpin, which made me go off the track, and I lost a couple of positions. I ended up finishing 24th. I was only a tenth off the best lap of the race, and we were very happy with the speed.
The mindset moving forward was continue to improve and try to gain as may positions as possible in the Prefinal.
Sunday, February 19, 2023
It was another foggy morning causing delays. They ended up canceling the warm-up and went straight into the races. In place of a warm-up, we got four formation laps before the start of the Prefinal.
I was 31st in Prefinal B due to the DNF and pushback bumper penalty I suffered in the opening two heats. I had a strong start again, making up several positions. A crash in front of me later during the opening circuit forced me to go off track to avoid it. This created a big gap, putting me far back, however, I kept pushing forward. I was able to make lots of passes, even a double pass in turn 1. I was up to 19th catching my teammates and a group of karts. On the final lap, I made a pass in the second to last corner and in the last corner, the driver made a late lunge trying to pass me back and hit me. I went off the track, and unfortunately this made me lose a lot of positions, which ruined the results.
The end result was 34th in the race, and combined with the previous races, landed me 64th overall in points, unable to transfer into the Final. Unfortunately, the poor qualifying made the weekend very difficult. It's never easy to start from that far back, but I kept fighting and tried to make the best of it.
As an American, there's so much you have to adjust to: the OK engine which is a direct drive, the very different tires, the level of grip, the high speed tracks, and a completely different environment; and you have to learn all that while you compete against drivers who have so much experience with all of these! It's not an easy process, and definitely takes some time.
For me, there were a lot of positives to take away from my second race. I was able to make a lot of improvements, I had very good starts, I made up lots of positions each race, and I had some really good passes!
Thank you so much to SODi for the amazing support and thank you Mansel and Julian for all the work they do for their drivers! I love how the team takes care of everything for you, and all you have to do as a driver is to show up and drive! I can't wait to back racing with the team!
I am now getting ready for my first Formula 4 race at Thunderhill Raceway Park.
Thank you to my mom, my grandparents, and my sponsor, Content HQ's for making all this possible!