Rotax Classes Return Under Karting Australia Approval and Sanction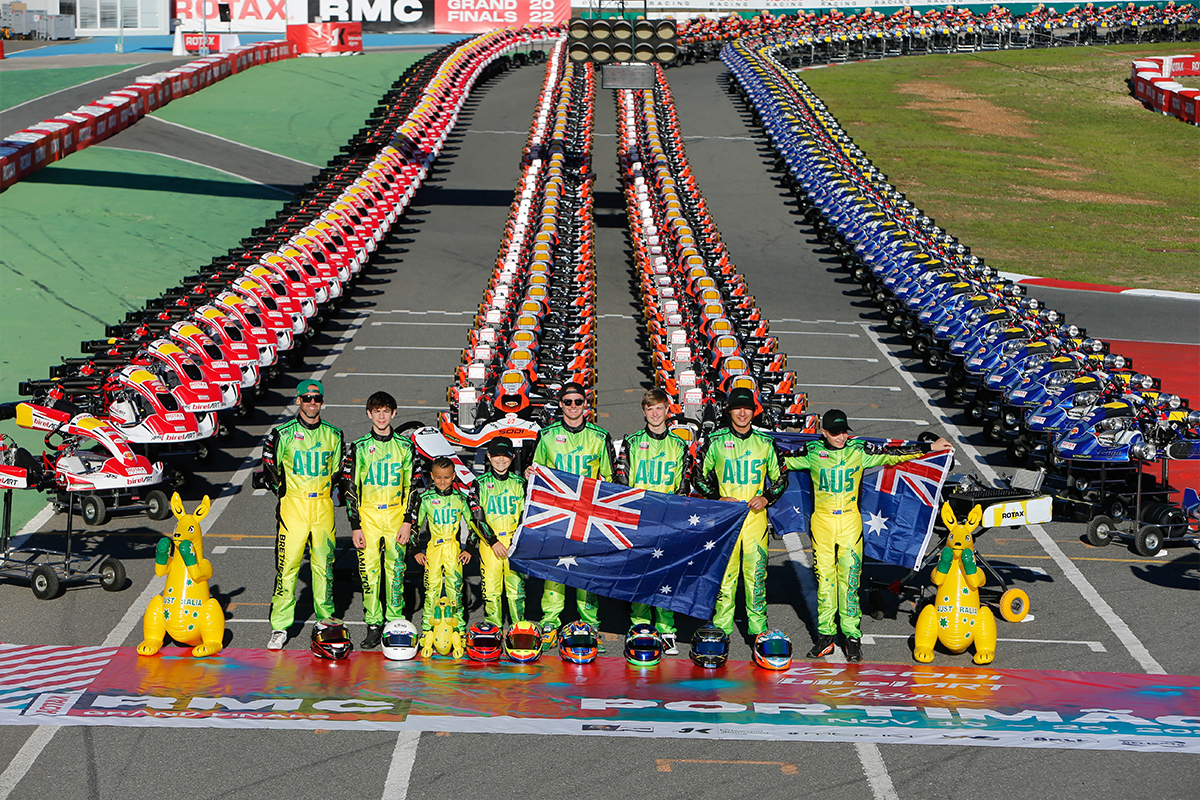 Karting Australia and BRP-Rotax are pleased to announce they have signed a multi-year agreement with option that will see the most popular Rotax MAX engines re-Homologated, supplied and Approved for use in Karting Australia sanctioned Competition with immediate effect.
Under the Agreement, Karting Australia will sanction a Rotax MAX Challengeevent at National Cup level in each year of the Agreement. BRP-Rotax will also be invited to supply several Classes to compete in the new National Series Competition that Karting Australia is developing for commencement in the last quarter of 2023.
The Rotax Max Challenge National Cup event will provide Rotax Drivers with a clear and certain pathway for qualification to compete in the international Rotax MAX Challenge Grand Finals that will be held at the Bahrain International Karting Circuit in Sakhir, Bahrain from 2 – 9 December 2023.
The Agreement also looks to future and provides for co-operation between Karting Australia and BRP-Rotax on the introduction of electric powertrains for kart racing applications that are currently under development by BRP-Rotax.
Quotes from Karting Australia Chief Executive Officer, Kelvin O'Reilly
"We are pleased and excited to welcome Rotax back to the Karting Australia family. That we were able facilitate the formation of Rotax Team Australia to go to the Rotax Max Challenge Grand Finals in Portugal last year, was the starting point of positive dialogue between our companies that has led to this new long-term agreement" said O'Reilly.
"Karting Australia's relationship is direct with BRP-Rotax. This is important to Karting Australia and is very good news for Australian karting at all levels.
"Our Agreement enables current and former Rotax customers to use their Rotax engines in standalone 125 Mini MAX, 125 Junior MAX, 125 Senior MAX and 125 MAX DD2 Classes at Karting Australia Events in accordance with our Rules, along with the current TaG 125, TaG 125 Restricted, Junior Performance, Open Performance and Gearbox Classes where they have previously been approved for use.
"The 2023 Rotax Competition Class Rules have been approved by the Karting Australia Board – the Manual is being updated now and will be released in the coming days. The updated engine homologation documents are ready for signoff and will be posted to our website shortly.
"There is still a lot to be done. In the short term it is all about 2023 and 2024 competition structures and events, but at the same time, we are looking well into the future with the Rotax E10 program that should complement our current engines in the years to come."
Quotes from Peter Oelsinger, VP and General Manager BRP-Rotax
"BRP-Rotax is excited about the alignment between Karting Australia and BRP-Rotax and the racing opportunities for all Rotax customers in Australia that this will bring," said Oelsinger.
"We are happy that we have been able to overcome the challenges of being on the other side of the world from each other and we now look forward to getting our customers in Australia back and active again in a stable and clear karting environment.
"Australia has always been an important market for BRP-Rotax. This new agreement will go a long way in helping us build that market for long into the future.
"To have a strong relationship with the FIA and the ASN in each country is important to BRP-Rotax as we work very hard to bring world karting together each year at the Rotax Max Challenge Grand Finals under FIA sanction and with the support of each country's ASN.
"Karting Australia has stated their strong interest in electric powertrains for kart racing applications to be added to the well-established categories with combustion engines. We have agreed to cooperate on this by offering a Cadet category powered by the Rotax E10 electric powertrain once full commercial production of the Rotax E10 is underway, which is expected to be within the next 2 to 3 years."
Ends.
FAQ's
Who will be the Rotax Distributor in Australia?
RaceMax Pty Ltd will be continuing in that role. RaceMax and BRP-Rotax will focus on the support of all Rotax customers independently from the level they are racing.
What are the engines that are being re-homologated and approved for Competition?
125 Mini MAX, 125 Junior MAX, 125 Senior MAX, 125 MAX DD2.
What tyres will the Rotax Classes use?
For competition purposes, it has been agreed that the current tyres in Karting Australia's Competition Rules will be used by the Rotax Classes.
Drivers will be permitted to use MOJO tyres for practice, recreational and social Karting Activities. Karting Australia has made these available for drivers who are selected to compete in the RMCGF team to use MOJO tyres for their pre-RMCGF practice, but they will be generally permitted for use and will be available through RaceMax.
Where will the Rotax Max Challenge National Cup event be held in 2023?
At this time neither Karting Australia nor BRP-Rotax have had discussions with any Clubs about hosting the Meeting. Deciding the date and venue for this event are high on the priority list.
What Classes and Divisions will be available?
We have agreed that the following Classes will run in the Rotax Max Challenge:
125 Mini MAX
125 Junior MAX
125 Senior MAX Light
125 Senior Max Heavy
125 MAX DD2
125 MAX DD2 Masters 
How many tickets will be available to the Rotax World Finals (RMCGF)?
This has not been decided as yet. It is a decision for BRP-Rotax that they will make and advise in the coming months. This information will be noted in the Sporting Regulations of the Rotax Max Challenge National Cup.
How will people qualify for the RMCGF?
Competing and performing well in the Rotax Max Challenge National Cup will form at least part of the selection criteria for the RMCGF. We are still discussing the full selection criteria and collectively, we are yet to decide if some additional criteria might be added to encourage drivers to "Hit The Track" more often in a Rotax powered kart.
The conditions to qualify for the Grand Finals 2023 will be noted in the Sporting Regulations of the Rotax National Cup. 
How will the National Series Work?
Karting Australia is still developing the National Series format and expect to make some announcements about that in the next few months.
It is expected to start in the last quarter of 2023. It will look and feel different to the AKC events but we aim to make it just as successful.
Each of our main engine suppliers will be offered the same opportunity to provide and support at least two of their own single engine Competition Classes at a series of events that is organised and run by Karting Australia.
BRP-Rotax has told Karting Australia they would intend to support Rotax Junior MAX and Rotax Senior MAX powered Classes in the Series at yet to be determined weight Divisions