All Set in Lonato for the Final Stages of the First WSK Open Series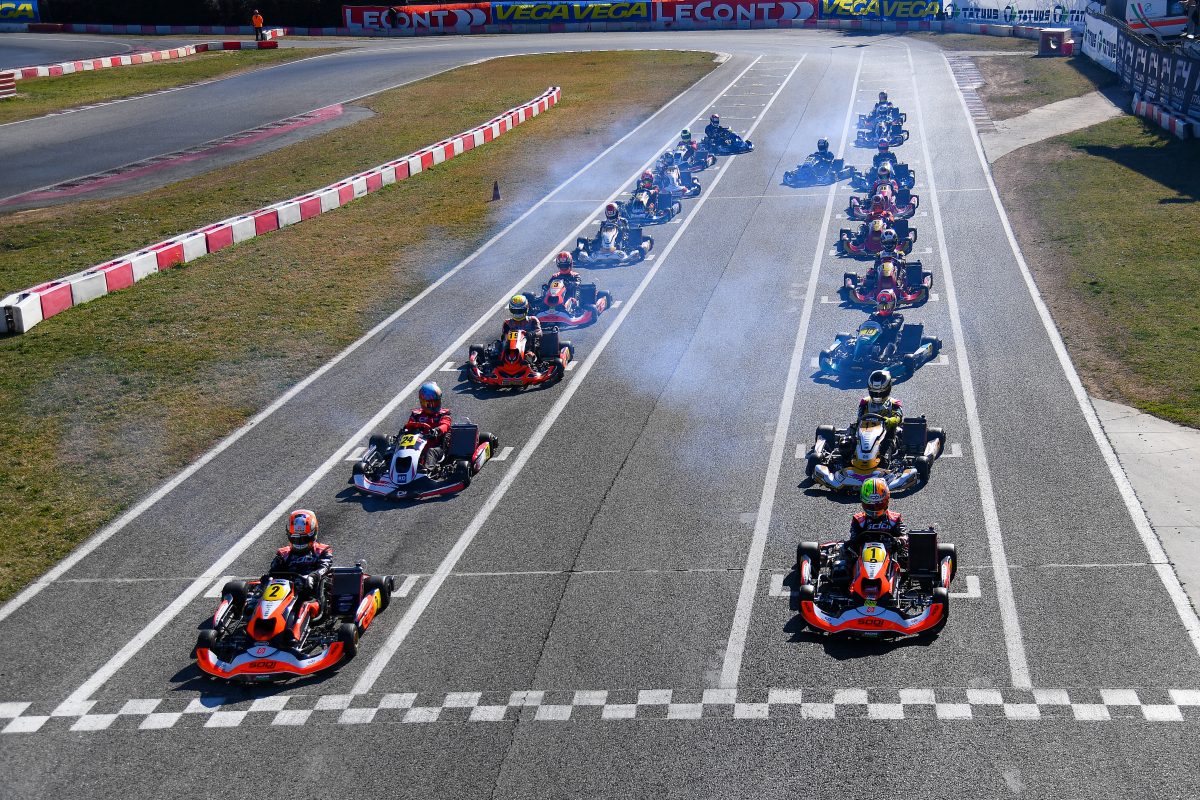 (Photo: Sportinphoto)
The final stages of the first race of the WSK Open Series at the South Garda Karting circuit in Lonato is ready to be contested, following the first two days of qualifying which involved over 200 drivers from 38 nations across the four continents in MINI, KZ2, X30 Junior and X30 Senior. Participation was positive in all four categories, with a predominance in MINI, which continues to represent an important international youth karting breeding ground in WSK events.
The Live Streaming.
After the qualifying heats on Friday and Saturday, the final stages will get underway on Sunday, March 12th with Prefinals at 10:50 am and Finals at 13:50 am. These races will be available through the Live Streaming from:
www.wskarting.it/index.asp, https://motorsport.tv/,
https://www.youtube.com/@WSKPROMOTION.
Qualifying heats.
KZ2 – Denner is on top.
The KZ2 heats were quite competitive, with all the major players from the previous day highlighted in the top positions but also some surprises. The French driver Emilien Denner (#2 Sodikart/Sodi-TM-LeCont) won two races and holds the best overall position. The Italian driver Paolo Ippolito (#21 KR Motorsport/KR-Iame) also emerged victorious with two wins, while the Dutch driver Senna Van Walstijn (#1 Sodikart/Sodi-TM-LeCont) occupies the third overall position with one win. The Italian driver Danilo Albanese (#20 KR Motorsport/KR-Iame) also performed very well with his placements. But the young Samuele Leopardi (#24 Zanchi Motorsport/CRG-Modena), aged 15, also stood out by sliding among the top drivers with a second-place finish in a heat.
Penalties after the heats: 1. Denner pen. 5; 2. Ippolito 10; 3. Van Walstijn 14; 4. Albanese 15; 5. Zanchi 22; 6. Pex Stan 24; 7. Lomko 28; 8. Imbourg 33.
X30 Junior – Campos leads Ferrari and Coronel.
The driver from Angola, Lorenzo Campos Ingles (#706 Team Driver/Tony Kart-Iame-MG), ousted the Dutch driver Rocco Coronel (#704 VictoryLane/Red Speed-Iame-MG), who had claimed pole position and also won a heat. Campos' path was more energetic, as he was able to add better placements to his win in a heat and move into provisional first place. The Italian driver Riccardo Ferrari (#712 Zanchi Motorsport/Tony Kart-Iame) also moved ahead of Coronel in the standings, thanks to the victory in the third and final heat.
Penalties after the heats: 1. Campos pen. 10; 2. Ferrari 14; 3. Coronel 19; 4. Romeo 27; 5. Pancotti 27; 6. Kuzhnini 35; 7. Battig 35; 8. Ider 40.
X30 Senior – Carenini leads a combative Schleimer. 
The Italian driver Danny Carenini (#801 Energy Corse/Energy-Iame-MG) also emerged victorious in the heats with two wins, after scoring pole position in qualifying, but he had a tough opponent in Maximilian Schleimer (#813 CV Performance/KR-Iame). The German driver won one heat and battled with Carenini until the last meter and is currently in second place in the standings. The third place went to the French driver Matis Barbe (#821 Lyard/LN Kart-Iame), while the Italian driver Andrea Giudice (#804 Marra/Tony Kart-Iame) finished fourth. The Spanish driver Marc Granada (#818 Mol Racing/Tony Kart-Iame), the Italian drivers Cristian Comanducci (#806 PRK/Tony Kart-Iame) and David Locatelli (#823 Dal Academy/KR-Iame) were also among the top performers.
Penalties after the heats: 1. Carenini pen. 5; 2. Schleimer 10; 3. Barbe 28; 4. Giudice 31; 5. Granada 34; 6. Comanducci 34; 7. Locatelli 34; 8. Giaccardi 39.
MINI GR.3 – Calleja on top with three heat wins.
The Australian William Calleja (#516 BabyRace/Parolin-Iame-Vega) scored three heat wins and secured the first position in the provisional standings. Many drivers fought hard, albeit with varying fortunes. The Italian Pietro Bagutti (#577 AV Racing/Parolin-TM) stood out with a win, as did Vladimir Ivannikov (#522 Gamoto/EKS-TM) with two wins, the American Keelan Harvick (#513 BabyRace/Parolin-Iame) also with two wins in the first and last heat, while the Turkish Iskender Zulfikari (#502 BabyRace/Parolin-Iame) and the Dutch Dean Hoogendoorn (#501 Kidix/KR-Iame) secured one win each.
Penalties after the heats: 1. Calleja pen. 8; 2. Harvick 17; 3. Ivannikov 21; 4. Cosma Cristofor 24; 5. Bagutti 28; 6. Hoogendoorn 28; 7. Crisan 29; 8. Shen 34.
MINI GR.3 U10 – Venant takes the provisional lead.
Among the youngest in the MINI Gr.3 Under 10, the Belgian Antoine Venant (#572 Kidix/KR-Iame-Vega) led the pack taking the first position. He was followed by his fellow countryman Henri Kumpen (#549 BabyRace/Parolin-Iame). Among the most competitive, the Frenchman Alessandro Truchot (#553 Parolin Motorsport/Parolin-TM), who set the pole position, and the Ukrainian Nikita Botte (#520 Novalux/Lenzokart-LKE), who is the only one with two victories but lagging behind in the standings, as well as the Polish Leonardo Gorski (BabyRace/Parolin-Iame), have also confirmed their skills.
Penalties after the heats: 1. Venant pen. 10; 2. Kumpen 13; 3. Truchot 15; 4. Eskandari-Marandi 28; 5. Gorski 29; 6. Unt 29; 7. Legenkyi 31; 8. Stalmach 32.
The complete program and timetable of the WSK Open Series, Round 1, Lonato:
Sunday, March 12: warm up from 8:45; Prefinals Live on TV and Streaming from 10:50, Finals from 13:50 (MINI U10 at 13:50, MINI GR.3 at 14:20, KZ2 at 14:50, X30 Junior at 15:20 and X30 Senior at 15:50).
The complete calendar of the WSK Open Series 2023:
1st Rd – 12/03/2023 LONATO / MINI – X30J – X30S – KZ2
2nd Rd – 02/04/2023 CREMONA / MINI – X30J – X30S – KZ2
3rd Rd – 16/04/2023 CASTELLETTO / MINI – X30J – X30S
4th Rd – 25/06/2023 SARNO / MINI – OKN – OKNJ – KZ2
Info: www.wskarting.it/index.asp
WSK Promotion
Press Office
press@wsk.it