Kart Republic: Quantity and Quality on the Agenda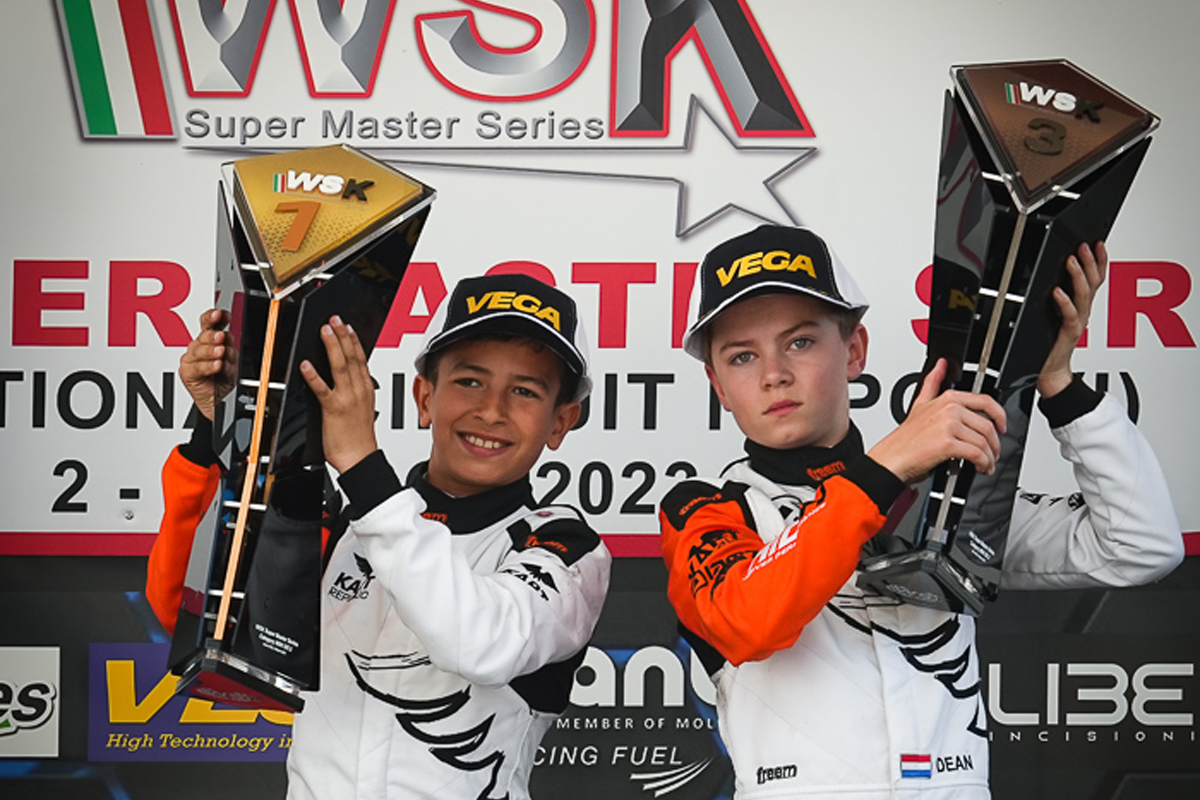 From 3rd to 5th March, as was the case a month earlier, WSK Promotion organised a Super Master Series event in Italy, while RGMMC once again hosted the IAME Challenge categories in Spain. In both cases, KR chassis helped several drivers to the podium, especially in Mini, with a sensational triple in Zuera and a success in Sarno with a 3rd place!
KR domination in Mini
The KR Global Motorsport Group continues to make inroads in many markets and its growing reputation is now being heard around the world. The quality of the chassis produced by the Kart Republic factory has long since reached Italy and Europe. At the foot of Vesuvius, it was a driver from Panama, the promising Gianmatteo Rousseau, who climbed to the top of the podium in the Mini 60 with the Kidix driver Performance team. His team-mate Dean Hoogendorn finished 3rd ahead of Romanian Bogdan Cosma-Cristofor (Team Driver Racing Kart). In the top 10, 50% of the chassis were KRs!
The Oliver Rowland Motorsport team, which is very much involved with the youngsters in the X30 Mini category, also chose the KR chassis. In Zuera, the 1st and 3rd places were taken by the Britons Archie Lovatt and Kanishk Rao respectively in the Final. Jesse Phillips, a member of the Fusion Motorsport team, came in 2nd place, also with a KR, a real benchmark in terms of CIK-FIA Group 3 homologated chassis.
From pole to podium in X30 Senior
The opening of the IAME Euro Series was also marked by the performance of KR chassis in the X30 Senior class. Irishman Fionn MacLaughlin (VDK Racing) took pole position and went on to win a heat, as did Andy Ratel (KBK Competition). In the Final, it was Sam Balota's turn to shine. After some intense duels, the Belgian managed to climb on the third step of the podium. In Zaragoza, the KR brand was at the top of the statistics in terms of the number of chassis.
Bondarev close to victory in OK-Junior
In Sarno for the third round of the WSK Super Master Series, the official KR Motorsport team travelled with a smaller than usual number of drivers. However, this did not prevent the team from enjoying a podium finish. In the OK-Junior class, Ukrainian Oleksandr Bondarev took pole position, before leading the Qualifying Heats. In the Final, he lost some places at the start, but ended up following the leader. Despite several attempts, he did not manage to reverse the trend, but moved up in the overall standings thanks to this encouraging 2nd place, less than a year after his spectacular accident. Romanian driver David Cosma-Cristofor was on his way to join Bondarev on the podium, before falling to 8th following a penalty (front fairing position).
"During this OK-Junior Final, I noticed that the rules were not followed to the letter,"explained KR Motorsport team manager Dino Chiesa. "More than two laps had been covered when the red flag was shown due to an incident. The race management should have restarted the drivers for the remaining number of laps by starting them one after the other, instead of a full restart. WSK Promotion offers high quality international events, which have been professionally organised for many seasons. Therefore, it has to be irreproachable in all matters: application of the regulations, decision-making when giving or not giving penalties and even press releases. Since the beginning of the season, I have noticed several approximations and I hope that the WSK Promotion will find solutions to return to the high standard we have been accustomed to."