EKN Trackside: 2023 United States Pro Kart Series – Southern Grand Prix Preview
11th season begins at Orlando Kart Center with changes into the second decade of program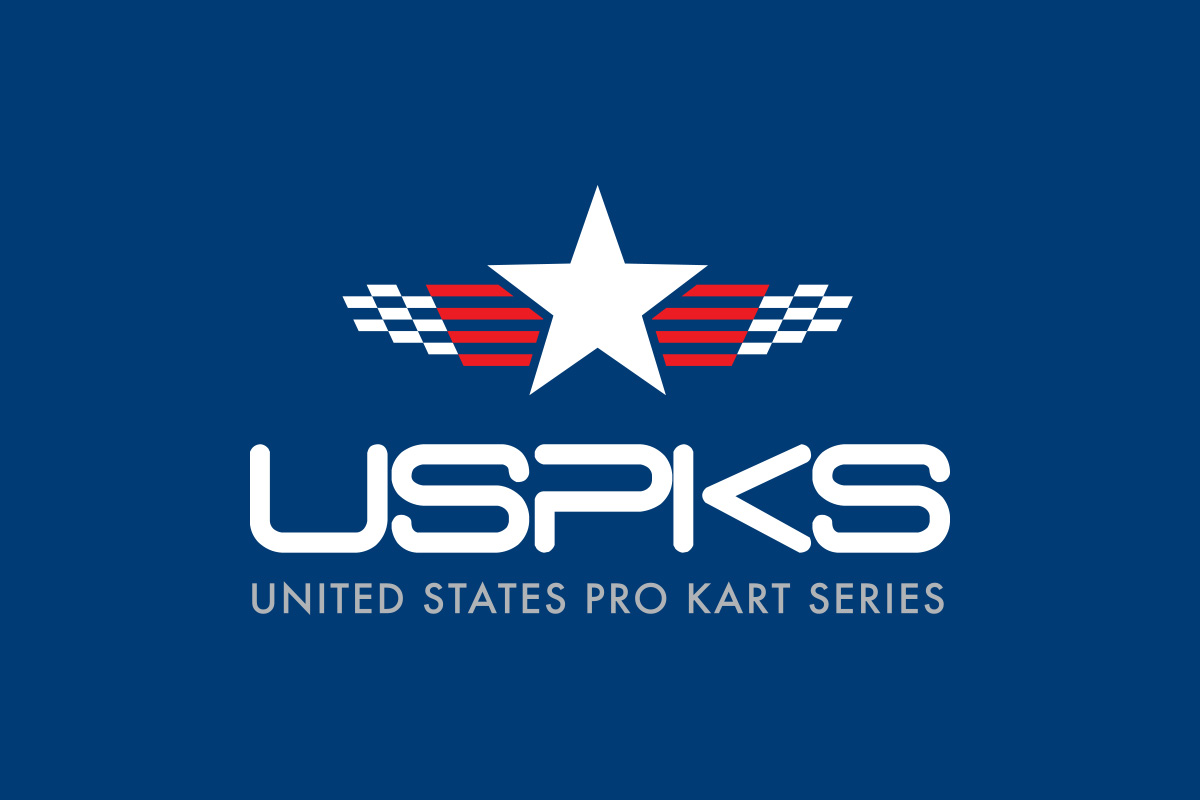 The 2023 United States Pro Kart Series begins this weekend with the Southern Grand Prix held at the Orlando Kart Center. The March 10-12 event at the Orlando, Florida facility ushers in a new era for the USPKS, as the first of five events this season along with a new event format and additional class. Nearly 300 entries are scheduled to battle in the eight classes on the weekend.
The Orlando Kart Center was developed in 2009, situated a few miles from the Orlando International Airport. It has hosted several major events, with the 2022 USPKS weekend the largest ever for the facility. The circuit measures out to 8/10-mile and will be contested in the clockwise direction.
This weekend also brings a new format change for USPKS with the large number of entries, and now at eight classes over the weekend with one main event on the weekend. Four practice sessions will be held on Friday before diving into qualifying to close out the day. Three rounds of heat races will be contest, including the A-B-C-D format for the KA100 Junior and KA100 Senior categories, which have more than 46 drivers in the field. Heat points will be calculated at the end of Saturday, with the top-40 qualifying for the main event. The remainder move to the Last Chance Qualifier, as the top-six finishers transfer to feature race. All main events, along with the LCQ races, will be held on Sunday.
A nearly full field will battle in X30 Pro presented by Franklin Motorsports. Leading the way is defending series champion Ryan Norberg (RPG / Kosmic), coming off six straight victories to open up the 2022 season. Norberg showed how tough it will be to beat him at his home track of Orlando last year. PSL Karting is among those looking to put up a fight, including defending FIA World Karting Champion Matheus Morgatto, Diego Ramos and new addition Alessandro de Tullio (Prime / Birel ART). The only driver to beat Norberg last year is former teammate Hayden Jones, now part of the Trinity Karting Group / Kart Republic banner. He joins former EKN TaG Driver Rankings #1 Arias Deukmedjian, who is returning back to karting after a season focused on car racing. Junior champion Caleb Gafrarar – also moving over to TKG – as the fellow North Carolina driver makes his 2023 debut. Gafrarar is not the only rookie moving up, as KA100 Junior champ Helio Meza (IRM / Tony Kart), Ayden Ingratta (SCR / Redspeed), British driver Brandon Carr (Tony Kart) and Cooper Shipman (IRM / Tony Kart) are set to battle.
Another large field will compete for glory in the KA100 Senior class presented by Mike Doty Racing. A total of 55 drivers are pre-entered, looking to become champion with 2022 title winner Alex Stanfield not defending his crown. The only drivers to win last year returning for Orlando include former series champion Brandon Lemke (FMS / Merlin) and Christian Miles (MDR / Kosmic). Aiden Levy (Alonso Kart0, Conner Ferris (TFR / Kart Republic) and Nicholas Terlecki (FMS / Exprit) are among the top returning drivers. Wes Duchak (RPG / Kosmic), Collin Lloyd (Magik Kart USA), and SKUSA Winter Series champion Peyton Phillips (Hi5 / Tony Kart) are among those to start the 2023 season off with wins early on. Rookies to watch include USPKS Junior champion Helio Meza (IRM / Tony Kart), Cooper Shipman (IRM / Tony Kart) and Austin Jurs (FMS / Merlin). The class will also welcome former USF Pro Championships driver Braden Eves (MPG / Kart Republic) returns to USPKS competition and into the 100cc class where he has secured a number of victories in the past.
The new category for the 2023 season is the Pro Shifter division presented by SRP Engines. A total of 15 drivers will be part of the inaugural class roster, including three drivers in the EKN Shifterkart Driver Rankings. That includes defending SKUSA champion and former FIA World Champion Marijn Kremers (PSL / Birel ART), AJ Myers (Magik Kart USA) and Hunter Pickett (PSL / Birel ART). Three-time SKUSA SuperNationals winner Danny Formal (RPG / Kosmic) has many laps around the Orlando facility, and should be among the favorites. Five-time SKUSA champion Jordon Musser (PSL / Birel ART) is among the 'Masters' drivers in the field, and could be a podium contender along with Jamaican Collin Daley (DRT / DR Kart).
A solid field of 30 will compete in the X30 Junior category presented by Rolison Performance Group. Cameron Brinkman (MDR / LN Racing Kart) is the only returning driver to win in 2022 with defending champ Caleb Gafrarar and Ayden Ingratta moving up. Brinkman ran a reduced schedule last year and was not in the top-five in the championship. The top returning driver from last year's standings is Teddy Musella (RPG / Kosmic), who finished fourth. He along with SuperNationals winner Ernesto Rivera, Max Taylor and others lead the RPG charge in the category. Enzo Vidmontiene (MottazSport / Parolin) has a win already on the season, with Leonardo Escorpioni (Zanella / Tony Kart) and Steven Miller (CDR / Alonso Kart) showing pace already this season. Oliver Wheldon (JC Karting / Kosmic) is among the notable rookies in the class, along with Ty Fisher (SCR / TB Kart).
The KA100 Junior class presented by BBS Race Engines will also welcome a new champion with Helio Meza graduating to Senior. Steven Miller (CDR / Alonso Kart) is the top returning driver after placing sixth in the championship a year ago. He's already added a SKUSA Winter Series title to his 2023 CV, winning twice in two rounds. Similar drivers are ones to watch in Junior competition with Brinkman, Rivera, Musella, Taylor, Vidmontiene, Escorpioni, Wheldon, Fisher and other doing double duty. The class also features rookies Salvador della Vecchia (SAR / LN Racing Kart) and Tyler Roberts (IRM / Tony Kart) – who won in Mini at Orlando last year. Others to watch include Austin Olds (MPG / Kart Republic), John Antonino (Tesoro / CRG), and Eli Warren (JSR / Redspeed).
The Master category at the USPKS is making the transition in 2023 from the X30 engine to the KA100 powerplant. A total of 11 drivers who raced with USPKS last year will be part of the KA100 Master class presented by Speed Concepts Racing. Among those include last year's vice champion Mario Barrios (RPG / Kosmic), former series championship Scott Kopp (FMS / Merlin), Laurentiu Mardan (Tecno Kart USA), and Cristian Vomir (Tecno Kart USA). SuperNationals winner Martin Stone (REM / Kosmic), Texas Sprint Racing Series champion Miguel Mier (Orsolon / LN Racing Kart), and California driver Tim Meyer (RPM / Tony Kart) are among the contenders heading into the weekend. Also in the field is two-time Rotax Grand Finals champion Christophe Adams (Sodikart) from Belgium, making his first USPKS start.
The sold-out DNJ Intermodal Services Mini Swift division – featuring 46 drivers – will welcome a new series champion with Keelan Harvick not competing in 2023. Leading the way as a possible contender is Lucas Palacio (Trinity / Kart Republic) who finished fourth in last year's standings, coming off three wins at the SKUSA Winter Series. SuperNationals winner Michael McGaughy (RPM / Parolin), Ethan Tovo (Parolin), Tristan Murphy (Nitro Kart), and Max Cristea (MottazSport / Parolin) are other names to consider for podium finishes. The class is also welcoming a strong rookie class, featuring the top-eight from last year's Micro standings, led by last year's champion Ashton Woon (Supertune / Parolin), Rocco Simone (Parolin) and Jackson Gibson (RPG / Komsic).
The Team Ferris Racing Micro Swift has a 30-driver field that will see a new champion and new race winners throughout the 2023 season with the top-eight moving up. Among the early favorites include Maxwell Macha (SLA / Kart Republic), Colton Schniegenberg (GWR / Energy), Santiago Diaz de la Vega Torries (Alessandros / Parolin), Parker Ives (Nitro Kart), Josh Bergman (Piquet / Sodikart), Juan Diego Garciarce (Orsolon / Parolin) and Enzo DiGennaro (TFR / Kart Republic).
Follow the coverage all weekend long on the EKN Social Media accounts for Facebook, Twitter and Instagram for news, updates, photos, videos and more, including the top-10 results after each session beginning with qualifying on Friday. Listen to the racing action by heading to the EKN Live page or tune in on the EKN Radio Network.
---
Provisional X30 Pro Entry List
| No. | Driver | Team | Chassis | Hometown | Country |
| --- | --- | --- | --- | --- | --- |
| 380 | Donovan Bonilla | Rolison Performance Group | Kosmic | | |
| 333 | William Bouthillier | HMP | Alonso Kart | | |
| 315 | Brandon Carr | | Tony Kart | | |
| 317 | Zachary Claman DeMelo | | Lenzo Kart | Miami FL | US |
| 346 | Luis Colimodio | T1D Racers | Exprit | Pompano Beach FL | US |
| 337 | Diego Contecha | Rolison Performance Group | Kosmic | | |
| 312 | Collin Daley | DRT Racing | DR Kart | Hudson NH | US |
| 320 | Alessandro De Tullio | Prime Powerteam | Birel ART | Hamilton ON | CA |
| 300 | Gabriel Delgado Barrios | Rolison Performance Group | Kosmic | Lima LMA | PE |
| 302 | Arias Deukmedjian | Trinity Karting Group | Kart Republic | Merritt Island FL | US |
| 385 | Brayden Domingue | Iron Rock Motorsports | Tony Kart | Duson LA | US |
| 313 | Aidan Fox | Fox + Son Karting | LN Racing Kart | Redding CT | US |
| 323 | Mick Gabriel | AEM Karting | Tony Kart | Bolingbrook IL | US |
| 354 | Caleb Gafrarar | | Kart Republic | Midland NC | US |
| 306 | Elie Goldsztejn | | TB Kart | Oliver BC | CA |
| 364 | Evan Hagberg | | Tony Kart | Orlando FL | US |
| 326 | Grace Hemmerde | Rolison Performance Group | Tony Kart | Miami Beach FL | US |
| 305 | Ayden Ingratta | Speed Concepts Racing | CRG | | |
| 376 | Noah Jackson | Piquet Sports | Sodikart | Ft. Lauderdale FL | US |
| 316 | Hayden Jones | Trinity Karting Group | Kart Republic | Matthews NC | US |
| 396 | Jakub Kolar | Piquet Sports | Sodikart | Wellington FL | US |
| 328 | Laurent Legault | Rolison Performance Group | Kosmic | Montreal Qc | CA |
| 308 | Pauly Massimino | Speed Concepts Racing | Redspeed | Indian Trail NC | US |
| 338 | Tyler McIntyre | MottazSport | Parolin | Palmetto FL | US |
| 327 | Helio Meza | Iron Rock Motorsports | Tony Kart | Spring TX | US |
| 362 | Matheus Morgatto | PSL Karting | Birel ART | | |
| 388 | Lucas Nanji | Trinity Karting Group | Kart Republic | | |
| 1 | Ryan Norberg | Rolison Performance Group | Kosmic | Orlando FL | US |
| 311 | Jorge Ortiz | Speed Concepts Racing | Tony Kart | Orlando FL | US |
| 351 | Timothy Pernod | | Birel ART | | |
| 373 | Austin Perrin | Austin239 Racing | Tony Kart | Port Charlotte FL | US |
| 353 | Ryan Raffa | | Tony Kart | Washington Crossing PA | US |
| 303 | Diego Ramos | PSL Karting | Birel ART | Davenport FL | US |
| 321 | Yash Rampal | | CompKart | Allentown PA | US |
| 342 | Rylie Ramroop | | Tony Kart | Parkland FL | US |
| 355 | Patrick Ronveaux | Piquet Sports | Parolin | Boca Raton FL | US |
| 399 | Aden Rudolph | PSL Karting | Birel ART | New Caney TX | US |
| 314 | Cooper Shipman | Iron Rock Motorsports | Tony Kart | Austin TX | US |
| 391 | James Stegman | | Kosmic | Miami FL | US |
| 339 | Steven Szigeti | Piquet Sports | Sodikart | Longueuil QC | CA |
| 331 | Haopeng Zhang | Supertune USA | Tony Kart | Kalamazoo MI | US |
Provisional KA100 Senior Entry List
| No. | Driver | Team | Chassis | Hometown | Country |
| --- | --- | --- | --- | --- | --- |
| 971 | Abbie Adams | GWR | Tony Kart | Sherrills Ford NC | US |
| 949 | Finnegan Bayliff | Trinity Karting Group | Kart Republic | Batavia OH | US |
| 936 | Cadan Bell | Mike Doty Racing | Kosmic | Breckenridge CO | US |
| 924 | Brooke Berry | | Tony Kart | Katy TX | US |
| 913 | Christian Blevins Jr | DCT Karting | Kosmic | Douglasville GA | US |
| 945 | Joseph Botting | Piquet Sports | Gillard | Coral Springs FL | US |
| 930 | Tanner Bunney | | LN Racing Kart | Glenshaw PA | US |
| 926 | Josh Campbell | Ryan Perry Motorsports | Tony Kart | Gilbert AZ | US |
| 906 | Gio Cardone | MPG Motorsports | Kart Republic | Bloomingdale IL | US |
| 959 | Alexander Dal Bon | LFB Racing | Tony Kart | Orlando FL | US |
| 985 | Brayden Domingue | Iron Rock Motorsports | Redspeed | Duson LA | US |
| 935 | Nickolay Doukhov | | Kart Republic | Mason OH | US |
| 925 | Wes Duchak | Rolison Performance Group | Kosmic | Jupiter FL | US |
| 944 | Braden Eves | | Kart Republic | New Albany OH | US |
| 969 | Alex Feldstein | | Merlin | Madison WI | US |
| 902 | Connor Ferris | Team Ferris Racing | Kart Republic | Hackettstown NJ | US |
| 903 | Joey Friend | Arcane Motorsports | CRG | Burleson TX | US |
| 996 | Brian Garcia | | Kosmic | Pembroke Pines FL | US |
| 917 | Geronimo Gomez Azza | Orsolon Racing | Kosmic | Bogota DC | CO |
| 900 | Kingston Himes | | Tony Kart | Sanger TX | US |
| 982 | Josh Hotz | Hotz Driver Development | Exprit | Oconomowoc WI | US |
| 934 | Ian Howell | Hi5 Performance | Redspeed | Plano TX | US |
| 931 | Austin Jurs | Franklin Motorsports | Merlin | Union IL | US |
| 937 | Michael Leavitt | | EOS | Aldie VA | US |
| 910 | Brandon Lemke | Franklin Motorsports | Merlin | Eagle WI | US |
| 990 | Aiden Levy | Team Tarp | Alonso Kart | Charlotte NC | US |
| 916 | Collin Lloyd | T1D Racers | Tony Kart | Pembroke Pines FL | US |
| 909 | PJ Lyda | Mike Doty Racing | LN Racing Kart | Melbourne FL | US |
| 922 | Nicolas Maldonado | LFB Racing | Tony Kart | Orlando FL | US |
| 919 | Marlon Maldonado | LFB Racing | Tony Kart | Orlando FL | US |
| 908 | Spencer Mast | DCT Karting | Kosmic | Berkeley Lake GA | US |
| 911 | Seamus McKendree | Mike Doty Racing | LN Racing Kart | Elizabeth CO | US |
| 912 | Vinnie Meskelis | Meskelis Racing Team | Tony Kart | Dallas TX | US |
| 927 | Helio Meza | Iron Rock Motorsports | Tony Kart | Spring TX | US |
| 983 | Christian Miles | | Kosmic | Paloma IL | US |
| 977 | Logan Mueller | Trinity Karting Group | Kart Republic | Taylor Mill KY | US |
| 948 | James Overbeck | Mike Doty Racing | Tony Kart | Cincinnati OH | US |
| 958 | Peyton Phillips | Hi5 Performance | Tony Kart | Austin TX | US |
| 955 | Olivier Piatek | Mike Doty Racing | | Duluth GA | US |
| 989 | Emerson Reed | | Merlin | Mason OH | US |
| 921 | Anthony Rivera | | Energy | Columbia MD | US |
| 974 | Brayden Robertson | | CRG | McGregor TX | US |
| 932 | Noah Rosser | | Tony Kart | Bradenton FL | US |
| 940 | Adam Rylance | Mike Doty Racing | LN Racing Kart | Arvada CO | US |
| 984 | Gracian Rzedzian | Tecno Kart USA | Tony Kart | Bloomingdale IL | US |
| 914 | Cooper Shipman | Iron Rock Motorsports | Tony Kart | Austin TX | US |
| 915 | Tyler Stephens | Hi5 Performance | Redspeed | Bixby OK | US |
| 942 | Mason Surgener | MPG Motorsports | Kart Republic | Lansing MI | US |
| 991 | Lucas Szabo | | LN Racing Kart | Ridgewood NY | US |
| 988 | Nicholas Terlecki | Franklin Motorsports | | Gilberts IL | US |
| 941 | Josiah Tracy | | Tony Kart | Whitesboro TX | US |
| 943 | Charlotte Traynor | Mike Doty Racing | LN Racing Kart | Fountain Hills AZ | US |
| 907 | Chris Verrino | Kartworkz Racing | Gillard | Armonk NY | US |
| 954 | David Weaks | Mike Doty Racing | | Denver CO | US |
| 918 | Henry Wheeler | MPG Motorsports | Kart Republic | Chagrin Falls OH | US |
Provisional Pro Shifter Entry List
| No. | Driver | Team | Chassis | Hometown | Country |
| --- | --- | --- | --- | --- | --- |
| 205 | Farshad Bagheri | TB Kart USA | TB Kart | St. Petersburg FL | US |
| 264 | Gavin Bayliff | Trinity Karting Group | Kart Republic | Batavia OH | US |
| 232 | Giorgio Emiliano Carrara | International Motorsport | Lenzo Kart | | |
| 223 | Josh Conquer | Carblos Racing Engines | Maranello | | |
| 212 | Collin Daley | DRT Racing | DR Kart | Hudson NH | US |
| 221 | Justin Dittrich | Maranello | Maranello | West Babylon NY | US |
| 237 | Danny Formal | | Kosmic | Boca Raton FL | US |
| 207 | Victor Jimenez | Rolison Performance Group | Tony Kart | The Woodlands TX | US |
| 201 | Marijn Kremers | PSL Karting | Birel ART | | |
| 216 | Jordon Musser | PSL Karting | Birel ART | Dallas TX | US |
| 202 | AJ Myers | Magik Kart USA | Magik Kart | Statesville NC | US |
| 236 | Hunter Pickett | | Birel ART | Alamo CA | US |
| 210 | Vincenzo Sarracino | VSKarting | TB Kart | Naples FL | US |
| 239 | Justin White | Magik Kart USA | Magik Kart | Hunlock Creek PA | US |
| 224 | Tahlon Yockel | Magik Kart USA | Magik Kart | Mooresville NC | US |
Provisional X30 Junior Entry List
| No. | Driver | Team | Chassis | Hometown | Country |
| --- | --- | --- | --- | --- | --- |
| 791 | Christopher Aitken | Zanella Racing | Tony Kart | Ponte Vedra Beach FL | US |
| 770 | John Antonino | Tesoro Raceworx | CRG | Bakersfield CA | US |
| 793 | Diego Ardiles | | Kosmic | Doral FL | US |
| 799 | Cameron Brinkman | Mike Doty Racing | LN Racing Kart | Springfield IL | US |
| 719 | Christian Cameron | PSL Karting | Birel ART | Sonoma CA | US |
| 775 | Caleb Campbell | Speed Concepts Racing | Tony Kart | | |
| 732 | Lorenzo Castillo | Orsolon Racing | Tony Kart | Aventura FL | US |
| 744 | Mayer Deonarine | Racing Edge Motorsports | Kosmic | Ajax ON | CA |
| 788 | Nathan Dupuis | Goodwood Kartways | Exprit | Harrow ON | CA |
| 755 | Leonardo Escorpioni | Zanella Racing | Tony Kart | Windermere FL | US |
| 703 | Ty Fisher | Speed Concepts Racing | TB Kart | Scottsdale AZ | US |
| 748 | Diego Guiot | | Tony Kart | Shenandoah TX | US |
| 746 | Wesley Gundler | | Tony Kart | Holly springs NC | US |
| 752 | Major Makovskis | PSL Karting | Charles Leclerc | | |
| 711 | Anthony Martella | Speed Concepts Racing | Kosmic | | |
| 734 | Ryan Maxwell | Racing Edge Motorsports | Kosmic | Toronto ON | CA |
| 724 | Diego Mendeztorres | | Kosmic | | |
| 702 | Christian Meyer | MottazSport | Parolin | Seminole FL | US |
| 773 | Steven Miller | Chad Dokken Racing | Alonso Kart | Tierra Verde FL | US |
| 725 | Teddy Musella | Rolison Performance Group | Tony Kart | Orlando FL | US |
| 722 | Ian Noyes | Chad Dokken Racing | Kosmic | St. Petersburg FL | US |
| 737 | David Ramirez | Rolison Performance Group | Kosmic | Fresh Meadows NY | US |
| 704 | Ernesto Rivera | Rolison Performance Group | Kosmic | | |
| 715 | Davin Roberts | Ryan Perry Motorsports | Kosmic | Statesville NC | US |
| 718 | Emma Kate Scarbrough | Chad Dokken Racing | Kart Republic | Peachtree City GA | US |
| 720 | Luke Spencer | DRT Racing | DR Kart | | |
| 733 | Max Taylor | Rolison Performance Group | Kosmic | Hoboken NJ | US |
| 795 | Enzo Vidmontiene | MottazSport | Parolin | Saint Cloud FL | US |
| 726 | Oliver Wheldon | JC Karting | Kosmic | Coral Gables FL | US |
| 796 | Jackson Wolny | Rolison Performance Group | Tony Kart | Glen Ellyn IL | US |
Provisional KA100 Junior Entry List
| No. | Driver | Team | Chassis | Hometown | Country |
| --- | --- | --- | --- | --- | --- |
| 808 | Forest Adams | Ryan Perry Motorsports | LN Racing Kart | Mooresville NC | US |
| 891 | Christopher Aitken* | Zanella Racing | Tony Kart | Ponte Vedra Beach FL | US |
| 888 | Indy Andersen | Trinity Karting Group | Kart Republic | Indianapolis IN | US |
| 832 | Remi Andreatos | PoleStar Motorsports | Redspeed | Demarest NJ | US |
| 870 | John Antonino | Tesoro Raceworx | CRG | Bakersfield CA | US |
| 892 | Alan Bonilla Espinosa | Rolison Performance Group | Kosmic | | MX |
| 823 | Cameron Brinkman | Mike Doty Racing | LN Racing Kart | Springfield IL | US |
| 868 | Turner Brown | | Redspeed | Alamo CA | US |
| 803 | Chase Buscaglia | GWR | Tony Kart | Bradenton FL | US |
| 845 | Josey Chambers | Trinity Karting Group | Alonso Kart | Rosharon TX | US |
| 830 | Erick Cuesto | | Kosmic | Hollywood FL | US |
| 877 | Victor De Alencar | | Tony Kart | Windermere FL | US |
| 816 | Salvador della Vecchia | San Antonio Racing | LN Racing Kart | Doral FL | US |
| 874 | Santiago Duran | | Tony Kart | League City TX | US |
| 801 | Leonardo Escorpioni | Zanella Racing | Tony Kart | Windermere FL | US |
| 837 | Ty Fisher | Speed Concepts Racing | TB Kart | Scottsdale AZ | US |
| 826 | Beckett Friesen | Arcane Motorsports | CRG | Omaha NE | US |
| 878 | Naomi Jade Garcia | URace | Tony Kart | Maraval POS | TT |
| 855 | Sebastián Garzon | Orsolon Racing | Tony Kart | Cajica Cun | CO |
| 813 | Chace Gassiot-Lee | Piquet Sports | Gillard | Sunrise FL | US |
| 848 | Diego Guiot | | Tony Kart | Shenandoah TX | US |
| 849 | Davis Henry | | Parolin | Wichita KS | US |
| 827 | Alexander Jacoby | | Tony Kart | Washington DC | US |
| 843 | Walter Jenkins IV | | Tony Kart | Homestead FL | US |
| 825 | Fernando Luque | Supertune USA | Tony Kart | | |
| 887 | Alex Mercado | | Tony Kart | Washington UT | US |
| 873 | Steven Miller | Chad Dokken Racing | Alonso Kart | Tierra Verde FL | US |
| 810 | Teddy Musella | Rolison Performance Group | Tony Kart | Orlando FL | US |
| 852 | Justin Music | | Redspeed | Princeton TX | US |
| 850 | Austin Olds | MPG Motorsports | Kart Republic | Terre Haute IN | US |
| 824 | Christian Quijano | Zanella Racing | Tony Kart | St. Cloud FL | US |
| 841 | Marthin Ramirez | | | BRADENTON FL | US |
| 847 | David Ramirez | Rolison Performance Group | Kosmic | Fresh Meadows NY | US |
| 822 | Sebastian Rist | URace | LN Racing Kart | Crownsville MD | US |
| 834 | Ernesto Rivera | Rolison Performance Group | Kosmic | | |
| 899 | Tyler Roberts | | Tony Kart | Bertram TX | US |
| 839 | Ragan Saville | | GFC | Conroe TX | US |
| 881 | Emma Kate Scarbrough | Chad Dokken Racing | Kosmic | Peachtree City GA | US |
| 828 | Lillian Scarbrough | Chad Dokken Racing | Kart Republic | Peachtree City GA | US |
| 829 | Jocelyn Schlenker | | Merlin | CRYSTAL LAKE IL | US |
| 858 | Shun Sekiguchi | | Tony Kart | | |
| 817 | Landon Skinner | Speedsportz | Redspeed | Scurry TX | US |
| 805 | Caleb Tarter | | LN Racing Kart | Winchester IN | US |
| 833 | Max Taylor | Rolison Performance Group | Kosmic | Hoboken NJ | US |
| 838 | Asier Torres, Jr | | | Hollywood FL | US |
| 866 | Graham Trammell | | Kosmic | Fort Worth TX | US |
| 860 | Alexander Vanchev | JC Karting | LN Racing Kart | Coral Springs FL | US |
| 895 | Enzo Vidmontiene | MottazSport | Parolin | Saint Cloud FL | US |
| 836 | Mason Walters | | Kosmic | Catawba NC | US |
| 897 | Eli Warren | Jimmy Simpson Racing | Redspeed | Taylorsville KY | US |
| 804 | Oliver Wheldon | JC Karting | Kosmic | Coral Gables FL | US |
| 896 | Jackson Wolny | Rolison Performance Group | Tony Kart | Glen Ellyn IL | US |
| 806 | David Ybarra | Arcane Motorsports | CRG | Lewisville TX | US |
| 809 | Brayden Zirves | Mike Doty Racing | LN Racing Kart | Trevor WI | US |
Provisional KA100 Master Entry List
| No. | Driver | Team | Chassis | Hometown | Country |
| --- | --- | --- | --- | --- | --- |
| 455 | Christophe Adams | | Sodikart | Wezembeek-Oppem Vl | BE |
| 408 | Tommy Andersen | | Exprit | Port Washington WI | US |
| 411 | Mario Barrios | | Kosmic | Miami Beach FL | US |
| 424 | Shane Burkett | Racing Edge Motorsports | Gillard | Gonzales LA | US |
| 402 | Scot Carapellatti | | Formula K | Olean NY | US |
| 405 | Kim Carapellatti | Carapellatti Racing | CompKart | Olean NY | US |
| 481 | Niki Coello | Franklin Motorsports | Merlin | Dousman WI | US |
| 421 | Alex Dal Bon | LFB Racing | Tony Kart | Orlando FL | US |
| 425 | Alex Dancho | | Tony Kart | Easton CT | US |
| 412 | Jake Feder | | CompKart | Lawrenceville GA | US |
| 416 | Charlie Fonseca | AKT Racing | Kosmic | San José SJ | CR |
| 438 | Scott Kopp | | Merlin | Mukwonago WI | US |
| 414 | Robert Maier | Rolison Performance Group | Kosmic | Oakland FL | US |
| 482 | Laurentiu Mardan | Tecno Kart USA | Tecno Kart | Arlington Heights IL | US |
| 433 | Tim Meyer | | Kosmic | Trabuco Canyon CA | US |
| 477 | Miguel Mier | Orsolon Racing | LN Racing Kart | Celina TX | MX |
| 400 | Ryan Molina | LFB Racing | EOS | Kissimmee FL | US |
| 445 | Jakab Nyiri | | Tony Kart | Hickory Hills IL | US |
| 451 | David Pergande | Speedsportz | Kosmic | Houston TX | US |
| 429 | Luis Quinones | | Kosmic | Port St. Lucie FL | US |
| 426 | Diego Rodriguez | Alessandros Racing | Kosmic | Doral FL | US |
| 430 | Sergio Rodriguez | | Kosmic | Jacksonville FL | US |
| 495 | Wes Steege | Franklin Motorsports | Merlin | Oconomowoc WI | US |
| 441 | Martin Stone | Racing Edge Motorsports | Kosmic | Dallas TX | US |
| 483 | Cristian Vomir | Tecno Kart USA | Tecno Kart | Hoffman Estates IL | US |
Provisional Mini Swift Entry List
| No. | Driver | Team | Chassis | Hometown | Country |
| --- | --- | --- | --- | --- | --- |
| 110 | Carter Barkis | CarBar | Parolin | Fort Myers FL | US |
| 146 | Felipe Jesus Benito | Speed Concepts Racing | Redspeed | | |
| 128 | Landon Buher | MPG Motorsports | Kart Republic | Danville IN | US |
| 101 | Mateo Calderon | Supertune USA | Parolin | San Jose CA | US |
| 145 | Sawyer Chambers | Trinity Karting Group | Alonso Kart | Rosharon TX | US |
| 139 | Max Cristea | MottazSport | Parolin | Buford GA | US |
| 124 | Decklan Deonarine | Racing Edge Motorsports | Kosmic | | |
| 105 | Benja Fernandez | | Kart Republic | Coral Gables FL | US |
| 130 | Jaime Garcia | Supertune USA | Parolin | | |
| 142 | Jackson Gibson | Rolison Performance Group | Kosmic | Lake Oswego OR | US |
| 189 | Martin Jaramillo | URace | Parolin | Orlando FL | US |
| 108 | Luke Kanjanapitak | | Praga | Miramar FL | US |
| 141 | Tyrone Kemper, Jr. | Team Benik | | Metairie LA | US |
| 144 | Edward Kennedy | Titans Racing Team | Energy | | |
| 155 | William Kim | Ryan Perry Motorsports | Nitro Kart | Darien CT | US |
| 199 | Logan Kovalovsky | Mike Doty Racing | EOS | Clifton NJ | US |
| 123 | Kai Mars | | Kart Republic | Roswell GA | US |
| 114 | Cameron Marsha | Ryan Perry Motorsports | Nitro Kart | Granger IN | US |
| 137 | Samuel Martinez | | Parolin | Homestead FL | US |
| 161 | Michael McGaughy | Ryan Perry Motorsports | Parolin | Park City UT | US |
| 107 | Cole Medeiros | | Birel ART | | |
| 140 | Alex Miller | | Gillard | Hanover MA | US |
| 177 | Jacob Modjeski | Franklin Motorsports | Merlin | Oak Creek WI | US |
| 111 | Tristan Murphy | | Nitro Kart | College Grove TN | US |
| 170 | Luis Fer Nunez | | Parolin | Mexico City MX | MX |
| 158 | Nicolas Orbezo | Iron Rock Motorsports | Kosmic | San Antonio TX | US |
| 197 | Tyler Padgett | SLA Racing | Nitro Kart | Parrish FL | US |
| 102 | Lucas Palacio | Trinity Karting Group | Kart Republic | Vienna VA | US |
| 129 | Travis Pettit | Magik Kart USA | Magik Kart | Mullica Hill NJ | US |
| 103 | Antonio Pizzonia Neto | Orsolon Racing | Parolin | | |
| 166 | Alexander Procuna | | Parolin | Aventura FL | US |
| 134 | Julian Rivera | AKT Racing | Energy | Miami Beach FL | US |
| 173 | Maddox Ruiz | Zinid Racing | Praga | Orlando FL | US |
| 175 | Marco Sammut | | LN Racing Kart | Locust Valley NY | US |
| 112 | Valentino Santillan | SLA Racing | Parolin | Miami FL | US |
| 153 | Fion Shi | | Tony Kart | Montclair NJ | US |
| 116 | Brandon Sieracki | Franklin Motorsports | Merlin | Oconomowoc WI | US |
| 109 | Rocco Simone | | Parolin | Naples FL | US |
| 113 | Ethan Tovo | | Parolin | Warrenville IL | US |
| 131 | Jackson Tovo | | Parolin | Warrenville IL | US |
| 100 | Andrew Tsapenko | | Kart Republic | Hollywood FL | US |
| 104 | Hudson Urlin | | Nitro Kart | | |
| 133 | Royce Vega | Team Benik | Benik | Rockwall TX | US |
| 120 | Jacobo Alejandro Vega Esquivel | Team Benik | Benik | Bogota CU | CO |
| 195 | Ashton Woon | | Parolin | Mooresville NC | US |
| 150 | Alexander Young | Ryan Perry Motorsports | Nitro Kart | Riverside CT | US |
Provisional Micro Swift Entry List
| No. | Driver | Team | Chassis | Hometown | Country |
| --- | --- | --- | --- | --- | --- |
| 42 | Pasha Ali | Parolin USA | Parolin | Trophy Club TX | US |
| 72 | Mikha Barroukh | | Tony Kart | Miami Beach FL | US |
| 4 | Josh Bergman | Piquet Sports | Sodikart | North Miami FL | US |
| 54 | Zayne Burgess | JC Karting | LN Racing Kart | Ft. Lauderdale FL | US |
| 26 | Alex Chandler | Iron Rock Motorsports | Tony Kart | Houston TX | US |
| 22 | Camdon Clay | Trinity Karting Group | Kart Republic | Panama City Beach FL | US |
| 98 | Domenico Crupi | Racing Edge Motorsports | Tony Kart | Aurora ON | CA |
| 18 | Leo Da Silva | Racing Edge Motorsports | LN Racing Kart | Limehouse ON | CA |
| 37 | Santiago Diaz De La Vega Torres | Alessandros Racing | Parolin | Tlajomulco De Zuñiga DIF | MX |
| 99 | Enzo DiGennaro | Team Ferris Racing | Kart Republic | Poughkeepsie NY | US |
| 36 | Juan Diego Garciarce | Orsolon Racing | Parolin | AVENTURA FL | US |
| 68 | Luke Giglio | | Parolin | Milton GA | US |
| 48 | Parker Ives | | Nitro Kart | Davidson NC | US |
| 10 | Cameron Johnson | Franklin Motorsports | Merlin | Milwaukee WI | US |
| 50 | Emerson Laine | Speedsportz | Kart Republic | Colleyville TX | US |
| 77 | Chris LaVoie | Fox + Son Racing | Alonso Kart | Glastonbury CT | US |
| 16 | Massimo Lorusso | Racing Edge Motorsports | Kosmic | Toronto ON | CA |
| 19 | Nicholas Lorusso | Racing Edge Motorsports | Kosmic | Toronto ON | CA |
| 33 | Maxwell Macha | SLA Racing | Kart Republic | Fort Myers FL | US |
| 9 | Jake Manalio | | Alonso Kart | New York NY | US |
| 14 | Sterling Mulata | URace | Parolin | Silver Spring MD | US |
| 80 | Liam Nachawati | | Parolin | Dallas TX | US |
| 28 | Lawrence Peremen | Mike Doty Racing | LN Racing Kart | Fort Lee NJ | US |
| 88 | William Roberts | Mike Doty Racing | LN Racing Kart | Holliston MA | US |
| 55 | Paxton Romero | | Birel ART | Centennial CO | US |
| 2 | Nico Salazar | Orsolon Racing | Parolin | | |
| 17 | Colton Schniegenberg | GWR | Energy | Colleyville TX | US |
| 29 | Cohen Shoecraft | AKT Racing | Energy | Port Charlotte FL | US |
| 24 | Liam Van Beek | | Parolin | Ellenton FL | US |
| 21 | Aston Wyatt | | Birel ART | Huntsville TX | US |