EKN One-on-One: Bobby Krug – Skip Barber Racing School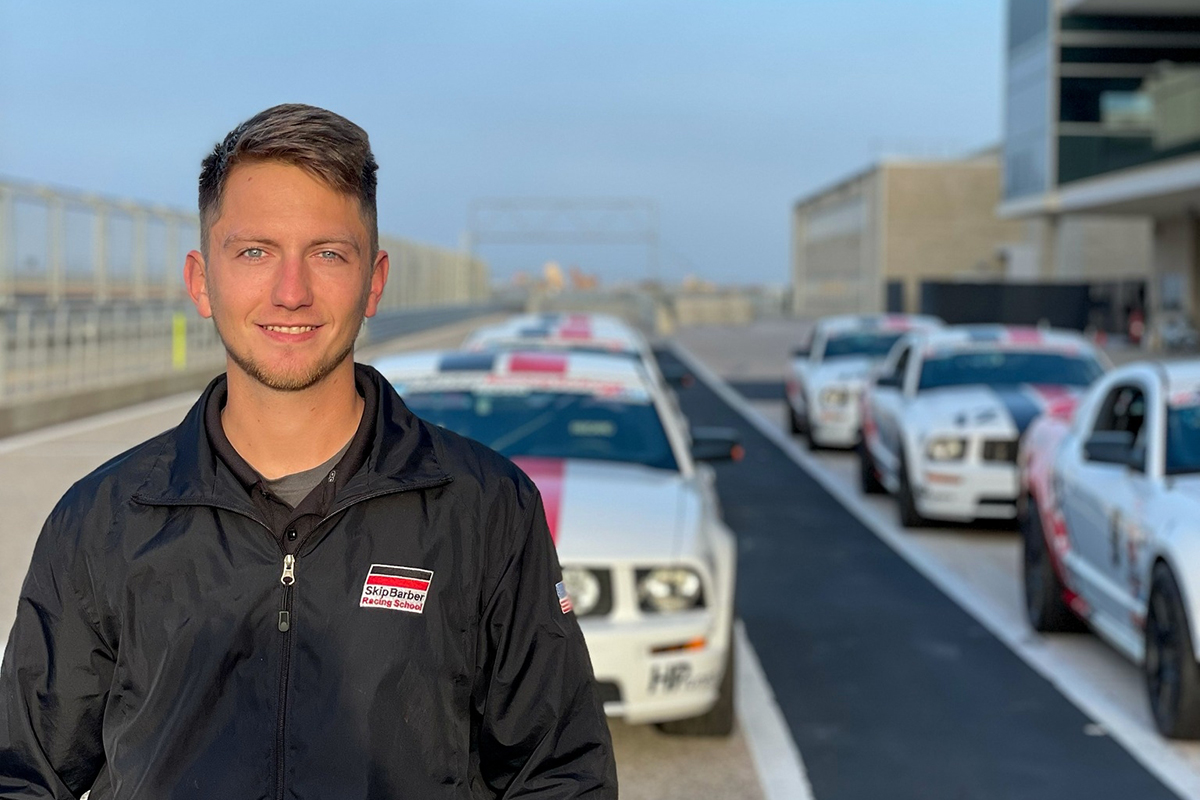 Bobby Krug (Photo: Skip Barber)
The Skip Barber Racing School has a lengthy and established history of developing the future stars in motorsports. A long list of alumni have gone on to many different forms of motorsports, including Formula One, IndyCar, NASCAR, IMSA and more. Many of those same drivers have taken advantage of the opportunity offered by this iconic company to move from the sport of karting into car racing, getting their introduction to a race car through the Skip Barber program.
Among the latest drivers to make that transition is Bobby Krug. The Mount Olive, Illinois driver has gone from simply wanting to be part of motorsports into to sim racing, before finding the Ignite Karting program to help launch him into the world of car racing and the Skip Barber Racing School, both on and off the track. Having both driven and worked within the Margay Ignite program, Bobby is now a key component of the Skip Barber Racing School's marketing and social media program.
We grilled Krug about his experience into the sport of karting and how Skip Barber has guided him in his journey into car racing.
eKartingNews: First off, let's start with your background. What was your interest in motorsports prior to getting involved as a driver?
Bobby Krug: I was a fan of racing before I even remember. My dad was a motorsports fan and we always had the big races on the television on the weekends. I have fond memories of him taking me to NASCAR races throughout my childhood but we never had the means to put me behind the wheel of a kart or anything. I had to stick to playing racing video games and eventually upgrading to sim racing when I got my first computer.
EKN: When did you become involved in karting?
BK: My start in karting came in 2016, when I was 18 years old, at the Gateway Kartplex, just outside St. Louis, Missouri. I became a regular arrive & drive customer and ran a ton of 10-minute sessions in their Sodi rental karts. Late in the season, I joined their iDrive Rental Kart Series and found my way to the podium on a couple of occasions. I ran the full iDrive Rental Kart season in 2017 and won the Light Class Championship, which earned me a Margay Scholarship to use an Ignite K3 for the following season. In my first season, I only ran in the local Gateway Kartplex Ignite Series and showed some success, a pair of podium finishes.
EKN: What sparked the interest to go from sim racing to real racing? And, more specifically, why did you search out karting?
BK: When I learned about the program that Gateway Kartplex has with their iDrive Rental Kart Series and their scholarship program to earn your way into the Ignite program, it was an easy decision to make the transition from sim racer to kart racer. Both iDrive and Ignite were extremely affordable and very competitive. For what some people are spending on sim racing setups, you can kart race with the same budget. In iDrive, the Kartplex crew prepares all the Sodi rental karts to an equal setup and allows driver talent to shine through, which is the same with Ignite. The difference in that you must maintain your own kart, which was very easy once you learned it.
There are a lot of reasons why I love kart racing and decided to continue karting. The biggest reason is the community. I am friends with most of my Ignite competitors and often hang out with them away from the track. With that level of relationship, I can really trust the people I share the track with and know exactly what each driver is going to do, which takes some of the stress of it away. Everyone is willing to help everyone else out. With the Ignite program, it has made it especially quick and easy to hit the track and be competitive. I don't have to outspend someone because they have a special motor or set of tires.
EKN: Now at the same time you were developing this love for racing and karting, you were also in school. How were you able to do both?
BK: At the time, I was a freshman at Southern Illinois University Edwardsville pursuing a degree in Mass Communications and Business; so as a broke college kid, I wasn't going to able to buy the kart and was just going to return it to Margay. Greg Dingess gave me an amazing opportunity to continue racing at the cost of helping Margay with their marketing. It was a real win-win for me. In 2019, I ran another season at the Gateway Kartplex, where I finished third in the overall championship while traveling to the Ignite Challenge and Ignite Major events, shooting video for Margay. 2020 was my breakout year. I claimed the Gateway Kartplex Ignite Senior championship after winning half of the races and finishing second in the other half. In addition, I finished runner-up in my first attempt at the Ignite Challenge series.
EKN: Expand some on what you did for Margay's marketing program.
BK: I was brought on to assist Margay with their video content across their social media platforms. Greg Dingess saw what I was doing on my own personal YouTube channel through my first year in Ignite and thought I could bring some of those ideas to Margay. Everything from on-board videos, grid walks, and post-event edits; I would take from concept to final product. My last event would have been the 2020 Dash at Daytona, where I had full reign of social media content for the weekend.
EKN: Tell us how you connected with Skip Barber Racing School? What came first, racing with Skip Barber or working with Skip Barber?
BK: I met the folks at Skip Barber Racing School at the 2019 St. Louis Auto Show. I competed in their sim racing contest and won a 1-Day Racing School. I opted to run my school at Indianapolis Motor Speedway in their Formula Car, which was the absolute peak of my life at that time. Nothing beats open wheel at Indy.
Fast forward to the end of 2020, I was awarded a 3-Day Racing School after winning the Gateway Kartplex Ignite Championship. I took my second scholarship to Circuit of the Americas for another run in their Formula Car. Through both of my experiences, I documented the experience and posted the videos to my YouTube channel.
Skip Barber Racing School was impressed with the content and invited me to do a 2-Day Advanced school at Circuit of the Americas and a 3-Day Mustang GT school at Michelin Raceway Road Atlanta to capture more content. And after all of that, they finally invited me back to Circuit of the Americas to compete in the second round of their 2021 Formula Race Series.
At the conclusion of the race weekend, I met with Skip Barber CEO, Anthony DeMonte, who had been impressed with my marketing skills and on-track ability and offered me a job as their Marketing Manager and a seat in the remainder of the 2021 Formula Race Series. A true dream job and an amazing opportunity for myself that I couldn't be more thankful for to this day.
EKN: Looking back at the experience, what were some of the key factors of making that transition from Karts to Cars with Skip Barber Racing Schools?
BK: There are many factors that assisted in my transition from karts to cars. Most importantly, Skip Barber Racing School's curriculum is designed for someone with little experience in motorsports to be able to understand the fundamentals. The instructors at Skip Barber are very knowledgeable and excel at explaining the different aspects of racing, regardless of your experience level. Additionally, the years of karting and sim racing experience prior to enrolling in the Skip Barber program made the behind-the-wheel aspect easier. I was able to draw a connection between some of the natural instincts we form as karters such as how to correct a slide and other car control maneuvers. Sim racing is a valuable tool for learning the tracks prior to race weekends; services like iRacing, where they've laser-scanned every bump and characteristic of tracks, allow for a sense of familiarity when racing on a track for the first time. I also leaned on fellow Margay and Kartplex racers that have had successful careers in cars like Skip Barber grad Evan Stamer, Keith Scharf, Jordan Missig and many others.
EKN: Tell us about your off-the-track role with Skip Barber Racing School
BK: When I'm not on the podium in the Skip Barber Formula Race Series, you'll find me as the Marketing Manager. Primarily, I manage the Skip Barber social media accounts and website, as well as create graphics, blog posts, press releases, videos, hero cards, print and digital ads, and a wide variety of other content. Needless to say, I'm kept very busy all year round!
EKN: Bobby, can you provide some insight into how fulfilling it's been to find a career in motorsports. So many karters have a narrow focus with aspirations of becoming a professional driver, and don't think to widen this scope to actually working in the industry or paddock if their driving dreams don't come to fruition.
BK: I'm very grateful to have been given the opportunities to work and gain experience with some great companies along the way, like Gateway Kartplex and Margay Racing, and where I am now with Skip Barber Racing School. Even today at Skip Barber, I am learning so much about the racing industry, marketing, business, and much more. Before I began to fully understand what the racing world was like, I already had an interest in marketing and media creation, which gave me a leg up throughout the entire journey. Even for the people that are going to make it as a pro driver, the marketing side is crucial to maintain connections and build sponsorships in the industry. It's very important for racers coming through to have that back-up plan, whether it be in the marketing space, turning wrenches, or business development for example. The key in whatever someone plans to do is to do something that they enjoy. Fortunately, my current opportunity with Skip Barber is allowing me to do just that. I wouldn't have it any other way.
EKN: And let's wrap up by coming full-circle, do you expect to find yourself in a kart at all this year?
BK: My schedule is getting booked pretty quick for the year, but I hope to sneak out for a couple kart races; I have my eyes on select events. I ran test laps last year at Ozarks International Raceway during the CES weekend and it was one of the coolest experiences I've had in a 206, I'd love to run one of the road races at Ozarks. Coming off winning the Badger Kart Club Dairyland 8 Hour last year with a group of talented Margay racers in Ashton Wheeler, Isaac Wells, Louis Palmisano, and Brady Tyler, I think we are getting the band back together to defend the title. And as always, I seem to find a way to sneak in a race or two at the Gateway Kartplex.
EKN: Thanks for the time. All the best in 2023.
BK: Thanks to the entire team at eKartingNews, it's a true honor to be featured!