Begin Again: The Monkey Is Off My Back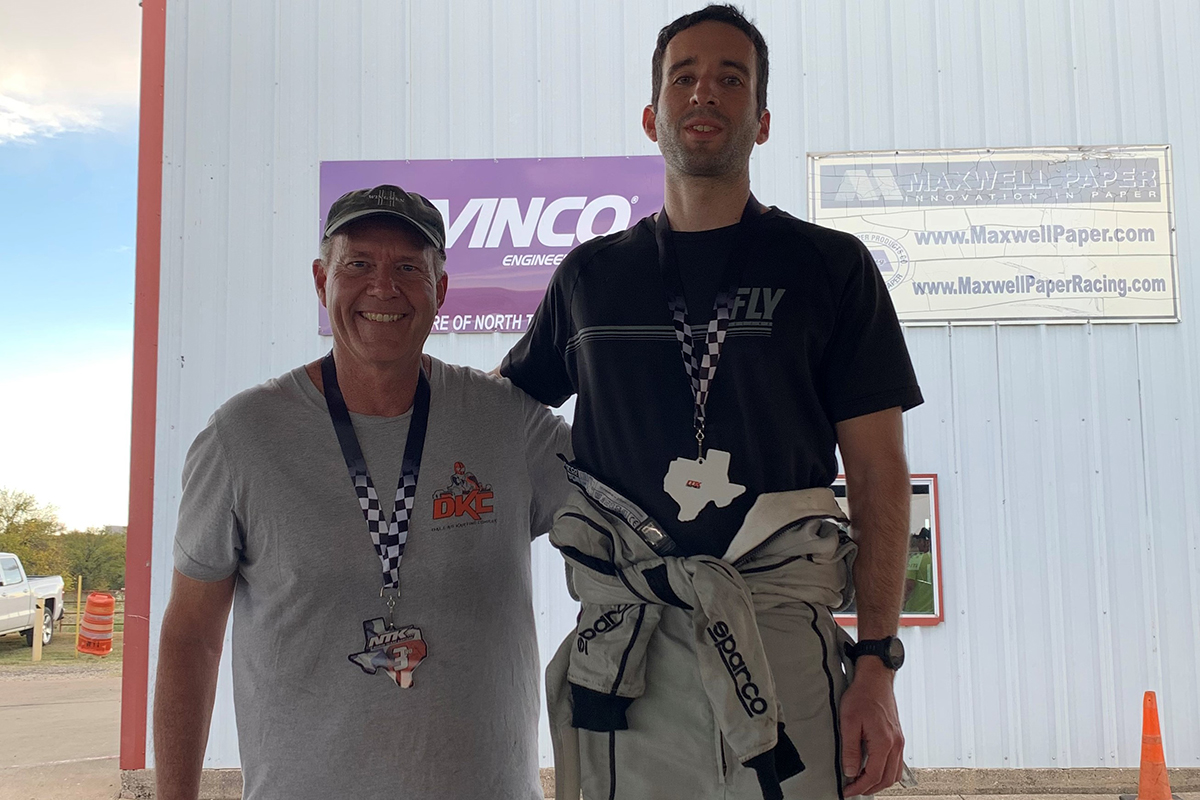 R.K. Siler returns to the podium for the first time in over 30 years, joining race winner, Justin Hrbacek
The column series Begin Again featuring writer and racer R.K. Siler continues as he reviews a great weekend of racing, one that featured him returning to the podium at a club event, proverbially getting that podium monkey off his back! It however did not come without the hard work and dedication he put in, and this is a review of that process.
If you have been following the Begin Again series here at eKartingNews this year, you'll know that I have made some significant changes to my equipment and how I prepared to go racing during the 2022 season.  To recap everything, I:
Traded in my trusty Honda Stock Moto engine for a new ROK Shifter package
Changed my chassis settings back to factory specification
Found a driving coach
Engaged a personnel trainer (that story is coming soon)
The change to the ROK Shifter engine was significant; though I loved my Honda, it is obsolete technology, it is no longer cheap to run because parts are becoming harder to find, and frankly, it just is not competitive with the ROK or KZ shifter engines.  Once the new ROK Shifter engine was mounted up to my kart, I instantly noticed how much smoother the engine is in terms of both vibration (way less) and power delivery.
Next up, I had Sean Owens at the Dallas Karting Complex put my chassis up on the set-up jig and check it for straightness and then take the entire set up back to a factory specification.  In the process, Sean found a couple of brackets that had cracked that were subsequently replaced and he changed the steering shaft from one that was custom built for the Sodikart team drivers back to a standard specification steering shaft that an ordinary mortal like me was better suited to.  I had been racing with almost a rain set up in 2021 and so we thought that a change to a baseline set up that was to factory specification would be a good plan, to sort of take a step back and start again from square one. You might say we decided to "Begin Again" (laughing).
With high hopes that all these changes – especially the new engine – would make me a much more competitive proposition, the reality was that while I was faster with my new set up than I was with my Honda, I did not make the huge step forward in pace that I was hoping for.  Looking inwards, I did what I needed to do and brought in Jake French as my driving coach, and it was here that I began to make some progress.  As I wrote about this experience for EKN last August, Jake taught me that many of the "good old" habits that I had from my days racing a Formula Ford had to be unlearned and replaced with "good new" habits that a modern shifter kart requires.
One of the biggest changes, and perhaps the most challenging, that Jake had me make was how I thought about my footwork.  For example, instead of letting off the throttle all the way when making an upshift, I had to convince my right foot that just a tiny lift off the throttle, just breathing it slightly, was what was needed for a better upshift so as to keep the engine fully in the powerband with each shift.  Likewise with how I applied the brakes. In my Formula Ford days, the cars were quite softly sprung and adjustable bump and rebound control on the shock absorbers was virtually unknown at that time, so the application of the brakes called for a gentle application of pressure to keep the nose of the car from grinding straight into the race track, and then the brakes were gently released to keep the nose from raising too quickly and transferring weight to all the wrong places.  This is most definitely not the case with a modern shifter kart, so I had to learn to hit the brakes very aggressively and then release them far sooner than I thought possible to enter a corner.
These changes to my driving style – which admittedly are not fully baked in yet – netted a welcome improvement in my pace and more importantly, enabled more consistency in my lap times as well.  So, while I was still off the pace from the leaders, at least I finally had things trending in the right direction, as I was now at the tail end of the mid-pack guys instead of being behind the mid-pack guys.
Having said all that, if I'm completely honest, running at the back of the pack had gotten to be pretty old.  When I first came back to the sport, I was just happy to be there, but I knew that, over time, just making up the numbers on the grid would not be enough, I wanted to have a shot of being competitive and, after two full seasons of karting, I still wasn't there.  Racing is most definitely a meritocracy, meaning that you get the reward you deserve; there are no trophies for last place, which is fine with me, that's how it should be.  To me, the trophy doesn't matter, but my performance does, and that performance just wasn't there.
I say all this to sort of establish some context around this story, which as you can probably guess, is about my finally breaking through whatever invisible barriers had been there before and sneaking home after a race with a podium finish.  I had arrived in the morning at North Texas Kartways (NTK), my home track, ready for a day at the races.  This event was being run in the clockwise (backwards) direction, which is usually run four or five times a year.  The races on the backwards configuration are a bit of an equalizer because everyone at the club is used to running the track in its counterclockwise configuration, but not so much for the clockwise configuration unless you have been racing at NTK for a long time or have managed to get some time driving the clockwise configuration on a practice day.
I know I have said this before in prior articles, but NTK is a very technical, old-school track that works well for conventional karts but a shifter kart at NTK is the proverbial bull in a China closet.  And when you run the track backwards, it gets very interesting in a hurry because what is normally Turn 1, a long, banked, decreasing radius left-hander now becomes an increasing radius corner that is also the last turn on the track leading out to the longest straightaway on the track.  And, the very tight chicane at the other end of the long straightaway is now turns 1 and 2, so in a shifter, the pilots are grabbing sixth gear fairly early down the main straight and then dive-bombing each other under the brakes into what is now a very slow, tight, second gear corner.  This braking zone is definitely a legitimate passing zone but the danger is that if you brake too late, you're going straight off the end of the track, although there is nothing very solid to hit at that point.
Practice went pretty well, I made some tire pressure adjustments but otherwise left the kart alone.  I had done enough races on the clockwise configuration to pretty much know what a good baseline set up for the track is, and sure enough, the kart was working pretty well.  So, I messed with the tires a bit, wiped the kart down, added a little fuel, checked all the nuts and bolts and my ride was pretty much ready to go again.  One of the really nice features of the ROK shifter engine is that it does not seem to be all that sensitive to changes in the air density.  I am really not sure why that is, but once I arrived at a main carb jet that seemed to work on a particular day, inspection of the top of the piston revealed that no matter what the air density looks like, the top of the piston always looked pretty good with the same jet.  I honestly am not used to this because in Dallas, the air density can change by a couple of thousand feet in a day or two, depending upon when the fronts come rolling through, so not changing the main carb jet, while welcome because it is one less thing to chase, felt a bit strange.  It is pretty much a case of settling on a main jet and leaving it alone.  I'm good with that!
I managed to qualify third in a field of seven karts, but as usual, I blew the start and that opened the door for my buddy Carlos Perez to sneak through into third and I fell back to fifth.  It took me to get past the kart in fourth place, and I set out after Carlos, but by this time, Carlos was far enough up the road that I had no chance of catching him.  So, I was stuck having to start in fourth for the final.
As I rolled up to my grid place for the standing start of the Final, I was thinking to myself that if I made a good start, I could probably jump Carlos for third.  Even better, since my buddy Jack McLemore was starting in second directly in front of me, I knew that Jack typically makes killer starts, so there was a very good chance that Jack would not be in my way when I made my killer start.  Yeah, right…I got half of my plan right, unfortunately, Jack got a killer start and rocketed into the lead and I had another duff start.  My start in the Final was not as awful as my start in the Pre-Final, but I nearly lost fourth place going into the braking zone for Turn 1, and Carlos was already a good ten kart-lengths in front of me.
Now, I'm a competitive person, and I tend to be a bit on the emotional side as well, even though I work hard to keep those emotions in check.  Lots of times I hear drivers say that they really struggle on the opening laps of a race because they just don't drive well on cold tires, and I typically struggle on the opening laps as well, but it's not because I can't drive hard on cold tires.  No, it's because I usually am cursing under my helmet about another blown start, which then leads to driving errors like missed shifts, missed apexes, over-braking into corners, you name it.  Somehow, I managed to keep the guys behind me from passing me, and after a few laps, I managed to get my emotions under control and settled down a bit.  By this time, Carlos had pulled out probably 20-ish kart lengths on me, and he was getting smaller by the lap.
Figuring that I was probably going to be stuck for the rest of the race in fourth place, I just put my head down and focused on driving clean, mistake free laps.  To my surprise, I began catching Carlos fairly easily, and as I got closer, I could see why:  his kart had picked up a wicked loose condition that was getting worse about every two or three corners.  I was also gaining multiple kart lengths on Carlos under the brakes going into Turn 1, because the brakes on my Sodikart are just exceptional, they really inspire the confidence that you can go really deep into a turn before you drop the anchor.  Anyway, I was taking big chunks of space out of Carlos' lead over me by the lap as his oversteer just got worse and worse.
At about the midway point of the race, Carlos had a big slide on the approach to Turn 8, which is a quick turn in its own right, and I gobbled up more pavement on him.  By now, I was about two kart lengths behind Carlos and I was telling myself to just be patient, Carlos was either going to have another big moment or simply fly off the track, but either way, I was confident that I would capitalize on his misfortune when it struck.  As luck would have it, on the very next corner, Carlos had some snap oversteer about 3/4 of the way through the corner, which killed his exit speed.  That was enough for me to pull even with Carlos down the main straight, and when we got into the braking zone for Turn 1, I braked deep into the turn, completed the pass, and then put my head down and drove as hard as I could because I knew Carlos would try to come back at me.
As it turned out, Carlos' oversteer just got worse and worse, so I pulled away and gapped him by probably a couple of seconds by the end of the race.  Towards the end of the race, I started to get tired and was making some mistakes, mostly missing gears and that slowed me down, and by the time that I saw the white flag fly for the last lap, I knew that if I did not screw up the last lap, I was home free to third place.  That last lap felt like it took forever, but thankfully, I did not make any horrible mistakes on that last lap and I came home a relieved and delighted third place.
Yes, it was a club race, and yes, I finished a distant third, but I could care less.  My buddies Justin Hrbacek and Jack McLemore finished first and second respectively after another one of their huge battles – Justin and Jack inevitably find each other on the track, just as Carlos and I find each other because we are so evenly matched.  So, for the first time in 32 years, I got to stand on a podium…the last time I did so was in a Formula Ford race at the gone-but-not-forgotten Texas World Speedway.  Yes, I got lucky because Carlos ran into problems, but I'll take it.  Here's hoping that 2023 will bring more podiums my way!