Speedsportz Racing Park: The Crown Jewel of Texas Karting
Packed schedule lined up for 2023 season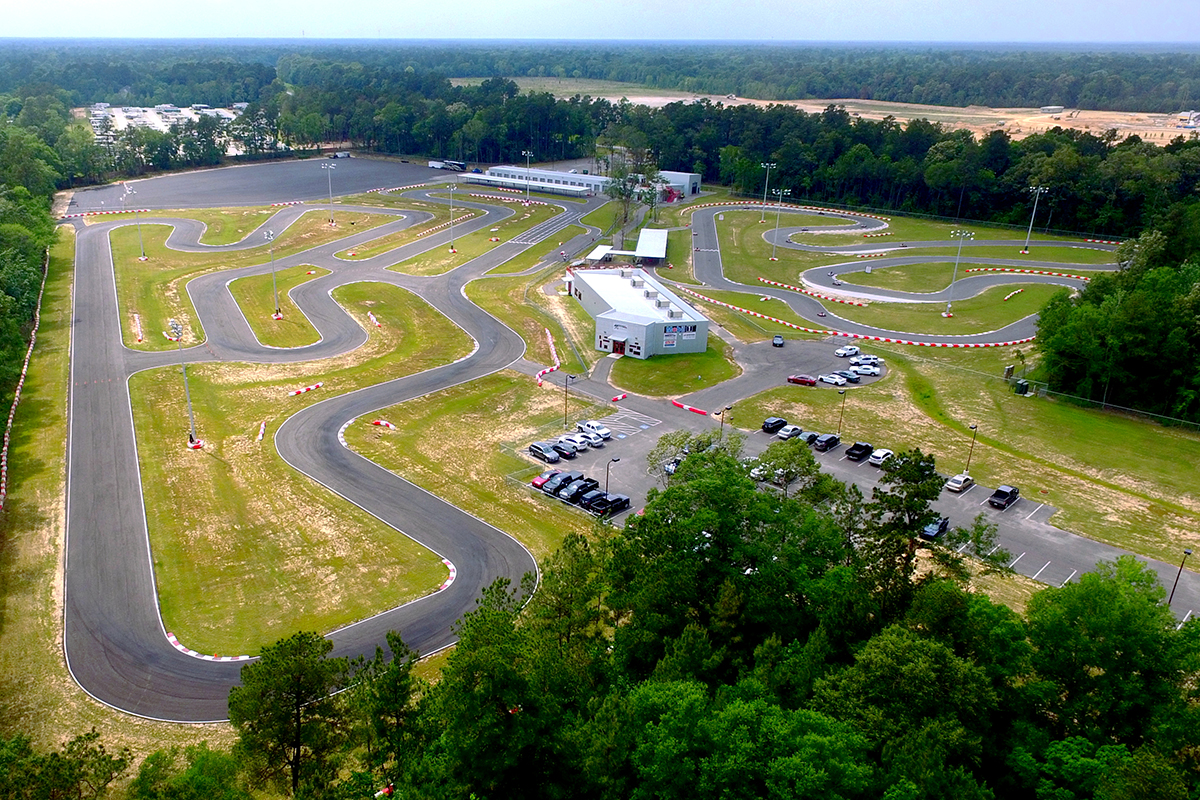 Speedsportz Racing Park in New Caney, Texas
Despite its expansive geography, Texas is a major player in US karting with close to a dozen competition tracks. Over the years, the state has hosted countless IKF Grand Nationals both in the sprint and road race disciplines, and over the last 20 years, has also been on the schedules of series such as the Superkarts! USA ProMoto Tour, Stars of Karting, and SKUSA Pro Tour. The state currently has a strong regional program in the Texas Sprint Racing Series, and it will also celebrate the arrival of the biggest series from 2022 – the United States Pro Kart Series – which drew more than 300 entries to two of their four races. The USPKS will make its first trip into Texas to run at the top-notch Speedsportz Racing Park facility in New Caney, just north of Houston. It's a major step forward for Speedsportz, which is run by one of our sport's true ambassadors and legends, Alan Rudolph, and his wife Jessica.
EKN caught up with Alan just before the 2023 season at Speedsportz officially takes the green flag.
eKartingNews: Alan, thanks for taking the time to chat with us ahead of what is surely the busiest season ever at Speedsportz Racing Park. Can you give us a little overview of the series and events that will coming to the track this year?
Alan Rudolph: You nailed it Rob, this will be the busiest season yet for myself and the Speedsportz team. It all kicks off with club races starting in January and February, followed by a large drift event in early March, and now the first round of Texas Sprint Racing Series on March 24-26. This TSRS event was originally scheduled for NOLA, but had to move, so I happily took it on. Now rolling into April, we kick it off with the new Texas regional series – the Southwest Regional Cup Series – on April 14-16. The next weekend I left open for USPKS testing. Many of the big teams would prefer open testing over a club race for more track time, so I just left it open.
Then, of course, the USPKS rolls in the week of the 24th. This will be the biggest event we have ever held. There will be some growing pains I'm sure, but we are ready. With all tracks, parking is an issue, primarily for RVs and rental cars. The good news is that we have an RV park right next door, so there will be no RVs in the paddock. Additionally, the host hotel is literally across the street within walking distance, so for those staying there, I would encourage them to simply walk over. Following the USPKS weekend, it calms down a bit with normal stuff like Drift events, club races, and moto days.
EKN: We know you've been gunning for a major national event at Speedsportz since opening the facility. Having the USPKS come to town for their second event is certainly a huge opportunity. This race will finally give many of the sport's national racers a chance to race at what we believe to be one of the best tracks in the country. Can you tell us your thoughts on finally getting the major National that Speedsportz most certainly deserves?
AR: 'Finally', is right. I built this place and want to share it with as many people as possible. There are hundreds of people who would never come otherwise without hosting a major race. So, for me, this just adds the last piece of the puzzle.
EKN: You've been working diligently since opening the track to build your local track series. How did it go in 2022 and what do you expect for 2023 with your Speedsportz Race Series?
AR: Club racing is interesting because people come and go from the sport all the time for various reasons. 2022 started off the biggest ever then faded out towards the end of the year. So, for 2023, we decided to have a point structure that awards drivers for running later in the season. As an example, the last race will be double points. The tricky thing about this season is because we're so packed in March, April, and May, there will be no club races in those three months because there are simply no weekends available. So, we will see.
EKN: Speedsportz is unique in terms of national-level karting facilities in the United States in that the property features both a competition track and a separate rental track. For starters, we know you run a league at the rental kart track, so how's the support for that program? When are the races run and have you started the 2023 season yet?
AR: Yes, the facility is unique in that we have the two tracks, a concession rental track, and Pro Track, which are completely separate. I can host any one of these events and still have my rentals going. That said, Mark Coats and I have agreed that maybe during USPKS, we will keep them closed.  And you are correct, we run leagues on the rentals. This happens every couple of weeks on Thursday nights. Additionally, once a month we run an Iron Man. It's one driver for one-hour straight, and this one always sells out.
EKN: Alan, part of the overall program for Speedsportz Racing Park is the Alan Rudolph Racing Academy. I had a chance to spend a day with you during my preparations for the SKUSA SuperNationals and fully endorse your program as one of the keys to my experience in Vegas. How many people have gone through your classes and can you provide a little insight into the percentages of racers when compared to brand new people who are just coming into the sport through your 'Kart Racing Experience' and 'Intro to Karting' programs?
AR: It's interesting how (racing schools) have changed over the years. Back when I started with the Bondurant Karting School, almost all of my 1, 2, or 3-day classes were racers looking for that extra little edge. Today, there are many 'coaches' out there who work with the big teams, or at other tracks as the resident 'coach'. So honestly, of the 100's of people I put through my schools each year, I would say 20% are real racers looking for that extra little edge. The other 80% is made up of new people coming into the sport or just looking for the next thing after the rental karts. This is, of course, a good thing because it brings new people into the sport.
EKN: Bringing new people into karting is such a necessary effort to keep the sport growing. Well done. And with all the new people that you're introducing karting to, it should come as no surprise that your Speedsportz Racing Team developed as an offshoot to the school and having a pro shop on-site at the Pro Track. What is your focus for the actual team this year?
AR: I can say the race team was never part of the original plan. But it didn't take long after we opened to figure out that we had to do something to support our customers who wanted more. This has now become a nice extension of the business. The 2023 season will be a crazy one for sure. We have nine club races, five TSRS races, four SWRC races, and the five USPKS that we will be attending as a team. I just had to take a deep breath as I said that (laughing). It's going to be a busy season, for sure.
EKN: Alan, I should let you get back to it then. All the best in 2023 and I know that we're excited to hear the feedback from all the USPKS competitors once they'll had the opportunity to enjoy your facility.
AR: Thanks, Rob.