2023 ROK Cup USA Florida Winter Tour – Piquet Entertainment & Race Park – Saturday Report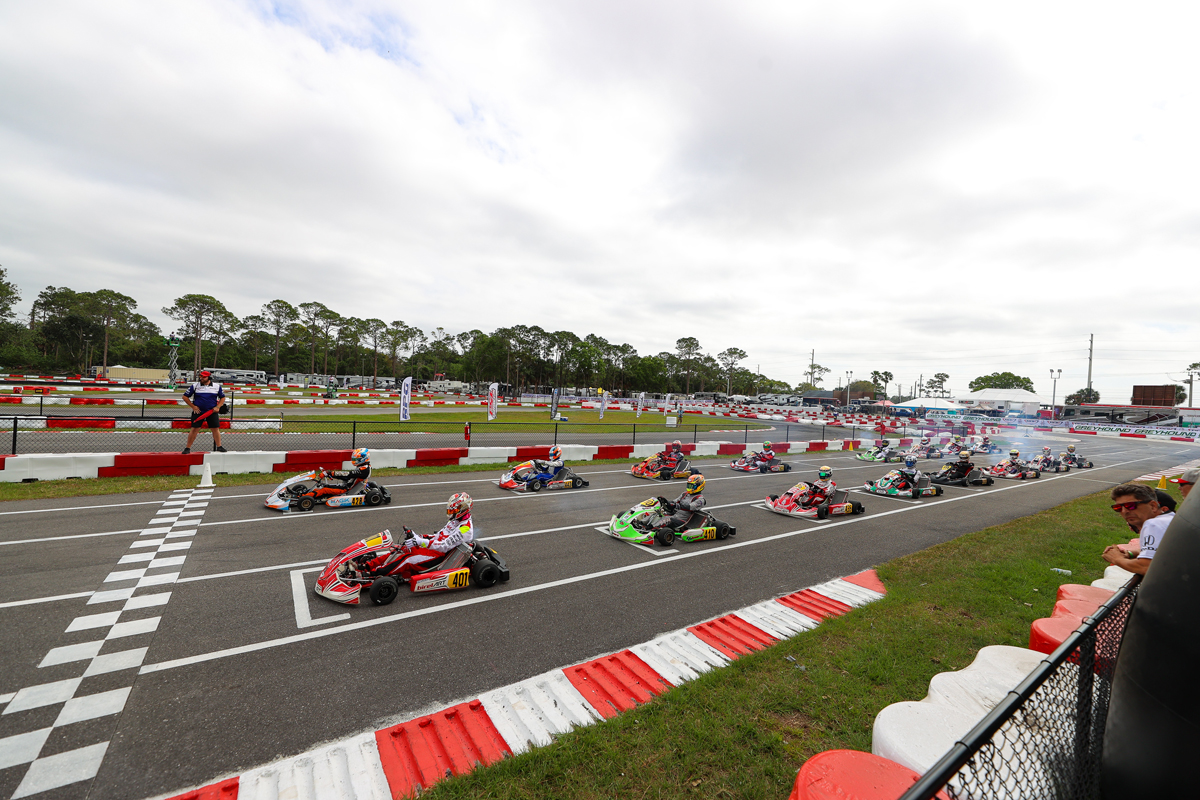 Back to the Piquet Entertainment & Race Park Saturday morning, teams and competitors were back on track for three wheel-to-wheel races as heat two, three, and the prefinals were on the docket for the day. With a slight issue in the morning due to the emergency medical vehicle not being on-site, the practice was scrubbed as ROKKERs went straight into race action. With a full slate of racing, the action was plentiful throughout the day as the grids are now set for all the main events tomorrow.
ROK VLR Junior
It was a perfect set of heat races for Ernesto Rivera (Rolison Performance Group) as he was able to convert his pole position into three heat race wins and the pole position for the prefinal. Leading the field to the green flag, Rivera lined up on the preferred inside front-row starting spot next to Speed Concepts Racing's Anthony Martella. Zanella Racing's Leonardo Escorpioni lined up on the inside of row two alongside Chad Dokken Racing's Steven Miller and just ahead of David Ybarra (Tesoro Raceworx) and Jordan Di Leo (Goodwood Kartways) as six different teams were represented in the top-six and nine teams in the top-ten.
Rivera jumped to the lead when the lights went green as Martella slotted into second, but Miller was by for the position by the end of lap one. A pile-up in turn three took several karts out of promising mid-pack results and pushed them down the running order but it was Rivera who had more than a two-second lead after two laps. Miller continued second ahead of Escorpioni, Martella, and Ybarra but Emma Scarbrough was up nine spots to fifth in three laps. Rivera looked to be untouchable upfront, but the battle raged on behind him as Miller was by Escorpioni for third on lap five. By mid-race distance, Rivera was 5.6 seconds clear of the second place Miller as John Antonino (Tesoro Raceworx) was up five positions to eighth. Rivera continued to go purple setting fast laps upfront as Escorpioni was by Miller on lap nine for third. Rivera drove easily to the race win by a gigantic 8.910 margin as Martella paced Miller, Escorpioni and Emma Scarbrough who rounded out the top-five.
ROK VLR Senior
Like his VLR Junior teammate, Rolison Performance Group driver Weston Duchak earned the pole position and a trio of heat race wins to earn the pole position for the prefinal. Having the edge on Helio Meza (Iron Rock Motorsports), who had nabbed three second-place results, occupied the outside of row one as Brayden Domingue (Iron Rock Motorsports) and Miles Hewitt (Tesoro Raceworx) were set for row two. Piquet Sports and ANSA Motorsports drivers Joseph Botting and Rahim Alibhai would start their prefinal in fifth and sixth.
It was 13 ROK VLR Senior drivers who took the green flag for Saturday afternoon's prefinal but it turned into the Duchak and Meza show upfront. Duchak took the lead as Meza slotted into the second position ahead as Domingue and Hewitt made contact late in the opening lap and fell down the running order. Domingue retired from the third position while Hewitt got back on track and was running 11th on track. Another incident between Rahim Alibhai (ANSA Motorsports) and Sebastian Matthews (Prime Powerteam) saw them fall down the order as Duchak and Meza pulled away by more than two seconds over the now third-place runner of Joseph Botting, Sara Vico (Prime Powerteam) in fourth and Giovanni Cardone (Tesoro Raceworx) in the fifth position. By the halfway mark, Duchak and Meza had stretched their lead to nearly five seconds as they worked together to draw away from the rest of the field. Meza made a bid for the lead on lap ten as the front two drivers made slight contact along Duchak to break away and drive to the win. The rest of the field remained unchanged throughout the 13-lap prefinal as Meza followed Duchak across the line for second with Botting, Vico, and Gracian Rzedzian (Tecno Kart USA) rounding out the top-five.
ROK Mini
It would be a Parolin and a Benik on the front row for the Mini ROK prefinal as Max Cristea (Mottazsport) earned the premier starting position alongside Kia Johnson (Team Benik). Julian Rivera was the best of the rest in third as the front three prefinal starters all earned a heat race win each. Antonio Pizzonia Neta led laps in the heat races and had the speed to run up front started on the outside of row two as Tyrone Kemper and Rocco Simone (Mottazsport) slotted into fourth and fifth respectively.
With a great start but no help from behind, Kai Johnson looked to have a move for the lead but instead fell back to third. With contact amongst several karters in the first lap, Cristea led early ahead of Rivera, Kemper, Johnson, and Pizzonia Neto. On lap two, Cristea would fall to fourth before moving back to third as Rivera was now the leader ahead of Johnson, Cristea, and Kemper. With some hard racing over the first two laps, drivers settled down on lap three to all hold their positions as lap times dropped. Rivera had opened the gap upfront to .663 but Cristea and Johnson were now organized and pushing nose to tail to close the gap as they went purple on lap four. Rivera went purple out front on lap five to open a one-second gap as Johnson moved to second and slowed the momentum from the second and third-place drivers. Cristea in third went purple with the fastest lap of the race on lap six of ten as second and third were working hard to try and close the gap up front. Jonson closed the gap from .885 to .410 in one lap as things were heating up with three to go. With two to go, the gap was more than half a second as Kemper was able to get by Cristea for third. Rivera drove a flawless race to take the Mini ROK prefinal win ahead of Kai Johnson. Kemper and Cristea battled for third with Kemper taking the position as Antonio Pizzonia Neto finished fifth.
ROK Shifter Master
Despite qualifying second, Antonio Pizzonia Jr. (Orsolon Racing) garnered three heat race wins and the pole position for Saturday afternoon's ROK Master Shifter prefinal as Daniel Dibos (International Motorsports) scored the pole position but three-second place heat race results to line up second. Scott Presti (Presti Racing) driving an RS Kart lined up on the inside of row three with Jose Montalto (DRT Racing) in fourth and just ahead of Alex Mueller (Privateer) and Luis Gautier (PSL Karting) in P4 and P5.
Pole position winner Pizzonia elected to start on the outside of the front row on the clean side of the track as launched from the standing starts seemed to be better from that position. With a 13-lap prefinal, Dibos got the holeshot from the inside of the front row to lead early with Pizzonia in second. Pizzonia made a bid for the lead on lap three and secured his position at the front of the field pushing Dibos to second ahead of Presti, Montalto, and Mueller as the front five ran in the same positions they started after four laps. Rene Martinelli (TB Kart USA) was the biggest mover in the first half of the race gaining two positions to run seventh behind Luis Gautier (PSL Karting). Montalto and Mueller were by Presti for third and fourth on lap nine as Pizzonia was upfront by more than five seconds. Pizzonio drove to the win and pole position for Sunday's final with Dibos scoring the second position. Montalto held on for third ahead of Mueller and Presti who rounded out the top-five.
ROK Senior
While other drivers faltered with DNFs, the top three prefinal starters maintained their consistency through the three ROK Cup USA heat races leading up to Saturday afternoon. Courtesy of two third-place finishes and one win, PSL Karting's Diego Ramos secured the pole position ahead of Nash Motorsportz's Blake Nash who earned a trio of second-place results. Racing Edge Motorsports driver Connor Zilisch lined up third for the prefinal alongside Matheus Morgatto (PSL Karting) who had two heat race wins but a disappointing 20th place finish after contact in heat two. Iron Rock Motorsports' Helio Meza locked his starting position in as fifth for the prefinal alongside Speed Concepts Racing driver Jorge Ortiz.
It was Ramos who got the jump but by the third corner, Zilisch was in the lead. Ramos went back by Zilisch in turn seven as Morgatto pushed Ramos to the lead to make it a BirelART North America one-two after lap one. Blake Nash was able to get by Zilisch for third by the end of the opening lap as Helio Meza held onto the fifth position. Morgatto continued to push Ramos as the pair stretched the gap to more than half a second over Nash in third as Jorge Ortiz and Justin White (Kartworkz) were by Zilisch for fourth and fifth. Nash broke up the PSL Karting duo up front as he pushed Morgatto to the lead and by Ramos and followed through. Contact on lap four between Justin White and others caused a huge bottleneck with a bunch of position changes as Jakub Kolar (Piquet Sports) was fifth ahead of Santiago Fernandez (AJF Racing). Lap five saw Marijn Kremers and Nolan Bower make heavy contact and fall down the running order. Morgatto led up front by the end of lap six with Nash ahead of Ramos, Ortiz, and Kolar. Things settled down on lap seven as there was no passing in the top-five, but Zilisch was back by Fernandez for seventh. Karol Pasiewicz (International Motorsport) was on a charge moving back to the same position he started in, seventh, after running outside the top-ten after a tough opening lap. Morgatto went on to take the win and the fastest lap of the race with Nash finishing second. PSL Karting's Diego Ramos finished third to have teammates set to line up on the inside row for the main event. Jorge Ortiz solidified his position in the top-five crossing the line in fourth, as Kolar finish fifth. Following the race, Kolar received a push-back bumper penalty that dropped him to seventh on the results sheet elevating Meza and Pasiewicz to fifth and sixth respectively.
ROK Master
It was William Isaias who scored the best results through the three ROK Master heat races with two wins and a second-place finish to earn the prefinal pole position. Supertune's Takeharu Nakamori earned three third-place finishes to earn the outside front-row starting spot ahead of Racing Edge Motorsports' Martin Stone and Alex Mueller (Privateer) who occupied row two. ROK Superfinal Master Champion Renato Jader-David (Orsolon Racing) and Andre Nicastro (Racing Edge Motorsports) both earned second, fifth, and 12th place results in the heat races and lined up fifth and sixth for the prefinal.
It was a bit of a hairy start for the ROK Master drivers as several drivers were off course in the opening few laps as Jader-David was able to find his way up three positions and into second behind Isaias. David inherited the lead to lose it back to Isaias on lap four as the Supertune driver of Takeharu Nakamori was consistent in third. One of the drivers that was in trouble on the first few laps was Andre Nicastro as he worked his way back to where he started in the sixth position behind Stone and Mueller. Isaias had stretched his lead up front to more than half a second by the end of lap eight as Nicastro gained one more position to move to fifth disposing of his REM teammate Martin Stone. Jader-David made a charge forward during the final three laps closing the gap from .6 to .4 to .3 when the white flag flew. With a big run in turns eleven and twelve, Jader-David took the lead a few corners from the end to take the win ahead of Isaias, Nakamori, Nicastro, and Mueller.
ROK Micro
Two wins netter Orsolon Racing's Antonio Pizzonia Neto the pole position for the Micro ROK prefinal as it was an all-Parolin front row. Maxwell Macha (SLA) started on the outside of the front row despite only having fifth, third and fourth place results in the three heat races. Josh Bergman (Piquet Sports) put his Kart Republic chassis into the third position just ahead of another Parolin in Matheus Ramalho. Canadian Hudson Jack Urlin was having his best Florida Winter Tour event to date earning himself a P5 starting position for the prefinal, just ahead of fellow Canadian Asher Pavan (Goodwood Kartways) in sixth.
Providing some of the best racing action throughout the weekend, the Micro ROKKERs took to the track for their prefinal in what was set to be another barnburner of an affair. Pizzonia Neto led the field to the green flag and got the jump into the first corner as several positions in the top-five changed. Bergman moved from third to second while Urlin jumped from fifth to third. Gavin Dakay (Zanella Racing) moved from seventh to fourth and gained another position on lap two to third. Maxwell Macha was the biggest loser on the opening lap falling to sixth but regained his composure on lap two to move back to fifth. Pizzonia Neto continued to lead on lap three as Dakay was by Bergman for second. A new name emerged in the top five as Colton Schniegenberg was fifth and a lap later, made a move for the fourth position as Urlin disposed of Bergman for third. Nico Orbezo (Iron Rock Motorsports) was up seven positions to sixth in only four laps as he proved to be one of the quickest drivers on track. Pizzonia Neto led Dakay by three-tenths of a second at the halfway point as Dakay was more than two seconds ahead of Macha, Bergman, and Urlin who ran nose to tail in third through fifth. With two laps remaining, Dakay moved to the lead but a few corners later, Pizzonia Neto was back by for the lead. Macha was by Dakay on the final lap for second that let Pizzonia Neto drive to the win. Dakay finished second ahead of Macha, Urlin, and Bergman.
ROK Junior
Dominating the Junior ranks, Ernesto River (Rolison Performance Group) converted his pole position in qualifying to three heat race wins and the pole position for the prefinal on Saturday afternoon. Canadian Caleb Campbell (Speed Concepts Racing) remained consistent in finishing third, second and third through his heats to line up second ahead of Chad Dokken Racing's Steven Miller who has been a force in Junior competition through the last six months. Joseph Launi (Powerhouse Racing) put his Tony Kart fourth on the starting grid for the prefinal as Leonardo Escorpioni (Zanella Racing) and Teddy Musella (Rolison Performance Group) took up their positions in row three.
Looking to keep his perfect streak going, Rivera led the field to green yet again for the ROK Junior prefinal as just before the race, the third-place starter of Steven Miller pulled out of the competition due to a rib injury. A huge crash at the start saw Escorpioni driving over the top of Campbell eliminating both drivers as several more were involved. Rivera was away unscathed with Teddy Musella (Rolison Performance Group) in second, Enzo Vidmontiene (Mottazsport) in third, Anthony Raducanoiu (Prime Powerteam) in fourth and Anthony Martella (Speed Concepts Racing) in fifth. Rivera had a two-second lead by the end of lap two with more contact in the top-five on lap three as Raducanoiu fell to fifth elevating Vidmontiene and Martella. A pair of female drivers ran in sixth and seventh as Emma Scarbrough (Chad Dokken Racing) paced Sarah Bradley (Mottazsport). Martella and Raducanoiu moved by Vidmontiene on lap five to assume the third and fourth positions on the track, but it was all RPG up front with drivers running first and second with big gaps. Vidmontiene was by Raducanoiu bringing Scarborough with him as they moved to fourth and fifth as the elbows were out in the ROK Junior prefinal. It was smooth sailing for Rivera up front as he drove to the win by nearly six seconds as his RPG teammate Musella finished second. Martella scored the fastest lap of the race on lap eleven as he was able to drive to a P3 finish after gaining ten positions in the thirteen-lap race. Fourth place would go to Vidmontiene with Scarborough rounding out the top-five gaining nine positions.
ROK VLR Master
Three wins gave Alex Dal Bon (LFB Racing) the pole position for the ROK VLR Master prefinal as his LFB Racing teammate Luis Quinones lined up alongside on the front row. Cristian Vomir (Tecno Kart USA) got the best of Kim Carapellatti (Carapellatti Racing) to steal the inside row two starting spot as Carapellatti lined up fourth ahead of the row three starters Mark Pavan (Goodwood Kartways) and Galo Barros (Magik Kart USA).
Dal Bon was able to hold onto his pole position as he led lap one while Vomir was able to get by Quinones for second. Mark Pavan started fifth but closed the first lap in fourth as Carapellatti fell to the fifth position. Vomir went to the lead on lap three disposing of Dal Bon who would come under fire from Quinones in third who was the fastest kart on track on lap four. Lap five saw the front three run nose to tail as it was anybody's race. Dal Bon moved back to the point on lap seven pushing Vomir to second as Mark Pavan, running in fourth, was watching all the action unfold in front of him. The three-kart battle up front turned to a five-kart battle with five laps remaining as all five ran within one second of one another. Lap nine saw disaster for Vomir and Quinones as Quinones misjudged a pass and drove over the top of Vomir. Pavan and Carapellatti were the biggest benefactors moving to second and third respectively as Dal Bon continued to lead. Ryan Molina (SLA) was also able to move his way forward to P4 with Vomir continuing to circulate in fifth. With a chance at the win, Pavan was reenergized and closed the gap to Dal Bon and with two laps to go, was on the bumper of Dal Bon. Pavan then went for the lead as they made contact slowing their pace and allowing Carapellatti by for the lead. Carapellatti was overjoyed to score the prefinal win as he took top honors by 1.421 over Dal Bon, Pavan, Molina, and Vomir. Following the race Pavan was given a two position penalty the relegated him back to P5 and put Molina third and Vomir fourth.
ROK Shifter
With two heat race wins to one, Marijn Kremers (PSL Karting) took the prefinal pole position ahead of AJ Myers (Magik Kart USA) as the two have been the class of the field all series long. International Motorsport's Giorgio Carrara was the best of the rest after the heat races to earn the inside row two starting spot with Collin Daley (DRT Racing) and Giano Taurino (Checkered Motorsports) rounding out the top-five.
Marijn Kremers, courtesy of his pole position, selected the clean side of the racetrack and the outside lane, and as the lights went green, it was AJ Myers who got the jump and rocketed to the lead. Myers led Kremers, Daley, Carrara, and Vincenzo Sarracino (VS10 Karting). Kremers would be on the bumper of Myers as Myers defended on lap two as the battle raged on for third. Myers was making his Magik Kart as wide as possible, but to no avail, as Kremers was by on lap three with an aggressive move. On the same lap, Carrara stuffed it down the inside of Daley for third as round one winner Josh Conquer (Carblos Racing Engines) was up to sixth after three laps. As Myers complained about the lack of grip in his LeVanto Tires, Kremers was laying down fast laps and stretched the gap to nearly one second by the end of lap four. Sarracino closed in on Daley and made the move on lap five to take over the fourth position as Conquer followed him through and into the top-five. Kremers was in a league of his own nearly four-tenths of a lap faster than his closest rival as the prefinal reached the midway point as the driver and mechanic this weekend was putting on a show. As Kremers stretched his lead up front, Conquer dive-bombed Sarracino on lap eleven to take over the fourth position despite severely damaged ribs. Kremers drove to the victory to secure the ROK Shifter Pole Position for Sunday as Myers finished second and will line up alongside him on the front row. Carrara crossed the line in third ahead of Conquer and Sarracino as Baylor Griffin had a massive impact during the final corner that destroyed his Orsolon Racing CRG. Fearing the worst, Griffin emerged unhurt, just shaken up as the day concluded in Loxahatchee.
*All results are unofficial at the time of posting.
ROKKERs will return to the track Sunday for the main events at the ROK Cup USA Florida Winter Tour. For a complete set of results click HERE.